Student Council
The Life University Student Council acts as the liaison between students and the administration. The role of the Student Council is to listen to the student body and relay questions and concerns to the appropriate parties.
Council member positions are elected annually in January, and officers can come from the chiropractic, undergraduate or master's programs. Student Council meetings are held four times per quarter and are open to the general student population. These meetings are an excellent way to get involved at Life University. Students who participate enjoy a real sense of camaraderie and great pride in being part of LIFE's bigger picture.
---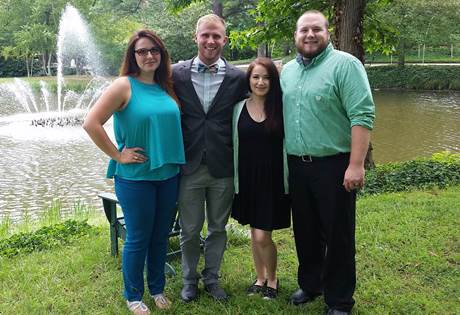 Let's Talk
Let's Talk is a quarterly tradition started by the Student Council to initiate and encourage continued communication among students, faculty, staff and administrators. It is typically held on Tuesday of Week 7 and is run in a "town hall" format with an open forum for any questions, comments and suggestions that students may have.
Let's Talk is historically attended by the President, Provost, Vice Presidents, Student Services, College Deans, Heads of Clinics, the IT Department, Director of Campus Safety, Cafe services, Library Directors, Athletic Director and more. The students' voices are listened to and well-heard at Let's Talk, and all parties value the discussion and dialogue that come out of this tradition.
Let's Talk maintains a course on Blackboard. As a student, you are automatically enrolled in this course.
---
Elections
The Life University Student Executive Council holds annual elections in the Winter Quarter. All elected officers will begin serving one year terms in the Spring Quarter (which end the following Winter Quarter). You must be a full-time enrolled student in order to be eligible for election. As an executive board member, you will be required to attend all LIFE Student Council (LSC) weekly general and executive meetings, as well as any administrative meetings that may be scheduled. You will also be required to have at least two office hours per week.
2016 Elections
If you are interested in being a member of the LIFE Student Executive Council, you must complete all the paperwork contained in the links at the bottom of this page. Applications are due no later than March 8th, 2015 by 5:00 p.m. to either the Student Services office or to a current LSC executive member. You may contact LSC via email for more information or if you have any questions at LSC@student.LIFE.edu.
Executive Board Positions:

President – Attends administrative meetings as the representative of the student body to Space Allocation and Facilities Committee (SAFC), Strategic Planning Council (SPC), Provost Council, Academic Council and Budget Meetings. Represent the student body in an official capacity. Preside over Student Council meetings.
Vice President – Maintain active list of all student council committees and minutes. Maintain communication with Undergraduate Student Association. Chair of the Student Council Clinic Committee.
Secretary – Take minutes to the meetings. Post minutes; keep record of attendance. Keep record of incoming and outgoing correspondence.
Treasurer – Record all financial transactions and announce financial reports. Chair of the Allocations Committee.
Basic Requirements:
The candidate must be a current member of the student body.
The candidate must be enrolled in college during the entire term of office to which he/she is elected.
The candidate shall not be on any type of probation or suspension during the term of office.
The candidate shall no longer hold any current executive position for their quarter.
Required Documents:
Candidate Declaration
Candidate Application
Candidate Petition
Candidate Agreement
Other Documents:
Election Posting and Campaign Rules
Campaign Suggestions