Global Initiatives
Global Initiatives
---
Office of Representation in Geneva, Switzerland
We are witnessing a transformation and evolution of thought encouraging prevention through healthy lifestyle choices and practices," – Dr. Hussein Elsangak.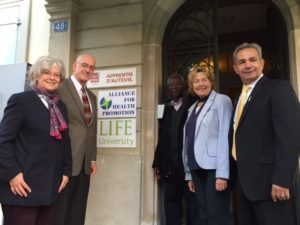 Dr. Hussein Elsangak, full-time Clinical Sciences faculty member in the College of Chiropractic at Life University, is also a board member for the Alliance for Health Promotion, a Geneva-based, non-governmental organization (NGO) holding consultative status with the World Health Organization (WHO).
WHO's goal is to build a better, healthier future for people all over the world. Working through offices in more than 150 countries, WHO staff work side by side with governments and other partners to ensure the highest attainable level of health for all people. Life University and the Alliance have very similar mission statements, and Dr. Elsangak is proud to be a representative of both organizations.
WHO Sustainable Developmental Goals Agenda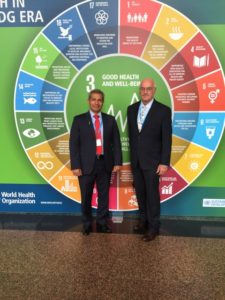 The WHO Sustainable Developmental Goals Agenda will map the direction of health care as it oversees a global initiative for betterment of mankind over the next 15 years. This initiative, referred to as SDG, was introduced in September 2015 at the UN's World Health Assembly in New York. It is a consolidation and continuation of previous WHO/ UN declarations with more than 30 years of evolution in embracing the concepts of health, wellness and patient empowerment.
In the process of representing the chiropractic profession through the World Federation of Chiropractic, Dr. Elsangak is also representing Life University as a leading vitalistic institution that promotes natural heath and wellness through its mission, direction and practices.
Costa Rica
Universidad Nacional de Costa Rica (UNA)
In 2008, Life University and Universidad de Costa Rica (UNA) agreed to cooperative programs and research with the School of Human Movement and Quality of Life. Since then the relationship has produced opportunities for student and faculty exchange at the Cardio-Rehabilitation Center at UNA, participation in their annual symposiums, as well as ongoing research projects.
In 2015, Dr. Zoila Rosa Stewart, a former Olympian for Costa Rica and 2003 graduate from Life University's College of Chiropractic, became the Clinic Director at UNA, providing care for research participants and their general staff and students. The campus clinic established in March of 2016 is now expanding operations to the second campus to meet the needs of the university.
Life University has been committed to Costa Rica for more than twenty years beginning with support of Olympic athletes and establishing a clinic facility on the grounds of the Olympic Committee for care of their elite athletes prior to working with Universidad de Costa Rica and UNA for academic opportunities.
Contact Information
Life University – Office of Representation
Grand-Montfleury 48
CH-1290
Versoix-Geneva, Switzerland
Tel: 022 755 54 56
Universidad Nacional de Costa Rica
Campus Omar Dengo
Heredia, Costa Rica
Avenida 1, Calle 9
P.O Box. 86-3000
Tel: (506) 2277-3000