B.B.A. Business Administration
BBA

Bachelor of Business Administration
(On-Campus & Online)
Life University's Bachelor of Business Administration (BBA) students begin their academic journey by mastering a foundation in the overarching concepts of business, principles of management and leadership. As the student progresses through the BBA degree program, they will engage in courses in the area of accounting, economics, marketing, finance, business law, human resource management, organizational behavior, ethics, social change/non-profit, diversity, social media marketing and sports management – all with a focus on socially responsible business philosophy. BBA students can complete their program by selecting an area of interest in which they may enroll in additional business-related coursework, or they have the potential for a business internship with a vetting process of an established business.
Blending good corporate citizenship with ethical business practice is the challenge facing businesses today. Corporate social responsibility and social entrepreneurship are not treated as just the latest buzzwords, but these business concepts provide a foundation for students to harness their power to manage successful economic, social and environmental relationships. A BBA student will practice and engage with various viewpoints of stakeholders to better understand how these relationships are likely to have a powerful impact on an organization's long-term success and sustainability.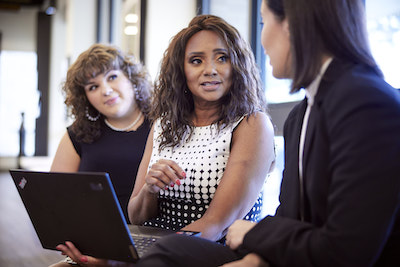 Learning Environment
At Life University, Bachelor of Business Administration (BBA) majors will learn to explore and apply principles of marketing, accounting, entrepreneurship, human resources and information technology to become modern-day influencers, while learning to master today's business survival skills – multi-directional communication, and build critical thinking skills in leadership, entrepreneurship and collaborative team building.
Life University faculty members have impressive track records in diverse business ventures that they bring to life in the classroom. They've served at various management and senior-level positions for companies like Walmart, Target, Hasbro, Alco, Sanyo, Accenture, Edison Brothers, S.A.P., Kroger, Vanity Fair, Johnson & Johnson, Mead Corporation, Avon, FBI, Waffle House and Atlanta Community Foodbank. They've also succeeded as owners of their own investment appraisal companies, tax consultant firms, technology companies, retail stores, marketing/business consulting firms, non-profit consulting firms, international business consultant firms, and business law attorney firms.
Career Opportunities
Sales Representative/Associate
Compliance Officer
Banking
Real Estate Associate
Manager/Management Analyst
Financial Analyst
Human Resources Partner
Other Relevant Information
Business majors at Life University gain a solid foundation in the overarching principles of management, while also recognizing our interconnected global community. A natural extension of such is a profound desire to make the world a better place. Many of our students will find entrepreneurial ventures or join existing organizations where the social mission is just as important as the profits.
Life University offers the Bachelor of Business Administration degree on campus. Life U is conveniently located in Marietta, Georgia, part of the thriving Atlanta metro area, and is only 35 minutes from Hartsfield-Jackson Atlanta International Airport. To learn more about our online program, visit our Online Degree Programs page.
Degree Overview
For more information on degree specifics, requirements and curriculum offerings, please visit Loading….
Fast Facts
Testimonials
Zach Landiis
About receiving a scholarship to Life University: "I was really happy about that because I wanted to go to Life University since it offers things that other schools don't."
Brian Muntanga
"Life University is a small university that makes me feel welcome – not out of place at all. It's very diverse and open, so I have had no problem fitting in here."
Ty Woods
About coming to Life University for its smaller business classes: "I didn't want to be just a student number. I wanted the professors to know who I am."