Bachelor of Arts in Positive Human Development and Social Change
Bachelor of Arts in Positive Human Development and Social Change





The Bachelor's Degree in Positive Human Development and Social Change (PHDSC) is unique among Liberal Arts degrees. If you have ever desired a holistic yet relevant, robust, and practical higher education experience, one that captures the original strength of a Liberal Arts Education, while preparing you for the rapidly changing economic, intellectual, cultural, and social challenges of the 21st century, then the PHDSC degree is for you. Life University championed the creation of this degree for this very purpose.

The Mission of the Positive Human Development and Social Change degree program at Life University is to produce change makers by cultivating inner-, social- and systems-level skills and knowledge through a highly interdisciplinary, theory-practice based program that leads students to critical analysis and ethical engagement that promotes human, social, and environmental flourishing. The program is based on a secular ethics model that focuses on the basic human values rooted in our common humanity.

The purpose of the PHDSC degree is to prepare students with the knowledge, skills, and character strengths necessary to effect positive and sustainable social change in various areas of society while personally flourishing as well. The degree program, therefore, includes coursework and lab work on personal skills, such as emotional intelligence, and ethical mindfulness; social skills such as compassion, empathy, and empowering communication; and systems knowledge, with a focus on social, economic, political and environmental systems and coursework in business, psychology, sociology, the humanities, and peace and conflict studies. We place a strong emphasis on on-going collaborative learning, research, and teamwork projects for social good.
This degree offers five Concentration Areas as well as a General degree for non-concentrators.
---
Peace Studies and Sustainable Human Flourishing
Secular Ethics
Contemplative Studies
Positive Business
Positive Psychology
Degree Requirements
---
The PHDSC degree is based around a unique and highly interdisciplinary core curriculum. Individually and collectively, these courses reflect the educational philosophy of developing key personal and social skills while empowering students through an understanding of complex systems in the world. Imbued in the core is a coherent focus on the knowledge and skills necessary for addressing the intellectual, cultural and social challenges of the 21st century.
Degree Courses and Requirements
Bachelor's Degree: Students are required to complete 185 total credit hours. This translates to roughly 3 courses per quarter, excluding summer quarters. Students can elect to focus upon a Concentration from within the degree. Students will be required to take 6 courses (30 credit hours) within their concentration, as well as specialized labs, to fulfill the concentration requirements. This 30 credit hour requirement counts toward the total 185 credit hours required to complete the degree.
Degree Requirements: Credit Hours = 185, Concentration Hours = 30

Career Opportunities
---
Producing the Next Generation of Leaders
Research shows that there is clearly a gap between the skills today's employers require and the education that today's students receive, and many millennials are seeking an education that enables them to have more meaningful, well-rounded lives. More importantly, we need to produce new leaders that can tackle the increasingly complex problems that face our communities and planet. The world has become increasingly interdependent, and the time has passed when each individual, organization, culture, society or religion can survive independently. As the Dalai Lama reminds us,
Today's world requires us to accept the oneness of humanity. In the past, isolated communities could afford to think of one another as fundamentally separate. Some could even exist in total isolation. But nowadays, whatever happens in one region eventually affects many other areas. Within the context of our new interdependence, self-interest clearly lies in considering the interest of others.
Economic, political, social and environmental problems plague many areas of the world, and we must help the next generation of leaders cultivate the inner, social, and systems analysis skills necessary to creatively solve these problems.
Graduate Work
Depending upon the Concentration area, students will be prepared to enter Graduate study in a variety of disciplines, including:
Peace and Conflict Studies, International Studies, Peace Research and Education
Business, Economics, Management, or Social Entrepreneurship
Positive Psychology, Clinical and Counseling Psychology, Life Coaching, Social Work, Sport Health Sciences, or Nutrition
Ethics, Religion, Contemplative Science and / or Practices
Employment Directions
In addition to more traditional majors such as such as Business / Management, Information Technology, Health Sciences, and Engineering, millennials are also looking for intellectually challenging, creative, and meaningful work that also meets their need for life satisfaction and purpose in contributing to the good of humanity.
Also, today's job climate and creative economy requires people to have the skills for the breadth of necessary functions and interactions in the workplace environment.
These skills include:
Work collaboratively in a team structure
Make decisions and solve problems through creative, strategic and analytical thinking
Communicate verbally with people inside and outside the organization
Plan, organize and prioritize work
Obtain and process information
Lead effectively
Learn independently
Self-motivate
Work with cultural diversity
Resolve inter-personal conflicts effectively
In addition to the skills above, the PHDSC degree helps develop many other skills. Depending upon Concentration area, employment opportunities include:
Business, Entrepreneurship, Corporate Philanthropy, Non-profit, and /or Humanitarian work in any size NGO
Teaching (with credentialing process), Social Work, Peace Research and Education, Ministry, or Life Coaching
Creative Economies (Film, Music, Entertainment, etc.)
Human Resources, Sales, Marketing, and Strategic Planning.
With further training, meditation instructors, consultants, or developers of interventions that employ contemplative approaches and /or secular ethics in education, healthcare and other fie

lds.
Education Model
The undergraduate degree in Positive Human Development and Social Change utilizes a unique educational model not commonly found in other institutions of higher learning. It brings together a multiplicity of disciplines in a coherent way through a clear pedagogical philosophy, practice labs, and specific coursework designed for synthetic reflection. Through this approach, each disciplinary area is complemented and becomes more meaningful to the student and more useful for their future career and life.
Developed especially for the PHDSC Degree (and expanded into other Life University curricula) the "three-in-three" model integrates three domains of knowledge and three levels of understanding that will not only facilitate present learning contexts, but will also empower students to be robust life-long learners. The model is also highly consistent with Life University's Vitalistic Philosophy and 8 Core Values. It is informed by, and builds off of, cutting-edge work by Daniel Goleman and Peter Senge, initiatives in Social and Emotional Learning (SEL), and work in secular ethics and contemplative pedagogy.
Learn more ➧
The educational model is comprised of six interconnecting and mutually supporting domains. These include three general domains of knowledge:
Personal
Social
Systems
Together with three levels of understanding:
Received
Critical Understanding / Insight
Embodied
DOMAINS OF KNOWLEDGE
Personal
Refers to how one relates to oneself, the knowledge and skills related to the inner life of the individual, includes emotional awareness, emotional intelligence, self-regulation, courage, inner fortitude, forbearance, as well as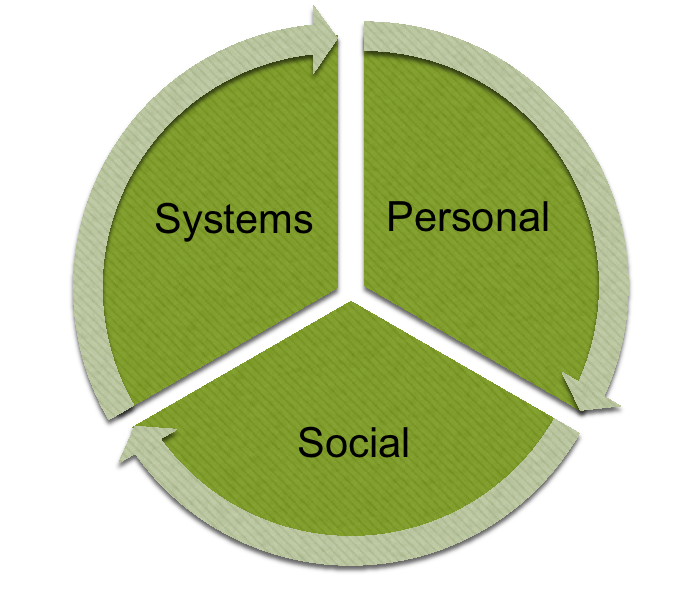 identification of one's values, discernment, and integrity.
Social
Refers to how one relates to others, the knowledge and skills related to social intelligence and dealing effectively and ethically with others. This includes empathy, forgiveness, impartiality, contentment, generosity, gratitude, endearment, and compassion.
Systems
Refers to how one engages with the larger world, the sophisticated interdisciplinary understanding of complex systems (e.g., economic, cultural, social, political, environmental, biological, etc.) and how they function, as well as cultivating the practical skills necessary for effective action within those systems.
LEVELS OF KNOWLEDGE PROCESSING
Received Knowledge
Refers to the process of hearing information for the first time and attempting to create the cognitive scaffolding to categorize and file for subsequent retrieval. This domain is commonly referred to as the "tabula rasa" process whereby the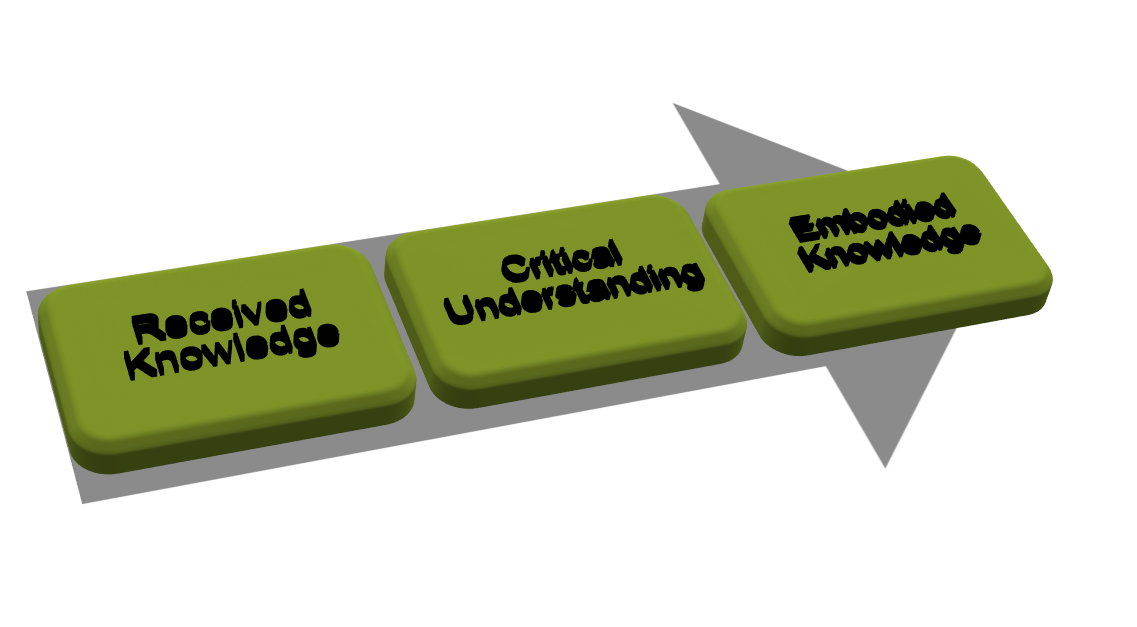 student as a blank slate is being "filled" or exposed to new information.
Critical Insight
Refers to the process by which students are taught content and educators then seek to bring that understanding to a deeper level of critical and personal reflection. At this point the student can compare and contrast, engage in higher levels of synthesis and reflection, and problem solve from the basis of both knowledge and genuine, personal insight.
Embodied Knowledge
Refers to the process that involves deepening and further internalizing critical understanding and insight so that it becomes embodied, second-nature, and spontaneous beyond mere cognitive apprehension. This form of knowledge is especially important with regard to personal and social skills and values, such as integrity, emotional intelligence and compassion, since they must become a part of a student's character and not merely "head knowledge." This type of processing facilitates experiential reflection and integrated knowledge and practice.
---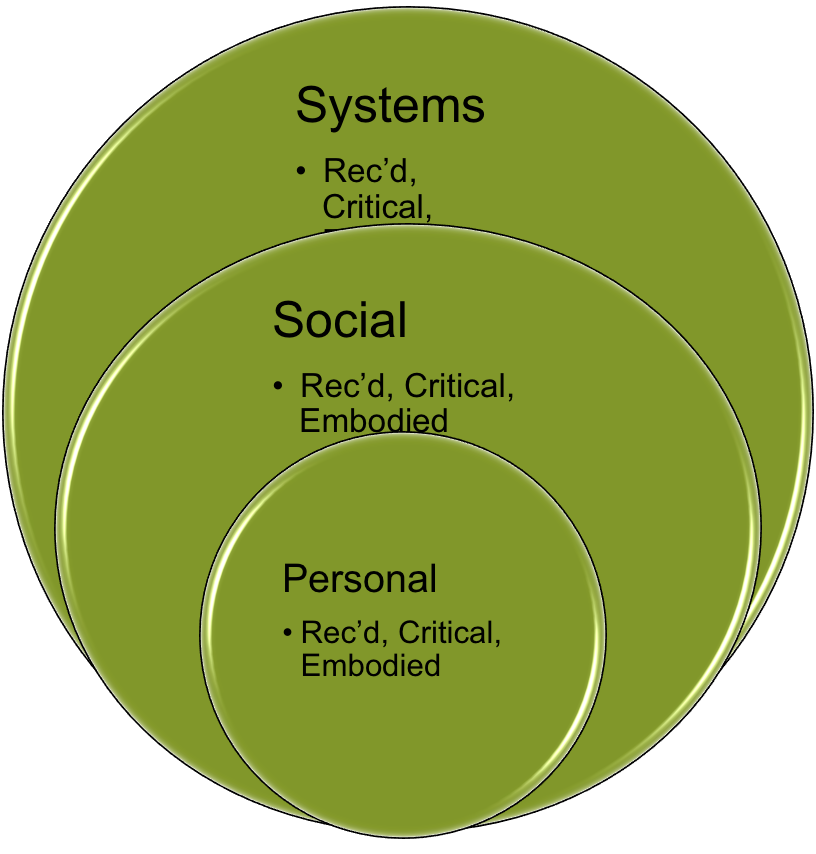 Thus the integrated domains of learning and knowledge processing allows students to develop breadth of content and inquiry,and depth of analysis and processing as each sphere is embedded within and intersects the other.
DISTINCTIVE FEATURES OF THE MODEL
Multiple Intelligences
Multiple intelligences refers to the fact that we have many types of intelligence including aesthetic / creative, kinesthetic, logical / mathematical, verbal / linguistic, emotional, social, and ecological, which can be nurtured in an educational system. Acknowledging all of these and connecting "left" and "right brain" approaches helps students become what Fareed Zakaria has termed "rounded" or "lateral" thinkers. It also prepares students for employment and graduate work that require creative, multi-disciplinary approaches to problem solving.
Contemplative Pedagogy
The degree program incorporates work in contemplative pedagogy, whereby students and faculty are informed by contemplative practices in teaching and learning. Also, rather than the typical experience of wrestling with important meaning, purpose, life and professional direction after students graduate from programs, students compose their own "spiritual autobiographies" in order to gain proficiency in discerning these while they are in the program. Additionally, through lab and coursework, students learn a variety of contemplative practices and forms of meditation for the cultivation of compassion, ethical mindfulness and attention.
Practice Labs
The development and expansion of skills, critical understanding, and embodied knowledge requires practice, and for this reason the PHDSC core includes specific practice labs, each of which can be taken multiple times:
Contemplative Practices
This practice lab exposes students to non-sectarian contemplative practices that facilitate emotional awareness, self-regulation and the development of spirituality, here understood as the cultivation of inner values and deep motivation.
Compassion and Secular Ethics
This practice lab exposes students to the cultivation of inner values through a variety of practices, including positive psychology interventions and secularized contemplative interventions. It focuses on the cultivation of prosocial emotions such as gratitude, compassion, forgiveness, and empathy; skills that benefit oneself, such as integrity, self-forgiveness and self-compassion; and an awareness of the foundations for an ethical life, such as shared humanity and interdependence.
Peace Studies
This lab provides students with experiential practice in a wide variety of peace and conflict transformation skills. Students draw from their personal experience, while at the same time practicing techniques to better harness the creative potential of conflict and foster more harmonious relationship building in their personal and professional lives.
Empowering Communications
This practice lab exposes students to communication techniques and exercises in order to help them find their voice and speak effectively, clearly, and compassionately, thereby empowering themselves and others. In addition to more traditional Speech or Public Speaking principles and practices, the course involves learning to connect one's speech and communication with one's core ethical values and important social issues in genuine, respectful and informed dialogue, including the ability to speak out for others who may not be able to speak for themselves.
Creativity and Artistry
This lab course focuses upon practicing the creative and artistic process. It invites students to cultivate and explore their own innate capacities of creativity and artistry with special attention toward achieving their creative expression goals in their own domains of interest (e.g., social change, peace, business, health and healing, education, nature and the environment, etc.). Students have the opportunity to work on a creative / artistic project throughout the course.
Collaboratively Engaged Research
In this lab course students work collaboratively in conceptualizing, designing, researching, or implementing an innovative interdisciplinary project focused on a particular social issue or need. Students can initiate their own projects, build on projects from previous years, or complement existing programs from Life's Center for Compassion, Integrity, and Secular Ethics. Students take this course over a series of consecutive quarters.
Concentrations
Students can select one of five concentrations or pursue a general degree, combining a variety of concentration area courses. The general degree in Positive Human Development and Social Change allows students to combine areas of concentration while still gaining a solid inter-disciplinary and practice-based foundation through the University and Degree core curriculum.
The concentrations are:
Peace Studies & Sustainable Human Flourishing
This concentration offers highly interdisciplinary theory-practice based study of approaches, frameworks and methodologies for building peace within multiple levels of society, including within the individual. Students will gain foundational understanding of the causes of violence and its mitigation, as well as differing conceptions of peace and the tensions and challenges that must be addressed in order to bring about conditions of sustainable interdependent human & ecological flourishing. The concentration will prepare students for graduate or professional work in the field.
Secular Ethics
Secular ethics refers to basic human values derived from an empirical basis of common sense, common experience and science, such as compassion, gratitude, integrity and forgiveness. In the secular ethics concentration, students will study the scientific and philosophical basis for common ethical values, and how to promote them in various areas such as education, business and healthcare, in order to benefit society and address social needs. The secular ethics approach, championed by the Dalai Lama, brings together such areas as neuroscience, biology, psychology, sociology, and other disciplines, as well as personal self-development, into a practice-based methodology that can be applied and expanded in a variety of academic and professional contexts.
Positive Business
The Positive Business concentration introduces students to a holistic positive business education within the interdisciplinary framework and grounding in basic human values of the PHDSC program. This concentration prepares students with the business skills necessary to become transformational leaders that elevate human, social, and environmental flourishing, while also preparing them for meaningful and exciting graduate and professional work.
Positive Psychology
This concentration brings together the latest research and methods of the rapidly growing field of positive psychology, which focuses on the strengths, virtues and values of individuals that are conducive to individual and collective flourishing, rather than deficits. The PHDSC program situates positive psychology within social, political and economic systems, enabling students to see the wider relevance of the field and better engage the world with the skills and perspectives that positive psychology provides.
Contemplative Studies
This unique concentration offers training in the science, theory and practice of contemplative studies, including first-person engagement with contemplative and meditative practices such as mindfulness meditation and Cognitively-Based Compassion Training (CBCT). The concentration draws from the recently created Masters in Positive Psychology program, which has a track in Contemplative Science and Secular Ethics, and will prepare students for cutting edge graduate or consulting work.



Core Curriculum
| BSN101 | Introduction to Positive Business |
| --- | --- |
| | This course presents an overview of a business enterprise, the service provided, how it is organized and some of the management concerns as they apply to everyday operation and control procedures. Case studies of various business enterprises are used to provide students with practice in the analytic process for a variety of different business and management styles. |
| PSC201 | Introduction to Peace Studies |
| --- | --- |
| | This interdisciplinary course will introduce students to the academic field of Peace and Conflict Studies. It will systematically explore basic theoretical and practical dimensions of the field and offer students a clear methodology and relevant frameworks for understanding the dynamics of peace, peace building, justice, conflict, and violence on various levels. |
| PSC202 | Conflict Transformation I |
| --- | --- |
| | This course will cover introductory levels of theory and practical skill building in understanding and transforming conflict. The course will be highly interactive and experiential, and will cover such areas as: participants' relationship to conflict, nonviolent communication, listening, paraphrasing, basic mediation, appreciative inquiry, conflict analysis, and dialogue facilitation skills. Includes two-hour lab (one credit hour). |
| PSC203 | Introduction to Contemplative Studies |
| --- | --- |
| | This course introduces students to the emerging field of contemplative studies: the interdisciplinary study of contemplative practices such as meditation and yoga. We will examine the scientific study of contemplative practices, indigenous theories from contemplative traditions about the mind and how to transform it, and hands-on practice in various modalities of contemplative practice. Includes two-hour lab (one credit hour). |
| PSc204 | Creativity and the Artful Life |
| --- | --- |
| | In this course students will study and practice the creative and artistic process as linked to the cultivation and expression of positive inner values. It will examine philosophical and psychological theories of creativity, and invite students to cultivate and explore their own innate capacities to contribute artistically and creatively to social good in their various domains of interest. Includes two-hour lab (one credit hour). |
| PSY203 | Compassion and Secular Ethics |
| --- | --- |
| | In this course we will examine the science, theory and practice of compassion as a foundation for a secular ethics. We begin by looking at proponents for the development of a "secular" or "universal" ethics, then turns to the scientific study of contemplative practices that have been designed to cultivate universal human values. Includes two-hour lab (one credit hour). |
| PSY255 | Positive Psychology |
| --- | --- |
| | This course explores psychological concepts and tools that can be used to create a full and meaningful life. Students will gain a better understanding of themselves and others and acquire skills to facilitate human growth. Topics covered include positive psychology, handling unwanted behavior, choice and responsibility, talking and listening, self-determination and authenticity, and conflict and negotiation. |
| PSC303 | Ethical and Moral Reasoning |
| --- | --- |
| | This course will explore major frameworks for thinking critically about moral questions, and students will compare and contrast these frameworks in light of contemporary social issues. Students will consider how the way we think about ethical matters carries implicit ideas of the self and ideal society; and, they will examine the ethical implications of everyday actions and social institutions. |
| PSC304 | Spiritual Autobiography |
| --- | --- |
| | In this course, students will compare and contrast a series of spiritual autobiographies in order to explore genres of religious formation, creative self-fashioning, and social critique. Students will ask what it means to bring one's personal experience within a narrative frame and will consider how the form can serve as a vehicle of personal development and social change. |
| PSC305 | Spirituality, Integrity & Transformational Leadership |
| --- | --- |
| | This interdisciplinary course explores the inter-relationships among spirituality, integrity, and transformational leadership and helps students cultivate skills and knowledge of each of these areas. Students will negotiate tension and change as connected to 1) relationship with self, 2) relationship to a spiritual center, and 3) relationship with others. The course will emphasize exploration rather than answers, and will be highly interactive with many reflection exercises. Includes two-hour lab (1 credit hour). |
| PSC498 | Senior Capstone Seminar |
| --- | --- |
| | This course allows students to collectively reflect upon and synthesize the various elements of their degree program while working together to complete a collaborative engaged research project addressing a particular social issue or need and of value to the wider community. |
| SOC101 | Introduction to Sociology |
| --- | --- |
| | This course examines the group life of human beings and the product of their group living. |
Faculty
| Name | Department | Email | Status |
| --- | --- | --- | --- |
| Cory Viehl, Ph.D. | Psychology | Cory.Viehl@LIFE.edu | Assistant Dean of PHDSC |
| Cherry Collier, Ph.D. | Psychology | Cherry.Collier@LIFE.edu | Full Time Faculty |
| Karlyn Edgar, M.S. | Psychology | Karlyn.Edgar@LIFE.edu | Adjunct Faculty |
| Thomas Fabisiak, Ph.D. | Psychology | Thomas.Fabisiak@LIFE.edu | Adjunct Faculty |
| Mitchell Ferguson, Ed.D. | Psychology | Mitchell.Ferguson@LIFE.edu | Full Time Faculty |
| Thomas Flores, Ph.D. | Psychology | Thomas.Flores@LIFE.edu | Full Time Faculty |
| Katrice Hollins, M.S. | Psychology | Katrice.Hollins@LIFE.edu | Adjunct Faculty |
| Michael Karlin, Ph.D. | Psychology | Michael.Karlin@LIFE.edu | Full Time Faculty |
| Brendan Ozawa de Silva, Ph.D. | Psychology | Brendan.Ozawa@LIFE.edu | Full Time Faculty |
| Melinda Paige, Ph.D. | Psychology | Melinda.Paige@LIFE.edu | Adjunct Faculty |
| Mickey Parsons, Ph.D. | Psychology | Mickey.Parsons@LIFE.edu | Full Time Faculty |
| Peggy Samples, Ph.D. | Psychology | PSamples@LIFE.edu | Full Time Faculty |
| Stephanie Sears, Ph.D. | Psychology | Stephanie.Samples@LIFE.edu | Adjunct Faculty |
| Richard Shook, Ph.D. | Psychology | Richard.Shook@LIFE.edu | Full Time Faculty |
| Kathryn White, M.S. | Psychology | Kathryn.White@LIFE.edu | Adjunct Faculty |
| Tanisha Bush, M.B.A. | Business | Tanisha.Bush@LIFE.edu | Full Time Faculty |
| Murat Doral, M.B.A. | Business | Murat.Doral@LIFE.edu | Adjunct Faculty |
| Mollie Halle, J.D. | Business | Mollie Halle@LIFE.edu | Adjunct Faculty |
| Lallie Hayes, M.B.A., M.S. | Business | Lallie.Hayes@LIFE.edu | Adjunct Faculty |
| Ronald Kath, Ph.D. | Business | RKath@LIFE.edu | Adjunct Faculty |
| Marie Powell, M.B.A. | Business | Marie.Powell@LIFE.edu | Full Time Faculty |
| Sailaja Pydimarri, M.S. | Business/CIM | Sailaja.Pydimarri@LIFE.edu | Full Time Faculty |
| George Teston, Ph.D. | Business/CIM | GTeston@LIFE.edu | Full Time Faculty |
| Marla Jo Thompson, M.B.A. | Business | MThompson@LIFE.edu | Adjunct Faculty |
| Ronald Ware, M.B.A. | Business | Ronald.Ware@LIFE.edu | Full Time Faculty |
Associate of Arts Degree in Positive Human Development and Social Change at Arrendale State Prison

The Associate of Arts degree program in Positive Human Development and Social Change is offered at the Life University site at Arrendale State Prison, a mixed-security women's correctional facility in Alto, Georgia. Faculty and staff of Life University travel to the prison throughout the week to offer classes, workshops, and tutoring to students who are incarcerated at Arrendale. In June 2016, Life admitted the first cohort of fifteen students at Arrendale, and the program will admit fifteen new students in each subsequent year. Students in each cohort take two courses per quarter for three years in order to earn their A.A. degree, which shares the same mission and "three-in-three" educational model as the B.A. in Positive Human Development and Social Change. Starting in 2017, women from other prisons in Georgia will be able to apply to the program, and it will eventually expand to include a BA in PHDSC.
The Associate of Arts degree in PHDSC at Arrendale State Prison is part of the Chillon Project, an undertaking of the Center for Compassion, Integrity, and Secular Ethics to expand access to higher education among communities affected by mass incarceration. This is the first accredited degree program to be offered in a prison by a university located in the state of Georgia since Pell Grants were banned for incarcerated students in 1994.
The Associate of Arts degree at Arrendale State Prison expands access to higher education, provides incarcerated persons with resources to achieve their highest potential, and enables students to develop skills that they can use to promote personal, social, and environmental flourishing. The program also facilitates the broader aims of the Chillon Project to develop sustainable cultures of teaching and learning in communities affected by incarceration, and to create positive social networks that involve individuals, institutions, and communities in higher education with individuals, institutions, and communities associated with the prison system.

Course Listing
In this two-and-a-half-year program, students will take courses in six areas in order to complete the degree requirements.
Area I: Communication and Humanities
15 Credit Hours
ENG 101 and 102: English Composition I and II
ENG 211: Novels of Social Change
Area II: Science and Mathematics
15 Credit Hours
MAT 101: College Algebra
BIO 103: Survey of Biodiversity
ENV 302/PSY 302: Environment and Secular Ethics
Area III: Social Sciences
10 Credit Hours
PSY 101: General Psychology
SOC 101: Introduction to Sociology
Area IV: Positive Human Development & Social Change Core
29 Credit Hours
BSN 101: Introduction to Business
PSC 201: Introduction to Peace Studies
PSC 203: Introduction to Contemplative Studies (+ Practice Lab, PSC 271)
PSC 303: Ethics and Moral Reasoning
PSY 255: Positive Psychology
PSC 299: Synthesis and Reflection
Area V: Secular Ethics and Spirituality
17 Credit Hours
PSY 203: Compassion and Secular Ethics (+ Practice Lab, PSC 272)
PSC 304: Spiritual Autobiography
PSC 305: Spirituality, Integrity, and Transformational Leadership (+ Practice Lab, PSC 274)
Area VI: Additional PSC Courses
11 Credit Hours
ENG 212: Identity and Otherness
PSC 204: Creativity and the Artful Life (+ Practice Lab, PSC 275)

97 Total Credit Hours
| | Quarter 1 | Quarter 2 | Quarter 3 | Quarter 4 |
| --- | --- | --- | --- | --- |
| Year 1 | SOC 101, PSY 203, PSC 272, lab | PSC 201, PSC 204, PSC 275, lab | ENG 101, PSY 101 | PSY 255, PSC 304 |
| Year 2 | BSN 101, PSC 303 | ENG 102, PSC 203, PSC 271 (lab) | ENG 211, MAT 101 | ENV 302, BIO 103 |
| Year 3 | PSC 305, ENG 212, PSC 274 (lab) | PSC 299, Makeup class(es) | | |
---
Contact Us

Thomas V. Flores, Ph.D.
Assistant Professor of Positive Human Development and Social Change (PHDSC)
College of Graduate and Undergraduate Studies
Life University
Marietta, GA 30060
678-331-4483
Thomas.Flores@LIFE.edu