Eagle Card Services
Eagle Card Services
The Card Services office is in the College of Graduate and Undergraduate Studies Building (CGUS) near Socrates Café.
Phone: 770-426-2638
Email: CardServices@LIFE.edu
Office Hours: Monday-Friday 8:00am – 5:00pm.
Students, Faculty and Staff can:
• Obtain or replace their Eagle Card (campus ID card
• Manage their Meal Plans
• Get information about student refunds
View the Card Services Guidelines here.
---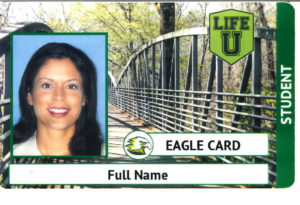 The Eagle Card is the official ID of Life University for students, faculty and staff. All incoming freshmen students will receive an Eagle Card. If you have a previous version of Life U card, don't worry, it still works, and you are not required to replace it.
DO NOT punch a hole in the card as it will damage the SmartCard chip.
The Eagle Card is more than just a card; it provides access to a variety of essential services and features such as:
• secure entry to buildings
• printing services
• library
• wellness center
• dining services & flexBucks
---