Faces of LIFE: Jonathan Beausejour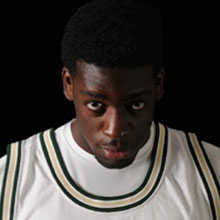 Jonathan Beausejour
Everything is Connected
Student: Exercise Science
May 2017
You might have seen him around campus. Maybe you had a class with him. Perhaps you attended one of his basketball games. You may also have seen his "game face" in a previous Faces of LIFE article. His name is Jonathan Beausejour, a senior in Life University's Exercise Science program set to graduate in June 2017, and we decided to catch up with him before he graduates.
About the last years at LIFE, Beausejour says, "I've really taken advantage of the resources here, and I've also been learning the whole college experience of networking and internships. I've been exploring and trying to do different things. Sometimes I make some mistakes, but it's been great. Especially the health aspect, its more integrative, and I felt like I've adopted the integrative approach, the vitalistic way of healthcare like putting the body into a position to heal itself rather than putting drugs into it to mask the pain."
When Beausejour was offered a basketball scholarship to LIFE, he made the choice to attend and study biology, but decided that working in a laboratory was not really what he wanted to do. He decided that he would be much happier as a physical therapist or trainer, so he decided to switch his major to the logical choice of exercise science. Beausejour emphatically states, "So literally one quarter I was a biology major, and the next I was an exercise science major!"
And now with this education, Beausejour plans to become an Exercise Physiologist to help map out exercise plans for athletes so that they may reach their full potential – especially when they have physical issues or injuries. He says, "For example, if someone has back issues, then they would hire me to map out an exercise plan that is integrated with their medical specialists' plans so that they are able to reach their exercise goals."
To become an Exercise Physiologist, Beausejour will need to obtain a master's degree in biomechanics of kinesiology, which teaches people how to move more efficiently to help eliminate pain and increase their quality of life. To that end, he says, "I'm currently applying for schools and hoping for a graduate assistant position so it will be financially easier for me to pursue the degree."
Beausejour certainly knows about exercise and how to push the body to its potential. He says, "I've always been an athlete and interested in how far I can take my body, and being in the exercise science program has helped me to achieve even more. I love being an athlete and seeing what the body can achieve once you put it under stress for periods of time. He acknowledges that some people are born with natural athletic prowess, but there are far more who can improve athletically if they know how to do it. He happily states, "And I want to be the one who teaches them and helps them achieve optimal health through exercise."
Before coming to LIFE, Beausejour notes that he had a back injury due to his athleticism and was told that since he had two spinal herniations by the age of 16 that he would have to simply deal with pain for the rest of his life. As a 16-year-old hearing that, he said that he felt devastated and that there had be another solution.
So, when he came to LIFE, he went to the campus clinic and saw a doctor who used kinesiology. He says that he could barely walk, so he did not know if it would really help. He elaborates, "But, once I saw the doctor, he corrected my body! It fascinates me because I've been through it – the whole rehab process, but the right way, not just taking pills to mask the pain. All you need is a good doctor who understands everything physically, mentally and spiritually."
"It was nothing short of a miracle. That whole thing blew my mind with how well it works because everything is connected, and that's also the whole LIFE philosophy. Everything must be aligned before the body can fix itself."
Beausejour says that his four years here at LIFE, and especially the last two years, have been like putting together the pieces of a puzzle. He had challenges, both physical and educational, but each time that puzzle piece was missing something would come along and help him with a solution.
One particular piece that he sorely missed was success in his basketball career at LIFE … and he found that missing piece this year. "This year we placed second in the national basketball championships," he exclaims proudly.
"I feel that everything happened according to plan. Of course, it felt bittersweet that we didn't come out on top, but I remember at my last interview that I was hoping that one day we would at least make it to the national tournament. And I know that in the beginning of the year, it was really on my mind, and I hoped that we had a shot, but we ended 6th in the conference last year and didn't even make it to the national championships at that time."
Originally, Beausejour says that he decided to just enjoy his last year playing basketball at LIFE and not dwell on his desire to reach the nationals. He goes on to say that the team started the year going up and down with a record of just one win and four losses … "but in January, we just took off and had 16 straight wins!"
"The team chemistry was perfect, and we went on to the national tournament and won close game after close game. Then after the semifinal win, I couldn't believe that we were there playing for a national championship! Like I said, however, we placed second this year, but I'm just so glad to have had the chance to play … especially when we didn't even think we'd get that far!"
Now that Beausejour is so close to graduating and moving on to the next chapter of his life, looking back at his time at LIFE, he says, "I have been challenging myself a lot since I got here. When I first arrived, I was quiet and shy, and I didn't talk to anybody. Yet, I understood that for me to grow, I'd have to open myself up and do something that would help me control my happiness. I know now that that is possible at LIFE."
"And from an athlete's standpoint, this is a perfect school because there are very few distractions that allow you to connect with all the professors, and they really want you to succeed. It's been good for me because I can focus on my schoolwork. It's the perfect place for you to really get your priorities on track."

LEARN MORE:
Faces of LIFE is a story campaign that showcases members of the dynamic LIFE community, including faculty/staff, students, alumni and health science professionals. Interested in being featured or nominating a candidate? E-mail LIFENews@LIFE.edu. Read more Faces of LIFE stories.