Faces of LIFE: Dr. Catherine Faust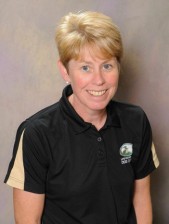 Dr. Catherine Faust
Faculty Spotlight
Dept. Chair of Sport Health Science & Head Coach of Women's Cross Country & Track
March 2015
Dr. Catherine Faust is a faculty member, serves as the Department Chair of the Sport Health Science Department and is Head Coach of the Women's Cross Country and Track team at Life University (LIFE). Her Undergraduate degree is from Eastern Kentucky University where she earned her Master's degree, as well. Her Ph.D. work was at Texas Woman's University.
Being involved in Sport Health Science, it comes as no surprise that Dr. Faust is a ball of energy, and she carries that energy into everything she does. She was a competitive runner in high school and college where she competed on several different levels, and was a Division I Cross Country Track and Field runner. "I have always been naturally drawn to sports in general," she explains, "but more so from the performance standpoint. I wanted to understand the science behind performance. That's what led me to pursue my graduate degree."
As an undergraduate, her original goal as an athlete was to become an athletic trainer, but she unfortunately ended up with stress fractures and spent most of her time in the athletic training room as a patient. "I wasn't able to get my clinical hours, so I had to change majors and ended up in health education," Dr. Faust explains. "It was at that point I pursued a Ph.D. and majored in exercise physiology and my related area of study was chemistry and nutrition," Dr. Faust adds.
Dr. Faust's day-to-day responsibilities at LIFE involve her work as Department Chair of the Sport Health Science Department where she teaches students earning their undergraduate in Exercise Science and Health Coaching, as well as their Master's in Sport Health Science and Master's in Athletic Training. She works within one of the largest departments on campus where LIFE offers two undergraduate degrees and two graduate degrees.
When asked about any publications to her credit, Dr. Faust says, "I do have some from when I was a grad student, but since coming here to LIFE, I've been mainly teaching faculty, but I am currently working on two publications: One is an ACL study, and the other is looking at track and field athletes. I am looking at performances, general studies and general fitness parameters with field and track athletes."
Dr. Faust has been involved in volunteer work with the Georgia Health Occupation Students of America (HOSA) in the past and enjoyed volunteering with them. During her time with HOSA, she was able to meet with former First Lady Laura Bush and had the opportunity to speak with her about the White House initiative: Helping America's Youth. Dr. Faust has been inducted into a couple of hall of fames while in college and high school for being a five-time All American distance runner, but admits, "I really don't get caught up in all that."
Dr. Faust knows that LIFE and its Sport Health Science Department are unique and have a lot to offer its students. "It's one thing to have faculty that know their content area, but all the faculty within our program have been out in the real world and have the practical experience that it takes." She went on to add, "For example: At one of the universities that I attended, my teacher had never really worked in the clinical field. He did not have any experiences to give me in the classroom. I went out and worked for 10 years before I went into academia, so I have clinical experience. I wanted to be able to bring this experience into the classroom. It helps students understand what's going to be going on in that real world, in that profession. So, I am just like the rest of the faculty within this department. We all come in with those hands-on practical experiences; that's priceless."
Dr. Faust explains that what drew her to LIFE is that it has an entirely different mindset. She says, "It's a small campus and classroom sizes are small, so you get to connect with students. I know my students by name, and I know they are learning. We can compete with anyone, with any of the big schools. And from a vitalistic standpoint, I try to live my life in that I do what I teach." She is passionate about exercise and says, " I'm all about human performance. I tell my students, if you're not exercising, how can you teach somebody else how to exercise."
Dr. Faust is very excited about a fairly recent development within her department, with the accreditation of a new degree program. "We just received the accreditation for our Athletic Training program. It was a really big project that we have been working on for the past two years." LIFE's Master's in Athletic Training enrolls every Summer Quarter, and those who graduate from the program are eligible to sit for the national Board of Certification (BOC) exam to become a certified athletic trainer (ATC).
When asked to share a success story, Dr. Faust recalls two students that came to LIFE through athletics pursuing their Undergraduate degrees, and they enjoyed the content area of the exercise science so well that they decided to get their Master's degrees. "One is a clinical exercise physiologist and does amazing work with the spinal cord injury population to the point that he has come back and taught classes at LIFE working with spinal cord injuries, so he is giving back to the institution as well. It's just very rewarding to see his growth."
She continued by saying, "The other gentleman decided not to go the clinical route, but instead went with the strength and training route. He currently has over 6,500 kids in his soccer program in the metro Atlanta area. He is doing phenomenal work from a training and nutritional standpoint of making a huge impact on youth." Dr. Faust further says, "Both graduates want to give back to Life University. They are now back and knocking at my door asking what can they do for my students."
She adds, "To me, that's what it's all about. Seeing these students who can now provide for their own families is very rewarding. We love to get students who embrace the Undergrad and Graduate program, and those who want to go on to teach. Our faculty all have the same kind of view. We all truly enjoy what we do. We enjoy our department. Sometimes I tell people, I don't look at this as a job. I hope I can keep doing this until I'm 100!"
Faces of LIFE is a story campaign that showcases members of the dynamic LIFE community, including faculty/staff, students, alumni and health science professionals. Interested in being featured or nominating a candidate? E-mail LIFENews@LIFE.edu. Read more Faces of LIFE stories.