Faces of LIFE: Dr. Frank Ruechel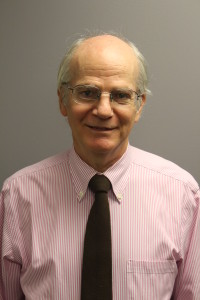 Frank Ruechel, M.Ed., Ph.D.
Good Sources Make Informed Citizens
Associate Professor of General Education
March 2016
Dr. Frank Ruechel's love of history might be rooted in his own upbringing. With both parents in the service, Dr. Ruechel's childhood jumped all over the world. His parents met on a blind date in Washington, D.C. — his father a member of the National Guard during WWII who then reenlisted in the Air Force and his mother in the Women's Army Corps. Their married life spanned the globe, with Dr. Ruechel's sister born in Panama City Beach, his brother born in D.C. and he himself born in England. The family was often on the move; Dr. Ruechel spent his elementary school years in Okinawa, Japan and then his high school years in Florida.
"Because my dad was in the Air Force, I thought that I would follow him," he says of his childhood dreams. "A lot of my heroes in elementary school were presidents who were military men themselves — Washington, Grant, Eisenhower. I thought I was going to go to a military academy and then get into politics and be elected president!"
Throughout high school school, history was a favorite subject during the 1960s, but in the coming years Dr. Ruechel found himself earning a bachelor's degree in accounting at Georgia State University. "My wife and I were visiting some friends and we talked about what we 'really wanted to do,' and what I really wanted to do was teach social studies," he recalls. He returned to Georgia State to earn a Master's in Education and started teaching social studies in 1980 at Campbell High School. He says, "Shortly after, I found out that my temperament wasn't suited to high school students, so I went back to GSU a third time and started working on my Ph.D. in history!"
Dr. Ruechel began teaching part time at local universities and was hired by Life University (LIFE), then Life College, in 1991, where he's been ever since. "I've taught history surveys, American Government and World Geography. I teach a 2-hour class called World Issues that is built around the 'Great Decisions' booklet, an annual booklet the Foreign Policy Association publishes." As a social sciences professional, his main field of expertise is U.S. history, though he enjoys teaching world geography and staying in touch with current events.
"I make use of a lot of news footage and documentaries," he says of his classroom environment. "I see a lot of parallels between events in the past and what's going on now, and I'm always trying to bring those parallels to the classroom." In his lessons, he tries to help his students separate fact from fiction, using strong sources to glean information. The class discusses how the media can skew stories and angle our sense of current events. "There's so much distorted reporting and interpretation of what our history is. When the distortions are coming from leaders and Supreme Court justices and other people who have credibility, it just adds to the urgency to help students try to get it right," he says. He's also upfront with his students about his personal political biases, another perspective they need to filter as they pursue their studies.
Outside of work, Dr. Ruechel enjoys reading and keeping up with sports; he follows all the college teams, major state schools and professional Atlanta teams. He's played basketball all his life and has a particular appreciation for student-athletes. "The commitment that they make to their training and their sport will serve them well when they make a commitment to a profession," he says. "Competition has always reinforced a commitment to excellence."
He urges his students, regardless of their academics here at LIFE or their career pursuits after graduation, to continue to separate fact from fiction in their decision-making about the world around them. He says, "They should work to inform themselves and make use of good sources of information, so they can be informed citizens."
LEARN MORE:
Faces of LIFE is a story campaign that showcases members of the dynamic LIFE community, including faculty/staff, students, alumni and health science professionals. Interested in being featured or nominating a candidate? E-mail LIFENews@LIFE.edu. Read more Faces of LIFE stories.