Faces of LIFE: Nicole Strasko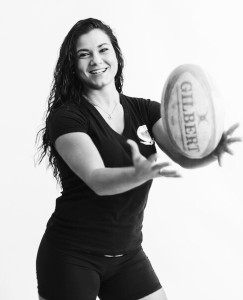 Nicole Strasko
Hitting Like a Girl
Student: Doctor of Chiropractic
May 2015
Nicole Strasko, a D.C. student and forwards captain on the women's rugby team, is one of the stars of this year's Life University (LIFE) Collegiate Rugby Championship promotional video – she tackles a Life U men's team player, saying, "Do I hit like a girl?"
While she's clearly a fierce competitor, Strasko admits that she disliked rugby when she first played it. After four years of playing basketball at Central College in her home state of Iowa, she felt she knew which sport had her heart; though she thought it was exciting that Life University (LIFE) has a strong rugby program, she didn't think she factored into it. After a successful LIFE Leadership Weekend, she came to LIFE to become a chiropractor, not fall in love with an entirely different sport.
When one of her friends dragged her to a rugby practice for the new Life U women's team, Strasko couldn't make sense of the game. "I didn't even know that in rugby, you can pass the ball backward," she recalls. "I wasn't that great at it, because I didn't know what I was doing. It was foreign to me, and I'm used to being good at sports."
However, she refused to give up rugby until she'd given it a wholehearted try. "I realized I was decent at it," she says, her natural athleticism clicking into how the game is played. She'd always enjoyed being the aggressor in basketball, and rugby stepped that up a notch. Since joining the team, Strasko has risen through the ranks as a team leader. She knows when she comes to the pitch, her teammates are ready to play. "What's cool about LIFE is that I've never been on a team where everybody loves being there, and it doesn't feel like a chore at all," she says.
Strasko and her teammates are a diverse crew; they span between the ages 18 to 25, several hail from outside the United States and they represent many of LIFE's academic programs. Whether they're studying Computer Information Management or Exercise Science, calling home to Brazil or Argentina, they all work off their stress on the pitch. Strasko mentions that the women are particularly proud of their 22-player team, calling it "22 strong." Twenty-two is a relatively small number within the high-intensity sport, where 15 girls represent the team on the pitch for 80-minute games. With only seven players on deck for substitutions or injuries, the women play hard.
Since ages 18 to 25 are transformative years, Life U rugby "isn't just about rugby," says Strasko. "It's about making every person a better person when they come out of the program. That's been challenging for me as a captain, to be their teammate and friend, but also be the person who tells you what you're doing wrong or right. It's what brings us all together."
The women's team practices from 11:00 a.m. to 1:00 p.m. at least five days a week, learning how to recover and how to use nutrition to benefit their strength and stamina. A perk that Life U rugby provides? A chiropractor travels with the team, adjusting players at night. "That's just one more step ahead of the other team," says Strasko of this edge, which combines her two passions – sports and Chiropractic.
"I love getting on the field and not thinking about anything but rugby," she says. Going into her eighth quarter of the Doctor of Chiropractic program here at LIFE, Strasko channels her academic stress though rugby – opposing teams should watch out. "I love sweating it out and playing with people who love the sport as much as I do." Seeing passion for rugby in the eyes of her teammates, coaches and fans keeps her going.
She especially sees that passion at the Collegiate Rugby Championship (CRC), which the Life U men's team has competed in the last three years, with semifinal and final appearances in each. This year, the Life U women's team has been invited to play. This tournament pits teams of seven, meaning the team is reduced by more than half on the same size field. "I'm so excited; I haven't played sevens before," says Strasko. "I'm learning a lot in these weeks we have to prepare." She attended CRC in 2014 as a fan and loved the experience, from getting to know people on the bus ride to Philadelphia to cheering on the Life U men's team. "It's such a deal! You have an incredible time in the crowd, cheering everyone on and enjoying rugby and being in the sun. You forget about everything else in life and go have fun, experience something and see something new."
Directly after the CRC, Strasko will be off to a rugby camp that is a potential pathway to get on the USA Women's Eagles rugby team. If she gets the shot to play nationally, she plans on taking it. "I only have so long in my life to have certain experiences, so if I can get that experience, I'm going to go with that," she says. Her other potential career goals include opening a practice that includes a gym and a rehab/recovery center, or becoming a USA rugby chiropractor. "I know that God's going to give me the opportunity that He wants me to have, and I'm going to take whatever comes my way," she says.
You can catch Strasko at the CRC from May 30-31. She says, "I'm excited to represent LIFE as a women's team. We really want to hold that standard as Life U rugby. We're honored to do it."
Faces of LIFE is a story campaign that showcases members of the dynamic LIFE community, including faculty/staff, students, alumni and health science professionals. Interested in being featured or nominating a candidate? E-mail LIFENews@LIFE.edu. Read more Faces of LIFE stories.