Faces of LIFE: Stephen Knight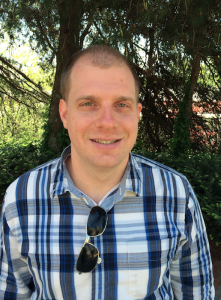 Stephen Knight
Shadowing Into a Career
Student: Biopsychology
May 2015
Biopsychology student Stephen Knight always knew he would become a doctor. He enjoyed helping people and wanted to make an impact on their lives. The question was: what kind of doctor? On his mission to discover what path to take, he has shadowed a veterinarian, a general dentist, an oral surgeon, a doctor of osteopathic and a chiropractor. He initially thought that he'd become a chiropractor. "I was working at a front desk, running bills and scheduling appointments for a chiropractor," he says. "I really liked the hands-on approach and the holistic view – that's what really made me interested in Chiropractic."
When he and his fiancé were looking for a change, they chose Life University (LIFE) because it allowed Knight to pursue Chiropractic and his fiancé to pursue Dietetics. They made the move from Greenville to Marietta, and Knight began to assess his new academic path, starting off with a bachelor's degree.
"I didn't have a bachelor's degree, so that was appealing to me: to work on a bachelor's degree before starting the program," he says. He began in Biology and then switched to Biopsychology. "I figured if I'm going to be a doctor, I should probably understand human behavior," says Knight of the switch. What he didn't expect was that he would begin to love science, crediting his professors for helping him make this connection. "I've always been the mediocre student before I got here – didn't really get involved in anything, didn't really make good grades. So I really did a 180 when I got here and buckled down. I found out that I love science. I also like how everything can play into the holistic mindset; I can apply chemistry, biology, anatomy and physiology to the human body and see how all these things collaborate to work so well together."
While Knight was thrilled to learn of his knack for science, he began to feel that Chiropractic was still not quite the right fit for him. "I figured out it's not necessarily Chiropractic that I want to do, but using my hands for skills to help people. I'm a very hands-on person," he says. As a hobby, he works on computers and enjoys the tactile process of working with tiny pieces and details. That's when Knight began shadowing different professionals in hopes of discovering a new passion. After emailing several doctors in an array of industries, an oral surgeon got back to him first. Knight says of the experience: "He said 'Come on in! I'll show you what dentistry is all about.' I shadowed there for a couple days a week for a few months and fell in love with it."
Knight's appreciation for dentistry touches on that sense of helping those in need. He recalls a bike accident where he chipped his front tooth. "I had to wait a day to get it fixed – it was the most excruciating pain because my nerve was sticking out. I had to get a root canal, and the [dentist] was super nice and took really good care of me." After receiving such great care, Knight wanted to be able to care for patients.
Now a prospective dental student, Knight's been sure to get involved around campus. He's Vice President of Students Team Up to Fight Hunger, which raises food for the community. "I also love the campus – it's very environmentally aware," he says. He's a big proponent of environmental conservation, serving as the president of the Environmental Sciences and Sustainability Club, which gets LIFE students involved in environmental awareness projects around the community. They've done activities like hiking around campus, hosting guest speakers and orchestrating Saturdays of Service at the Chattahoochee Nature Center.
"I didn't necessarily want to do it as a profession," says Knight, "but I love the idea of taking care of the planet. […] I think it's important to preserve [the planet] for future generations to come. When you think about it, the environment impacts every profession, not just environmental scientists. You can relate that to Chiropractic, even dentistry – things like how you're going to handle toxic materials."
He in particular loves animals, adding, "One of my dreams would be to one day have a nonprofit to benefit animals." He ruled out being a veterinarian after shadowing one but enjoys watching animal documentaries and learning about animal behaviors. Meanwhile, at home, Knight and his fiancé own cats Binx and Simba, both rescues.
Knight graduates this quarter, aiming for dental school, and has thoroughly enjoyed his time at LIFE. "All the professors have been great, and I've had plenty of one-on-one help when I needed it," he says. "I love that it's so easy to get involved. There are so many routes to making an impact here."
Faces of LIFE is a story campaign that showcases members of the dynamic LIFE community, including faculty/staff, students, alumni and health science professionals. Interested in being featured or nominating a candidate? E-mail LIFENews@LIFE.edu. Read more Faces of LIFE stories.