Bachelor of Science in Biology (On-Campus & Online)
B.S.

Biology


(On-Campus & Online)




Pursue an Associates or Bachelor's in Biology
Life University's Bachelor of Science in Biology curriculum is grounded in a philosophy that is deeply respectful of the innate intelligence of life – the ability of all organisms to be conscious, self-developing, self-maintaining and self-healing. This means that you'll not only develop a solid knowledge-base in the foundations of biology, but you'll also cultivate a sense of respect and responsibility for our human role in understanding and influencing both our own living bodies and our place in the world.
Life University works closely with our biology students to help them pursue their interests in advanced educational endeavors or STEM career pathways.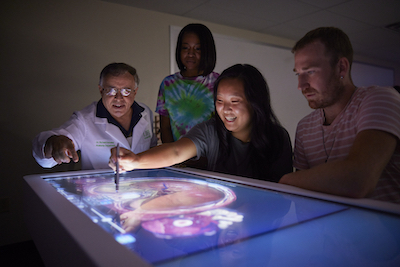 Learning Environment
Life University's unparalleled approach to natural sciences and natural health make it a magnet for high-achieving students with a deep commitment to helping others. As a biology major at Life University, you'll find that most students outside your program – from Chiropractic, exercise science, and nutrition and dietetics students to psychology, biopsychology and even business majors – share your passion and fascination with living systems and with helping those systems to achieve optimum performance and potential.
Thanks to our shared values and collaborative campus atmosphere, you'll have frequent opportunities to team up with faculty and students in other programs to explore independent, interdisciplinary study and research. Such opportunities are an integral part of a comprehensive Life University biology education as they will help you to clarify and prepare for future career goals in such diverse pursuits as chiropractic or medical school, dentistry, physical or occupational therapy and other allied health fields, as well as tracks in education, research, business and other industries.
Career Opportunities
Governmental Public Health Administrator
Forensics
Marine Biologist
Animal Technician
Environmental Technician
Botanist
Other Relevant Information
At many large, public schools offering B.S. in Biology programs, lecture-driven classes seating hundreds of students are the norm, but not at Life University. Here, the classes are small (average student to teacher ratio is 14:1), with a focus on engaged and active learning, such as small-group work, one-on-one interaction with faculty mentors and hands-on experience both on and off campus.
Life University offers the Bachelor of Science in Biology degree both on campus and online. Our campus is conveniently located in Marietta, Georgia, part of the thriving Atlanta metro area, and is only 35 minutes from Hartsfield-Jackson Atlanta International Airport. To learn more about our online program, visit our Online Degree Programs page.
Degree Overview
For more information on degree specifics, requirements and curriculum offerings, please visit Loading….
Fast Facts
From the Bureau of Labor Statistics:
Employment of biological technicians is projected to grow 7% from 2020 to 2030.
Life University's Bachelor of Science in Biology degree has been named one of the "15 Best Online Bachelor's in Biology for 2021." Life University is ranked No. 11 on the list, which was released in January by Bachelor's Degree Center.
Testimonials
Richaben Patel, B.S. Biology Student
"I wanted to start off at a smaller university that allows me to make better connections in a beautiful setting – and I found all of that at Life University. I knew that this is the right place for me. I felt that people were like a family here."
"In my day-to-day life, I will still take the Life U philosophy with me no matter where I go because it's so positive and works for everyone."
"We have a lot of diversity on campus. Life University has a great culture of inclusion and helping people feel involved. I felt really welcome when I got here."