Faces of LIFE: Jonathan Beausejour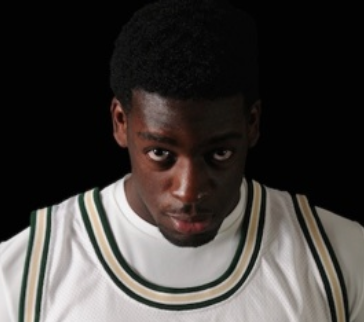 Jonathan Beausejour
Reaching New Heights
Student: Exercise Science; Student Athlete
March 2015
Just shy of 20 years old, Life University (LIFE) sophomore, exercise science major and basketball player Jonathan Beausejour looms in the halls with his 6-foot-4 frame. Though his larger-than-life stature may seem intimidating to those who only pass him on the way to class, practice or an early morning workout session, Beausejour has a soft-spoken and humble presence.
Originally from the New York City borough of Queens, Beausejour moved to Kennesaw, Georgia in his freshman year of high school. His parents are Haitian immigrants who moved to Queens before he was born, and they have always been the guiding force for his motivation both in his academic and athletic career. "I really have amazing parents that set the rules and restrictions that helped me become the man I am today," Beausejour says.
Moving from a huge city like New York to the slower-paced ways of the South would be a huge shift for any high school freshman, but to Beausejour, it was more of a new beginning. "I was pretty low-key kid," he explains, "I had a few friends, but it wasn't too bad. I had a chance to start over a little bit. It was pretty smooth once I got used to it down here. It's not nearly as hectic a lifestyle."
Beausejour attended North Cobb High School, where he excelled both in the classroom and on the basketball court, earning a cumulative 3.83 GPA during his high school career and leading the school to a Final Four in the Georgia High School Association State Tournament during his senior year. "That's when LIFE came and found out my basketball skills and offered me a full-ride scholarship," he recalls.
Beausejour didn't know much about LIFE before he was offered his scholarship other than that it was primarily a chiropractic university. However, his chiropractor that he went to in high school was a LIFE graduate, and Beausejour found out through his own research that the school was more than just Chiropractic. "I'd had a back injury in high school, so I was contemplating whether or not I could play basketball, health-wise. But when LIFE offered me [a scholarship], with them being a chiropractic and a health-conscious school, I knew it would be the best opportunity not only for me to get an education, but to also optimize my health playing basketball the best way I can."
Once on campus, Beausejour soon realized the advantages of LIFE's close-knit, unique campus community, as he found it easy to focus on his studies, interact more personably with the professors and find the career niche that he wants to pursue. "I think I have a greater grasp of what I want to do in my career because of what Life University has offered me," he says. "All the instructors are here to not just help you get through the program and to do their job, but to help you achieve outside the program and into your career. They really care."
Beausejour is focused and driven to be the best student-athlete he can be at LIFE. He has shown that drive pays off through his first two years attending the University, as he's amassed a 3.8 GPA, the highest on the basketball team; made the dean's or president's list each quarter; won the Athletics Award for Scholarship and Engagement at the inaugural College of Graduate and Undergraduate Studies Symposium for Scholarship and Creativity in December 2014; and was recognized as an NAIA Champion of Character after his freshman season. "I know the importance of education, especially here in America," says Beausjeour. My parents told me that knowledge is power and that you have to be very disciplined in your studies to have a good career and a good job."
Beausejour is certainly well on his way to that; however, his goals for now include continuing to work hard on his studies to continue making the dean's or president's lists each quarter, and also working on his skills on the court to help bring more opportunities to LIFE's basketball program.
"Overall, I want the team to be one of integrity and one that the University can get behind. Personally, I'm hoping to increase my role and help the team make the NAIA tournament next year."
Though still not completely sure on his specific career path yet, Beausejour is interested in potentially going into the Master of Athletic Training program once he finishes his undergraduate in Exercise Science and is thinking about being a personal trainer after graduation. "I just love being around athletes. I was a little overweight as a kid, so I found out how exercising, working out and eating right are key. I just love improving my body any way I can and love helping athletes improve as well."
With Beausejour only being at LIFE for two years and already accomplishing so much, it's not hard to imagine him achieving these goals and more with a trajectory that just keeps pointing upward.
Faces of LIFE is a story campaign that showcases members of the dynamic LIFE community, including faculty/staff, students, alumni and health science professionals. Interested in being featured or nominating a candidate? E-mail LIFENews@LIFE.edu. Read more Faces of LIFE stories.