Faces of LIFE: Andre Clanton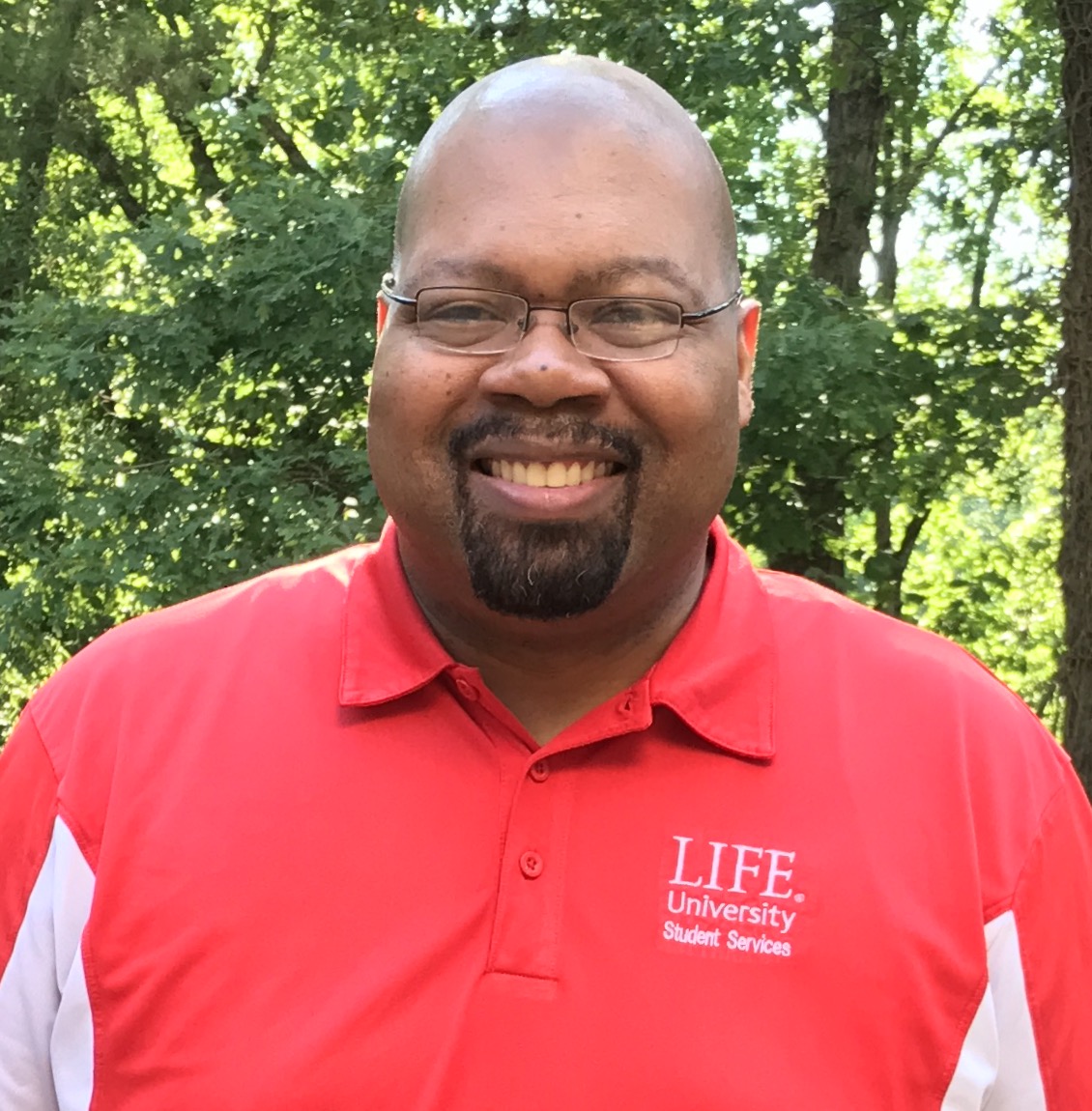 Andre Clanton
A Purpose and a Calling

Staff: Director of Student Conduct
June 2017
Andre Clanton is probably not someone who students want to meet in his official capacity as Director of Student Conduct. But as the person who adjudicates violations of Life University's Conduct Code and Honor Code, you will meet him if you violate either code. Tough and effective, most students never get to meet him under more positive circumstances, and that is unfortunate since he is immensely likeable!
You see, if a student violates a University policy, Clanton is responsible for having a conversation with them about that violation and how their actions affect their community and themselves both academically and personally. Clanton has the student come to his office for this discussion, and it is there that they get to meet the 6'7" man who is now responsible for helping them resolve the situation. Intimidating he may seem … and tough he may be, but truly concerned he is and working from a place of caring he does … every time.
He elaborates this point when he says, "I know that I work in what is probably not a very popular position here at the University, but I enjoy the students and get to work with the ones who have a few more challenges, but that's the exciting part. We know that some students make bad decisions, but the joy comes from when I can help a student recover from that and start making better decisions. When I see that light come on – when they realize how their behavior affects others – that's the part that I really enjoy."
Clanton's original career goal was to become an attorney. When he started on that path at North Carolina's Wesleyan College, he became a Resident Assistant and did that for four years as an undergraduate. Then, moving up the ranks, he became a Resident Director followed by Graduate Resident Director, Area Complex Director and Assistant Director of Residence Life.
"By the time that I had received my undergraduate degree in Justice and Public Policy and my master's degree in Education, I thought about somehow combining my education with my experience with student life. And when I was working as Assistant Director of Resident Life at Emory University's Oxford Campus, I decided that I liked the student portion of my position so much that I got a job at Clayton State in Jonesboro as Assistant Director of Student Conduct and later joined LIFE in my current position."
Clanton's personal and professional backgrounds are both quite varied. He hails from Bronx, New York, moved to Virginia at a young age, went to undergraduate school at Wesleyan College in Rocky Mountain, North Carolina and graduate school at Virginia Commonwealth University and is currently obtaining his Doctorate in Theology from Andersonville Theological Seminary here in Georgia.
And he drives two and a half hours each way every weekend for his passion … religion. As pastor of Mount Vernon Baptist Church in Augusta, Clanton now also says about his congregation, "They understand that I have a full-time job here at LIFE that takes up my week. So, instead of having office hours at the church during the week, I have them on Saturday and then lead services on Sunday. But, it's not work to me, it's a calling, so I never hesitate to get up on Saturday morning and drive out there. I love it. I really love it!"
"I am where I want to be professionally, and now because of this, I am where I want to be spiritually. I'm serving in both areas, so it really is a blessing to me to be able to serve as a pastor and help my flock grow spiritually and serve at LIFE as well."
When it comes to Lasting Purpose, Clanton says that it is the way he lives his personal life, but it still comes up during his work life as well. He states, "I don't actually use the term, but the point of my interactions with students is to help them realize that they're here for a purpose and that it doesn't include misconduct. I sometimes find that students misbehave because of idle time. I feel that if you don't have anything purposeful to do, then you may do things that go against your purpose. I have conversations with them about how everything that they're doing should be helping them move toward their goal and not away from it. And with Lasting Purpose, it's making sure that what they're doing here is purposeful."
Clanton prefers to sanction student violations with community service whenever possible. He says, "If you've done something to the community, then now you're going to give back to the community," and when students do community service, it helps them to understand how they are a part of the community, how they affect the community and how giving back to the community can be so restorative.
To that end, he also likes to match the sanction with the violation. If someone parks in a disabled space, he will assign them to work with a disability services foundation. If they vandalized something on campus, they would be assigned to work with the Grounds crew cleaning up around campus. And he notes that when the students complete their duties, they get to start fresh again, because as he puts it, "I feel that when students feel that you can accept them and love them, even when you know that they've done wrong, they will then flourish."i
Clanton sums up his philosophy this way, "The two most important days of your life are the day you are born and the day you find out why. That's really powerful because when I think about what I'm doing in my life, then I feel like I've discovered my purpose. Even working in student conduct is not work for me since my interactions with students are like giving back. This is what brings me to work and draws me in."

LEARN MORE:
Faces of LIFE is a story campaign that showcases members of the dynamic LIFE community, including faculty/staff, students, alumni and health science professionals. Interested in being featured or nominating a candidate? E-mail LIFENews@LIFE.edu. Read more Faces of LIFE stories.