Faces of LIFE: Becci Holcomb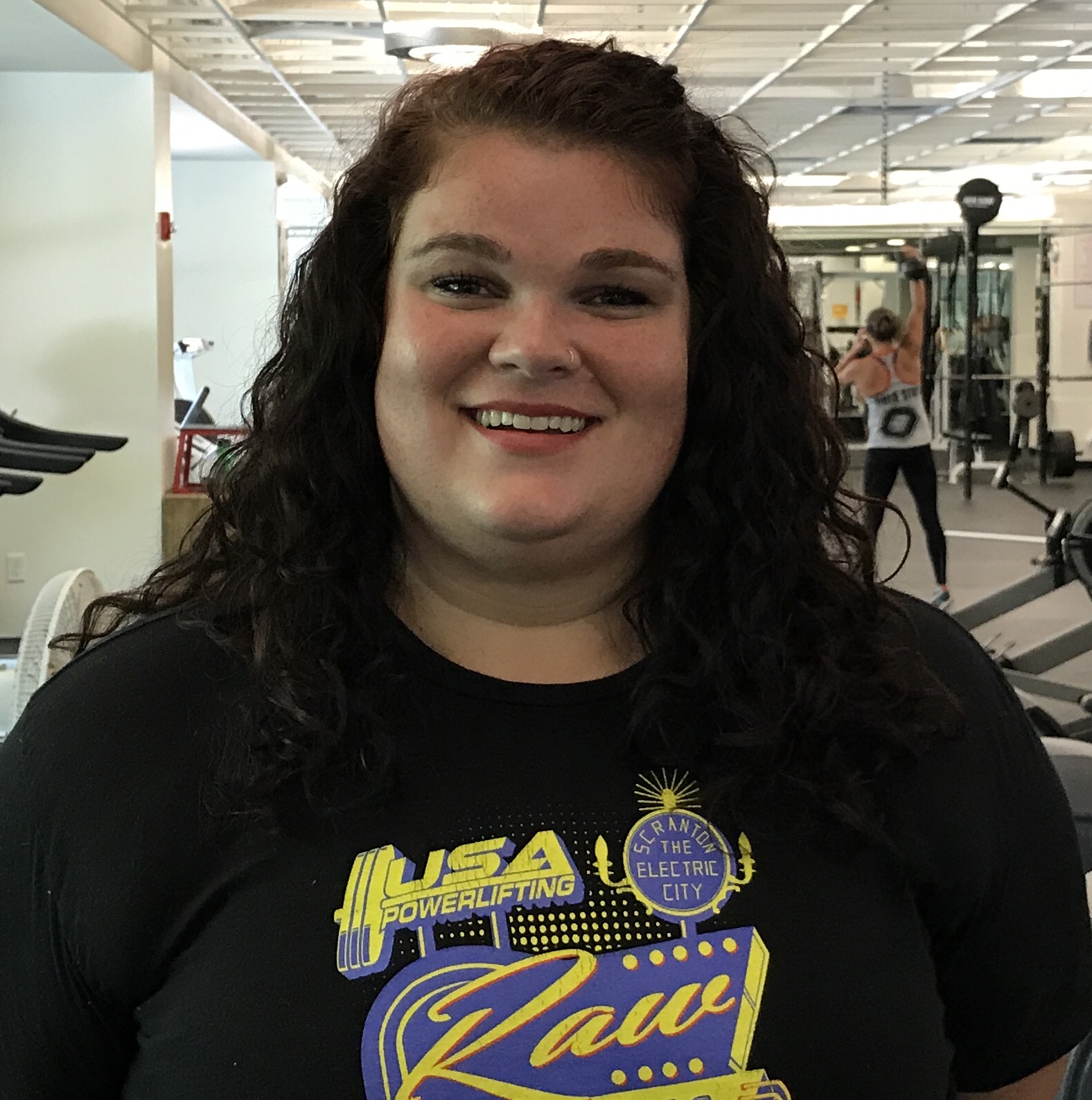 Rebecca (Becci) Holcomb
Truly at Home at LIFE

Staff: Assistant Director of the LIFE Wellness Center
June 2017
Rebecca (Becci) Holcomb calls herself a jack-of-all-trades. And when it comes to managing LIFE's Wellness Center, as the Assistant Director, she has become well-versed in department budgeting, equipment upkeep and the scheduling and management of all of the Center's 45 student workers – which consist of front desk personnel, work study, part time, personal trainers and fitness instructors.
Holcomb is very comfortable in her position in an athletic venue, but when she first came to LIFE in 2013, it was as a D.C. student. She was, in fact, two years into her program before deciding to take stock in her life and make a change. She did not have to look very far though, as she had already been part of a work study program at the Wellness Center since March 2015. She even became a student supervisor in the Center and came on board full time in August 2016.
About her prior chiropractic aspirations, Holcomb says, "I'm still debating if it's the way that I want to go or not. I love everything about it. I love how it's used, and I'm a huge advocate for Chiropractic, but I'm not sure if that's the route that I want to take now. I needed a break from school, and I had a good transition into my new role, which I really like. We're like a big family and get along really well. The students come in here to chat and talk about life, and I guess I kind of mentor them sometimes. I really do enjoy them."
While people who meet Holcomb feel her warmth and see her beaming smile, most do not realize that she is also very strong and quite competitive. As a matter of fact, she is a champion power lifter who, on May 21, 2017, won a national championship – the USA Powerlifting Open Nationals. Holcomb proudly adds, "That was really cool because I'd never won a national championship before. I've placed second and third in both national and international competitions, but I've never won one before!"
At the competition, Holcomb returned some impressive results when she squatted 611 lbs., bench pressed 336 lbs. and dead lifted 501 lbs. "All of those numbers, except for the dead lift, are all personal records. And I had a personal record total, which is the combination of all three lifts." She notes that this is only her fourth year of training and third in competitions, having only started training when she arrived from Blanchester, Ohio to attend school here at LIFE.
Blanchester, according to Holcomb, is a "little corn town" with only about 4,000 residents, where she lovingly says she and her family "pretended to be farmers." As a little girl, she decided to join 4-H (a global network of youth organizations whose mission is to engage youth to reach their full potential) and became an avid member. She recalls, "I did 4-H and was super successful. I won first place at county fairs and state fairs in pretty much every 4-H project that there was, like showing chickens, ducks, geese, turkeys, goats, pigs, dogs, cats, vegetables, fruits and cooking projects; I think I did it all!"
"I feel that that experience gave me a good base, and because of the diversity of the projects, it helped to mold me into what I am now – super creative. I even design and make my own athletic wear. I design it, buy the fabric and sew it and wear it myself, but also sell it to help support the costs of my meets." Holcomb is, indeed, quite creative and well rounded.
And as she matured, her horizons began to expand, and she realized more and more her interest in alternative medicine, healthy eating and exercise. She says that she always lived more of a vitalistic life and hated going to the doctor and taking medications. "I like trying to fix things more naturally, and I realized that's the life for me." While pursuing her undergraduate degree in biology and public health, she even interned for a chiropractor. "That's when I realized that I really liked it so much that I decided I was going to go to (chiropractic) school and see if I liked it."
Holcomb notes that she most definitely lives her life in this way still today and makes sure to eat only the most nutritious foods, while watching how much she eats. Previously, she said that she would even forget to eat when she was busy and distracted and would often skip meals, which she knew was bad for her body.
"Now, I eat six small meals throughout the day, and I've even lost weight. Plus, it keeps my metabolism in check, and I have more energy. I'm not napping like I used to and don't rely so much on caffeine, and my performance and recovery have also improved. I'm hitting new personal records at an all-time low body weight, and that's hard to do. It's quite difficult to both get stronger and lose weight, but that's what I did."
And to get stronger, Holcomb adheres to a strict exercise routine of lifting five days a week, then stationary biking for about twenty minutes, which is her "active recovery" after lifting such strenuous weights. "I basically do whatever my coach has programmed for me with a lot of recovery for mobility assurance, which is necessary to stay limber. You see, when you get stronger, you lose flexibility, and when you lose flexibility, you lose mobility. Then, you're more prone to injuries."
And Holcomb wants to make sure that she stays as strong and injury-free as possible with a world lifting competition coming up in a few months in the Czech Republic. Yet, even with her new-found success, Holcomb is just as down-to-earth as ever – she even just keeps her coveted Nationals medal "on a nail" with the rest of her medals.
And there is also no "national-champion" attitude in the kind of life that she leads because as she says, "It's kind of hard to have a social life with the hours that I work (1:00 p.m. to 9:00 p.m.), so I have to lift either in the mornings or after I get off work, which is not easy!" Other than work and lifting, she says that she also spends a lot of time with her "children" – her dog, cats and hamster, that is.
She also notes that she loves to give of her time freely since, as she puts it, "I've always been into volunteering. So, at pretty much every local lifting meet, you can see me there. I'm refereeing, weighing people in, checking equipment and doing registration. I also try to volunteer here at LIFE when possible, like with bag check during finals."
Holcomb says that she always loved helping people out in any way she is able to, and that nurturing spirit comes very naturally to her and plays a big part in what she does at the Wellness Center. She says, "Because we are a student-run facility, a lot of students come into my office to chat or hang out, and I can tell that what they are looking for sometimes is guidance or advice. But more often, they just need someone to listen to them, and I'm glad to do it."
Holcomb is very open and willing to be their sounding board just because she is a giving person, but that trait was reinforced by some very tough times that she went through recently. As she puts it with a half-chuckle, but in all seriousness, "And now I feel very protective of these students. It's like I'm their mother, and you don't mess with my kids!"
The official emblem of 4-H, of which Holcomb was an active and proud member, is a green four-leaf clover with a white H on each leaf – which stand for Head, Heart, Hands and Health. With her commitment to the chiropractic and vitalistic philosophies and concern for her fellow humans' health and well-being, one can truly see how Holcomb – whether it be as a 4-H member, D.C. student or leader in the Wellness Center – is very at home and very welcome here at LIFE.

LEARN MORE:
Faces of LIFE is a story campaign that showcases members of the dynamic LIFE community, including faculty/staff, students, alumni and health science professionals. Interested in being featured or nominating a candidate? E-mail LIFENews@LIFE.edu. Read more Faces of LIFE stories.