Faces of LIFE: Bill Lutz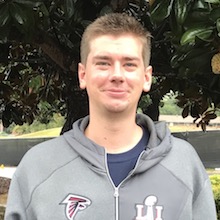 Bill Lutz
Pursuing LIFE's Potential
Student: Doctor of Chiropractic
September 2017
"There's nothing like the kickoff at the Super Bowl – it still gives me chills! You never think that you'd ever be there, but then one day, it happens!" Bill Lutz knows first-hand since he was at Super Bowl LI rooting for the Atlanta Falcons … and working with the team as the seasonal assistant athletic trainer at 23 games.
Lutz, originally from St. Paul, Minnesota, attended Iowa State University in Ames, Iowa where he received a Bachelor of Science in Athletic Training. After certifying as an Athletic Trainer, he began his graduate studies at Georgia State University, where he obtained a Master of Science of Sports Medicine.
"And that's where I met Dr. Eric Plasker (1985 LIFE alumnus and practicing chiropractor in Marietta who is very involved at LIFE). I was working with the student-athletes at a soccer game one day, and there was a rain delay. With nothing else to do, I was just chatting with parents and began a conversation with a player's dad – Dr. Plasker. Previously, I had studied for a year in Taiwan, and I saw the strong connection between the mind and the body that was emphasized in their health care. So, as I talked with Dr. Plasker about Chiropractic, things just really came together for me."
Lutz says that it was then that he came to the realization that he wanted to focus on manual therapies and the use of his hands as his therapeutic tools instead of machines and pharmaceuticals. He also notes that he would be able to have more clinical autonomy and not have to work under a physician's supervision, if he had a chiropractic degree.
But before he could attend LIFE, he received an internship with the Atlanta Falcons – which proved to be a lot of hard work, but a great experience as well. "I worked seven days a week, with only one day off every two months. And with all of the travel involved, it was pretty exhausting. But I did get to stay in the dorms with the team and eat with them, so it was an incredible experience to go from being a broke college kid to being immersed in that kind of lifestyle."
While he was there, Lutz says that he saw numerous individual rituals that the athletes would always perform before each game. Each one was different and performed for different reasons, with one exception – everybody would "politely line up and patiently wait" to be adjusted by the team chiropractor. "I could never get them all to do anything. It was like herding cats, but not when it came time to see the chiropractor when they would line up and wait patiently to see him!" Lutz says that it was fascinating that these professional athletes making astronomical salaries and with access to any type of care they may want, chose to consistently have a pre-game chiropractic adjustment.
"And that reinforced my feeling that there must be something there that I should look into." So, he made the decision to attend LIFE. "I am a firm believer that you cannot use a cookie cutter approach to health care, and as an athletic trainer, that's where I got restricted. I know that I can do more in my career and give back more if I go down this path … and for more people than just athletes."
Lutz notes that both his education and internship had a strong emphasis on functional movement, and since the body's movements are controlled by the nervous system, he wanted to learn how to fix misfiring nerves. "And that's what led me to LIFE … to learn to solve a problem rather than just treat its symptoms."
Lutz says that it has been such a new experience for him to change from a mechanistic view to more of a mind and body view. However, he says that the biggest change for him, as a future Doctor of Chiropractic, will be not having to work under a physician's supervision as he had to previously. "I know that I will then have more clinical autonomy that will allow me to practice the way that I want to."
Speaking of the future, Lutz would like to open a "total athlete" clinic that will take people who are really good at a sport and help them get even better at it. "But the more I learn about things, the more I want to eventually open it up to non-athletes, because everybody deserves the chance to have highly functional, quality movement."
In the meantime, Lutz is enjoying his time at LIFE. He loves the sense of community and feel of the campus. He tries to challenge himself each day to speak to someone with whom he has never spoken before. "And the 'speak tradition' here really appeals to me and helps me easily accomplish my goal. Plus, I feel that everybody is working together to get somewhere good, and that makes me feel like I can flourish here."
The number of resources available to students is also impressive to Lutz. "The resources are even reaching out to me. The community here is genuinely supportive. Something that's really surprised me is that, for example, in Family Practice Club, if I tell somebody I have a test, they ask afterward how it went. It's that active awareness and genuine caring that makes a hugely positive impression on someone."
"Every day, I am reaching more and more positive conclusions about Chiropractic, as well as my decision to come to LIFE. And, one day in the distant future, I want to look back at my career and say, 'look how far I've come and how many people I've helped.'"
LEARN MORE:
Faces of LIFE is a story campaign that showcases members of the dynamic LIFE community, including faculty/staff, students, alumni and health science professionals. Interested in being featured or nominating a candidate? E-mail LIFENews@LIFE.edu. Read more Faces of LIFE stories.