Faces of LIFE: Deilyn Solano Bonilla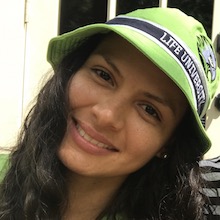 Deilyn Solano Bonilla
An Indomitable Spirit
Student: Doctor of Chiropractic
August 2017
With talk about coffee and hot summer weather, Deilyn Solano Bonilla settles into our conversation. Solano, from Costa Rica, is an unassuming Doctor of Chiropractic student who has a gentle, familiar way of getting her point across as we speak. But, her sweet personality does not disguise her tenacity. She is a strong proponent of Chiropractic with big plans to do some good in the world.
"Chiropractic is not very popular in my country, and there are only a few chiropractors there. But with Chiropractic, you have the possibility to help others have better lives – to be healthy and in harmony with themselves. If you have the passion in your heart to help, you can do so much good with what you learn here."
Solano's journey to LIFE began in 2012 when she and a dear friend, Gabby (Maria Gabriela Alpízar Jímenez – someone Solano refers to her as "my sister by heart") attended a LIFE Leadership Weekend. The pair went through the entire process together, from obtaining their visas to flying to Georgia and taking part in the weekend's activities together … and eventually starting classes together in fall 2015.
After obtaining her undergraduate degree in business administration from Universidad Estatal a Distancia in Costa Rica, Solano then wanted to improve her English skills and received a scholarship to study at Centro Cultural Costarricense Norteamericano. While studying there, she found a branch of EducationUSA (a network of more than 400 international student advising centers in more than 170 countries that connects people from other countries with educational opportunities in the U.S.) on the campus and attended information sessions on various subjects.
It is there that Solano first became familiar with LIFE, when a recruitment event was held at which she learned about the profession and philosophy of the University. She says, "I felt that it was a combination of nutrition, wellness and sports, and it was so amazing to me that I wanted to be a part of it."
The road has not always been an easy one for Solano, however, since English is her second language, but in her determined way Solano wants to improve her skills. "I always ask for help from my classmates, even telling them to correct me when I am speaking. I can tell you that everyone has really helped me, and I feel so thankful for that."
Solano knows that when she eventually returns to Costa Rica to work, the communication challenges will not end. "It's part of the challenge to find ways to communicate Chiropractic to those individuals who are unfamiliar with it. I think that all of the skills that I have acquired here will help a lot in allowing me to speak with them about Chiropractic. It's in my heart to go back and help them, so I would love to take all that I have learned and find ways to educate them."
Speaking of Costa Rica, Solano says that she "misses everything about my country, but I really miss my family the most. It was hard when I first came here because I left them and everything that I had there to come here. But now I have this new environment and know new people, and it has all helped me to grow a lot."
While she is still here at LIFE, Solano takes solace in our campus. "LIFE's campus reminds me of my hometown. It's so green and welcoming, with plants and trees everywhere. Also, I went to the Chattahoochee River once, and while I was looking at it, I felt that I was back home. I will never forget that because that moment truly made the connection between my choice to come here and my desire to help others even more solid."
Solano says that throughout her life she has learned many lessons that have made her stronger. She understands now that life is not just about her, but that there is "something bigger for me" and she wants to give back. "That's why I'm here to learn how to do that. And now my heart, my soul, my spirit soars with happiness and excitement just knowing I can explore new horizons, new lifestyles and new cultures … and eventually help others."
She continues, "Recently, I opened the Bible and the first thing I read was, 'They shall lay hands on the sick, and they shall recover,' and it touched my heart and confirmed my commitment."
LEARN MORE:
Faces of LIFE is a story campaign that showcases members of the dynamic LIFE community, including faculty/staff, students, alumni and health science professionals. Interested in being featured or nominating a candidate? E-mail LIFENews@LIFE.edu. Read more Faces of LIFE stories.