Faces of LIFE: Dorian Lamb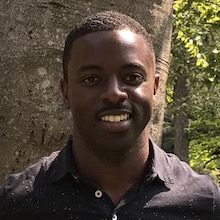 Dorian Lamb
Giving Hope
Student: Doctor of Chiropractic
September 2017
From corporate sales to vitalistic health care, Dorian Lamb has made quite a journey. Originally from Clinton, North Carolina, Lamb is pursuing both a Bachelor of Science in Biology and a Doctor of Chiropractic at the same time here at LIFE. Lamb, previously Chiropractic Class President and current Undergraduate Student Body President, also serves as a D.C. student representative on the Chillon Project Student Board.
"Going from corporate natural gas sales to deciding to become a chiropractor has really set my career path in an entirely different direction," says Lamb. "When I wanted to take some time away from the corporate world, I went to work in my cousin's chiropractic practice and ended up being awakened to just how Chiropractic can profoundly change lives for the better."
Lamb's cousin, Dr. John Artis, who runs the Health on Earth Wellness practice in Tinley Park, Illinois, has great passion for Chiropractic. However, he did not fully understand why that was when he started working there in 2013 as a patient liaison. "But I listened to his patients' stories about how they suffered from various ailments, and after seeing him regularly, Chiropractic had completely changed their lives. They were no longer dependent on pharmaceuticals, and their bodies were finally encouraged to heal properly."
Just prior to beginning work there, Lamb's grandmother passed away. He felt that her death had been premature and that there had to have been something, other than the typical medical attention that she had been given, that may have helped prolong her life. At Dr. Artis' office, many of his patients were also geriatric, and Lamb felt that some of their ailments had been caused by environmental toxins affecting them at the cellular level. "I recognized an opportunity to reverse some of those causes, and that's when I saw the answer to the problem – lifestyle changes of which Chiropractic is a large part. And you really have to fight against years of unhealthy habits, and that's where a chiropractor and the education that he can provide come in."
Lamb says that he feels that if the doctor can explain the science behind how the patient developed an ailment, then they can also be taught how to reverse that process. Plus, he believes that when an adjustment removes interferences, it allows the brain to function more efficiently. That, along with a nutrition plan and thorough follow ups, the chiropractor can maintain the patient's optimal health.
"At LIFE, it feels very fitting for me to be here … like I belong. The University really focuses on developing our inner selves to be able to go out and tackle negative outside influences. That's something that attracted me to LIFE. And now that I'm here, I am in awe of some of the service oriented things that the school does – namely the Chillon Project."
In July 2016, LIFE launched a college degree program for incarcerated individuals that takes its name from Lord Byron's poem entitled "The Prisoner of Chillon." It is an undertaking of LIFE's Center for Compassion, Integrity and Secular Ethics in partnership with the Georgia Department of Corrections. It is taught onsite at the Lee Arrendale State Prison for women in Alto, Georgia and confers an Associate of Arts degree in Positive Human Development and Social Change.
And Lamb does not just admire this initiative, he also serves its purpose on the Chillon Project Student Board. From the student body, two undergraduate, two graduate and two D.C. students serve to help maintain the connection and communication between school, staff and project functions, to ensure that the students have a voice in the initiative.
"I have enjoyed being on the board and seeing the growth and joy from the education that the women are receiving. To get an education is important to help reduce recidivism. And, thankfully, LIFE is helping them get that education so that they can realize their potential. Something amazing about the project is that some of the women do not even have the possibility of release so that they can use their education in the outside world, but they still want to improve themselves."
Lamb believes that the reason for this is that they want to set an example for their family, friends and community. When they are visited, those individuals are able to see their improvement, and that then sets an example for them to live up to. "There exists an attitude that if someone from behind bars can do it, then I can do it too. I know that this then positively impacts their children, other family members and friends."
He goes on to note that the students are on a strict schedule while incarcerated, and some of them have even missed dinner, having to wait until the next day to eat, just to be able to attend class. "They are yearning for this education and truly understand how beneficial this is to them, so they refuse to miss the opportunity."
Later this month, Lamb will be visiting Arrendale to meet the students in the program. "It will be exhilarating for me, but even more important to them as we reinforce how much they, as any other student, are also an inclusive part of the University."
Lamb also feels that it is important that all LIFE students know the impact that we have on our communities, and that this program is an example of that impact. "Sometimes we don't realize how small we really are until we go out and see something, like the Chillon Project, bigger than ourselves. And there is nothing more fulfilling than giving someone hope. We never really know what giving truly is until we give to someone who cannot return the favor."
LEARN MORE:
Faces of LIFE is a story campaign that showcases members of the dynamic LIFE community, including faculty/staff, students, alumni and health science professionals. Interested in being featured or nominating a candidate? E-mail LIFENews@LIFE.edu. Read more Faces of LIFE stories.