Faces of LIFE: Drs. Anthony and Casen DeMaria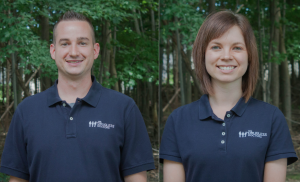 Drs. Anthony and Casen DeMaria
Ready for Practice
Alumni: Doctor of Chiropractic (2011)
December 2015
Drs. Anthony and Casen DeMaria, married couple and partners in Chiropractic, met during their third quarter at Life University (LIFE). They came to chiropractic school from different regions of the United States and for different reasons – Dr. Casen hoped to elevate her massage therapy career to something even more helpful to people, and Dr. Anthony followed in his fathers' footsteps after working at the family practice the summer before his senior year of high school.
"Believe it or not, when I first started looking at schools I looked at Palmer College of Chiropractic in Florida and Parker University in Dallas," says Dr. Anthony. "I visited LIFE as my last choice. But as soon as I got on campus and took the campus tour, I was sold that this was the place I wanted to go to chiropractic school." Dr. Casen enrolled in 2007 to take her perquisites and Dr. Anthony enrolled in the D.C. program in 2008 – within five quarters, they were dating.
For Dr. Casen, the choice to pursue Chiropractic was one of service. "I knew I wanted to do something bigger than myself. I wanted to be able to help people," she says. "I was never into medications when I was younger; I wanted to be as healthy as possible." With her background in massage therapy, she was grateful to continue her passion for massage while at school. For Dr. Anthony, while his father had never told him to go to chiropractic school or intentionally steered him toward this path, he was swayed after seeing the incredible experiences patients had.
While at LIFE, both doctors appreciated the extracurricular activities outside of class, from study groups to technique clubs. "The clubs are essential to go to," says Dr. Anthony. "They get you involved above and beyond the curriculum." Dr. Casen adds, "I also really loved the pediatric class we were able to take with Dr. Rubin. We waited until we graduated to do the International Chiropractic Pediatric Association training. It's been incredible to impact kids and be confident in what you're doing."
Both doctors recommend that chiropractic students get involved on campus and take advantage of all the extracurricular learning experiences. And for D.C. students on the cusp of graduating, they encourage them to reach out and ask questions from alumni who are currently running their own practices.
The doctors graduated at a busy time: their graduation ceremony took place on Dec. 16, 2011 (with Dr. Anthony graduating as Valedictorian), they were married two days later, celebrated Christmas with their respective families in New York and Ohio, and then took their honeymoon. They started working in January 2012 with Anthony's father, Dr. Robert DeMaria, at The Drugless Doctors, with locations in both Westlake and Elyria, Ohio.
The Drugless Doctors is a wellness-based practice focused on Chiropractic, diet and nutrition. "We have an ever-growing pediatric and pregnant client base. We have people that will drive from out of state to come see us about nutrition. We had a family that just flew in from Africa last month to spend a week with us," says Dr. Anthony. "I could literally tell you hours of stories about people's life changes through visiting a wellness-based practice." Dr. Casen says with pregnant moms and kids visiting the office, she loves going to work every day.
While they segued immediately from education to practice, the Drs. DeMaria felt prepared. "My dad has been practicing since 1978 and when we joined his practice, he couldn't say enough about the quality of our education," says Dr. Anthony. "It took him 20 years of his practice to learn what we had come out of school with. Every time he sees Dr. Riekeman, he's always high-fiving him. We were prepared to be able to help instantly in a practice setting."
Outside of work, the Drs. DeMaria love exploring Cleveland, from the food scene to shows. They also enjoy travel, biking and hiking. Dr. Anthony is a sports fan, cheering on the Cleveland Indians and Notre Dame football.
Four years after graduating, the Drs. DeMarias are very involved in the LIFE community and the Ohio State Chiropractic Association. They've found happiness and success in practice. "It's not necessarily about the numbers; it's about the service," says Dr. Anthony. "How can I give the very best service to this person coming in our office today?"
LEARN MORE:

Faces of LIFE is a story campaign that showcases members of the dynamic LIFE community, including faculty/staff, students, alumni and health science professionals. Interested in being featured or nominating a candidate? E-mail LIFENews@LIFE.edu. Read more Faces of LIFE stories.