Faces of LIFE: Joseph Steward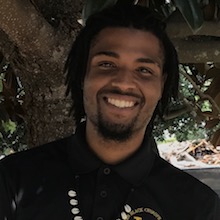 Joseph Steward
Holding Himself to a Higher Standard
Student: Doctor of Chiropractic
August 2017
"I always say that if you're going to do something, you might as well be good at it."
Joseph Steward, a Doctor of Chiropractic student from Jonesboro, Arkansas, sets high standards for himself. Speaking with Steward is an energetic experience, as his enthusiasm, passion and personality shine through. In addition to being recognized for his outstanding grades at the University (four times on the President's List), Steward tutors students in their chiropractic subjects, and he has just completed his one-year term as president of SABCA (Student American Black Chiropractic Association). He also recently received the Harvey Lillard Scholarship, which awarded him with full tuition for four quarters.
"When I was diagnosed with Type 1 Diabetes at seventeen, I wanted to be a medical doctor, but I got discouraged because I thought that nobody wanted to go to a sick doctor. Still, I held onto my dream as I entered college that fall at the University of Arkansas at Pine Bluff on a music scholarship. I had been in band and played first trombone. I always make sure to tell people that it was 'first trombone' because I like to be the best at what I'm doing."
Steward says that while he wanted to eventually become a music director, during his freshman year he took some basic science classes and realized how much he loved the subject. Even his teachers pulled him aside to tell him that he should really give some thought to switching to a biology major, so he did. "My scholarship wasn't affected since you don't have to major in music to keep it. I just had to continue to be in the band, go to practice and keep my grades up."
Prior to starting college, Steward had been living with his sister who fed him well, made sure to encourage him to exercise and even had him on her health insurance plan – all in aid of helping him remain as healthy as possible. But during his freshman year, his insurance coverage expired, and he hurt his leg, so he stopped going to band practice.
"And still to this day, that was the last time that I ever played my trombone. I realized that I didn't want to be in the band anymore, and I just wanted to be a biology major. But then I lost my scholarship and my health insurance around the same time."
He felt that he had no choice but to return to work at McDonald's, where he had done so for three years previously. He would work the late shift so that it did not interfere with his classes, but his schedule left little time to do anything else but sleep for a few hours. He knew that he could not keep up the pace for long without it seriously affecting his health. "So, I chose McDonald's over school and took a year off."
What eventually led Steward back to school was some serious soul searching. "I asked myself if I could enjoy my life without having a college degree, and I realized that I could not." He then returned to his former school, but transferred to the University of Arkansas at Little Rock.
He says that the new school was a culture shock since he was accustomed to being at the top of his class with little effort, and since their biology program was so much more advanced. He admits that he "discovered alcohol" at this time and allowed it to become a problem. He started "failing miserably" – something to which he was not accustomed. His sister encouraged him to return home again, where he started working at McDonald's again.
But back to school he had to go, so he entered Arkansas State in his hometown of Jonesboro. And again, a professor asked him what it was that he truly wanted to do with himself, to which he replied he wanted to become a medical doctor. "I used to say, 'what person wants a sick doctor?' and then I realized, who wouldn't want a sick doctor? We have a story to tell and can share the progress that we, ourselves, have made!"
"And then I got even sicker and couldn't take the MCAT to get into medical school." So, he decided to get his health in order and went to a neurologist for nerve issues that he was experiencing. "I was prescribed medication for the pain in my leg. However, every six hours, I had to pop another pill, and I even started experiencing new issues due to the medication. I said to myself 'I'm not taking this anymore' and immediately flushed the pills down the toilet."
He felt that he was back at square one since he knew that he could not be a doctor who simply prescribed medication that was going to just mask pain instead of treating the cause of it. "One day I was on Facebook, and a friend, Miracle Pitts, had been posting some really positive things about her school, Life University, but I was really unfamiliar with Chiropractic. I looked up the school and the philosophy and curriculum really spoke to me. When I read stuff about the body healing itself from within, I wanted that for myself."
After receiving a B.S. in Biology Pre-Professional Studies, Steward applied to LIFE and started his first classes in January 2016. A natural leader, Steward was elected president of SABCA in fall 2016. "The first thing I did was open up the organization to everyone, and SABCA's ranks now consist of not only African Americans, but all people of color as well as Caucasians." He notes that SABCA's mission is to enrich all students here and facilitate their journey as they become competent leaders and doctors.
"I've noticed that some people just don't understand Chiropractic, so I felt that as president of SABCA, I should help bring Chiropractic awareness into the community. And in the last year, I have made sure that we're holding ourselves to a higher standard in our dedication to the University. I believe that due to this, we recently won the Beacon of Light Award from the Student Council for our contributions to social and public services on and off campus."
Steward says that coming to Life University is "probably the best choice that I've made in my life." He continues, "Something about the school gave me hope, and I wanted to give that back to others. Now, I feel like I was meant to be here. I am happy and pain free now. LIFE gave me all of that – and more."
LEARN MORE:
Faces of LIFE is a story campaign that showcases members of the dynamic LIFE community, including faculty/staff, students, alumni and health science professionals. Interested in being featured or nominating a candidate? E-mail LIFENews@LIFE.edu. Read more Faces of LIFE stories.