Faces of LIFE: Martin Cortes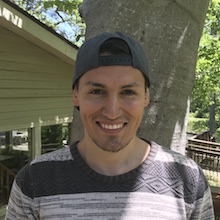 Martin Cortes
Pursuing a LIFE of Excellence
Student: Business Administration
May 2018
Call it serendipity, a lucky break, good fortune or what you may, but whatever name it goes by, Martin Cortes has proven its existence.
At Life University to obtain his bachelor's degree in business administration, Cortes is originally from Santiago, Chile. A lifelong soccer player, he ended up in the U.S. to play for a professional soccer club, the Atlanta Silverbacks, and to increase his English skills.
And while he was playing soccer and brushing up on his English, he also started exploring post-secondary education options. He very much wanted to obtain a degree from an American university since it held greater prominence, in his words, than a degree from his native Chile. In the area in which he grew up, there were many mining operations that fascinated him, so he said that for his whole life, his career goal was to become a mining engineer. With that in mind, he started looking for schools where he could obtain an engineering degree.
Of course, in the meantime he continued playing his beloved soccer for the Silverbacks. And how he came to play for them is quite an adventure. He had an American friend with whom he had played soccer as a teenager back home in Chile who was able to put him in touch with the Silverbacks team manager. To take advantage of the opportunity to come to the U.S., Cortes sold all of his belongings – furniture, clothes, car, everything. He thought that since soccer was gaining in popularity here that maybe he could be scouted and play for a professional team one day.
Then, the Silverbacks one day found themselves playing a game against another local team – LIFE's Running Eagles. Cortes says that he should not have even been playing in that particular game since he had just arrived back from a visit to Chile, but many other Silverbacks players were not able to do so. Still, he says, "I have to admit, I played really well that day!" Just after the game, as Cortes' team manager was driving him home, the manager received a call on his cell phone from the LIFE coach who said that he "really liked the way the 'player from Chile' played." So, Cortes called him, Coach Alex Parma, back a couple days later to see if they could get together in person. Parma told Cortes that he would like for him to practice with the LIFE team, but that they only had two days left in the season. Cortes jumped on the chance and, as he puts it, "played his heart out and did his very best," making a big enough impression on Parma to be offered the best scholarship that LIFE could for the soccer program.
Cortes adds, "I got offers from other schools, but I didn't meet their coaches or see their universities, so they didn't seem like good options to me. So, I took the LIFE offer immediately … and I'm glad I did. I also feel like everything was aligned in my favor to provide me this option, so I had to take it."
He says that many subsequent events happened just the way they were supposed to, and just in the nick of time, too. Cortes had to take both the SAT and TOEFL (Test of English as a Foreign Language) very quickly to align with both LIFE's admittance schedule, as well as the quickly decreasing number of days left on his visa. He says that the SAT is only offered four times a year, and when he researched the next testing date, it was just two weeks later. He explains, "To pass, I just studied, studied, studied … it had been six years since I had been in high school, and I was a bit worried!" However, he took it and passed, relying on his math scores to pull him through.
Next was the TOEFL that was scheduled for three weeks later, for which he also dutifully studied and passed quite well. But he adds that there was one more big obstacle in his path that he had to overcome – having his school transcripts from Chile sent to the U.S. He says that, luckily, his mother was able to help him by going to the ministry of education, talking to his schools and hunting them down as well as she could. "I was supposed to start school in just about a week at that point, so everything had to be completed at exactly the right moment." And the day before he was supposed to join LIFE's team to start practice before the beginning of the new school year, was actually going to be the day before all of his transcripts were set to arrive. He says, "So, when I got here, I didn't even know if I could start at all. To say the least, I was very nervous."
Needless to say, his transcripts arrived just in time, he started practice as well as his new educational adventure here with us at LIFE studying business administration.
And what about his previous goal of becoming a mining engineer? He explains, "Because LIFE doesn't have that degree, I tried to choose a similar one. I'll transfer my undergrad credits to an engineering school later, if that's what I choose, but for now, I love what I am studying. Plus, I feel that being a manager, a leader in a company will make me just as happy. At LIFE, I have gained the enthusiasm to motivate and lead people in a workplace – any workplace, not just in the mining industry – and leave my 'print' on them in a very positive way."
Cortes says that his experience at LIFE has been a very fulfilling one and notes that the way he relates to others has blossomed and matured. He sees now that he did not just come here to obtain a degree, but he has gained so much more. In his words, the school has left its "print" on him, and he will now be able to leave his "print" on others. He adds that his favorite part of the LIFE experience is that it has opened his eyes to his passion to motivate people and give them a meaning and purpose.
"Before, I was just focusing on being the best, making the best grades, playing my best on the field, and while I still do that, now I want to take that passion and use it to give back something good to people … to make an impression on someone that encourages them to do their best and, in turn, also give back. It really has something to do with Life University. The people here seem different in a great way."
LEARN MORE:
Faces of LIFE is a story campaign that showcases members of the dynamic LIFE community, including faculty/staff, students, alumni and health science professionals. Interested in being featured or nominating a candidate? E-mail LIFENews@LIFE.edu. Read more Faces of LIFE stories.