Faces of LIFE: Pat Banks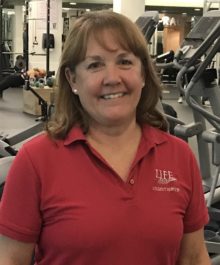 Pat Banks
It Runs in the Family

Staff: Director of the LIFE Wellness Center
June 2017
The chiropractic profession seems to flourish in some families. That is the case for Life University's Director of the Wellness Center, Pat Banks, whose grandfather, parents and daughter are all chiropractors. Born in Pennsylvania, Banks said that even at an early age, Chiropractic's philosophies played a large part in her life.
"As I grew up with two chiropractors, I watched them serve people – especially my father who taught us to always give back to others. And when I came here, I saw it everywhere. You don't always hear those words, 'Lasting Purpose', but you certainly feel their actions. Plus, I like to think that I emulate that for the students here. It's a good feeling to be able to know that you can do right and treat people right and that's how you want to be treated in return."
Banks was, at one time, also going to become a chiropractor herself. But before that, she decided that she would stay in her hometown, graduate from high school and get a good job. To that end, she was in a job interview one day that was going so well that she had even been offered the position … then a phone call interrupted the process. As Banks puts it, "My father called the man I was interviewing with and told him that I wasn't taking the job. He said that I was going to Palmer instead. I was so embarrassed! Especially because I had actually gotten the job!"
Most people, as did her parents, thought that Banks was bound to be part of a chiropractic legacy. "I have an extensive chiropractic family." Banks points to a sepia tone picture of five distinguished gentlemen on her office wall and says, "That was taken in 1932. That's B.J. Palmer with my grandfather (Dr. Samuel Keiser) on the far left, and those five guys were called the 'Loyal Five' back then because they all had the mission to further the cause of Chiropractic."
So, off Banks and her parents soon went to Palmer College of Chiropractic in Davenport, Iowa, where they left her sitting on the steps of the dorm as they drove off. "Here I was only 17 years old, and I had to get a job and pay for myself and my schooling."
When Banks arrived at Palmer, she was quite young, so she wanted to start slowly and attend the Chiropractic Assistant Program before deciding to continue her D.C. education. Yet, just after graduating from the assistant program and deciding to continue her education, she met her husband (now ex-husband), Dr. Charles (Charlie) Kalb and they soon moved to Georgia, where she started another exciting chapter in her life.
While Charlie was attending Palmer, he regularly attended Dynamic Essentials meetings and followed Dr. Sid Williams, who was an important and influential figure for him. Banks and her husband were also good friends with Dr. Gerry Clum, past president of LIFE West, and Dr. Clum's wife and the entire group arrived at LIFE at the same time. "Charlie taught chemistry and was one of the first instructors here at LIFE. At that time, I worked with Sid and Nell (Dr. Nell Williams who is Dr. Sid Williams' wife) at the LIFE Foundation, as well as helping with the Dynamic Essentials meetings."
And at first, her husband worked in a clinic for a while until the school started and then became a LIFE instructor and eventually, Dean of Students, as well as continuing to teach.
Banks said that the early years for LIFE were tough times since it was just barely getting up and running. "I remember one time that Dr. Nell made us take every other lightbulb out of the fixtures in the administration building because the electricity bill was too high. We were getting up on ladders, and she was standing there and telling us 'take out every other bulb, you should see my electric bill!' We were young and just thought it was funny and that it was all quite an adventure."
"So, I had no idea that this would happen!" Banks says as she gestures around the large, modern building in which she sits at LIFE's Wellness Center.
Banks has had two runs at LIFE. She first arrived in 1973 with her husband and stayed until the mid-1980s, but decided to leave to pursue another career outside of LIFE … until she got a phone call in 1998 from the Director of the Wellness Center asking her to join him and help in his department.
"When I left in the mid-80s, I hadn't been back over here, so when I arrived in 1998 to meet with the old department director, I was amazed. None of this was here before. There were only the old administration building and the library and a couple of classrooms, so it struck me then just how amazing a vision it was that made all of this happen."
Banks says that prior to being called back to LIFE, she had been working at psychiatric facility and after which, she ran her own medical transcription service. However, she said that she was getting a little bored with it, so when she received the call from the previous director, she was happy to consider a new career option. "And of course, Dr. Nell was all for it because we had worked together previously, and she knew that I had a good work ethic. So, I came on board and learned so much about how to run a facility like this in the two years that I was Assistant Director."
"But, you know, I guess the opportunity did just fall into my lap. I've always worked out and knew the importance of it, but this job wasn't even on my horizon. But I love it now, and I love the students – they're the reason I'm here. I learn so much from them every day and hopefully they learn from me. Students come into my office all the time to talk, and I hope I'm making a difference. And when they graduate, I'm so proud to watch them go across the stage because I've seen the changes in them – they've grown up." Banks is a friend and mentor to many students, and has become somewhat of a surrogate mother to those who need some advice and guidance.
Yet, there is some serious work being done at the Center. With 45 part-time student employees, it is a student-run facility that is open about 95 hours a week with only two full-time employees. Banks notes that there is tremendous amount of management necessary to correctly schedule fitness instructors and personal trainers and keep all of the equipment running properly. To do so, Banks starts her workday at 4:45 a.m. to make sure that the Center runs smoothly and everybody stays safe.
Banks calls the students "a bunch of good kids," and about those "kids," she believes that most of them come to LIFE for similar reasons and share similar philosophies with one another. However, not at all of them have been exposed to LIFE's Lasting Purpose before coming here, and she feels a responsibility to share it with them. "I teach and talk to them about service and how to help make a client's experience awesome. I also tell them to be alert, and if someone needs help, then help them." She does her best to model this philosophy for them because, as she says, we should all, "Live our life like everyone's watching!"
Banks feels that the chiropractic, and LIFE's, philosophy has been "in-bred since Grandpa. My grandfather, my parents, my uncle and now my daughter – are all chiropractors. It's personally and professionally a family affair. Plus, I feel at home here at LIFE. We all feel that when you talk about the body healing itself, eating right or working out, that there is no question that this is the correct way to live your life. And I love it here for that reason. I feel comfortable and accepted here."
Comfortable and accepted may be how LIFE makes her feel, but that is also the way that she makes those feel around her.

LEARN MORE:
Faces of LIFE is a story campaign that showcases members of the dynamic LIFE community, including faculty/staff, students, alumni and health science professionals. Interested in being featured or nominating a candidate? E-mail LIFENews@LIFE.edu. Read more Faces of LIFE stories.