Faces of LIFE: Tameka Glass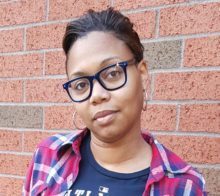 Tameka Glass
An Advocate and Inspiration
Staff: Director of Student Advocacy and Advisement
April 2017
Tameka Glass, Director of Student Advocacy and Advisement, is a self-styled country girl from Mississippi who has been with Life University for more than twelve years now and still treats each day with the same commitment and energy that she did her first.
"There were only 500 students enrolled when I started here in 2005. I was hired right after the accreditation situation, so as an Admissions Advisor, I was happy to help in building attendance back up again. I was so proud to be a top Admissions Advisor because it allowed me to bring in new students and get to know a lot of people here on campus."
That friendly spirit and positive attitude would certainly serve Glass well as she followed LIFE's path for her, and within a short time, she was offered the position of Perkins Loan Administrator in Student Accounts. Her journey continued as Assistant Manager of Student Accounts, and she has now been Director of Student Advocacy and Advisement for six years.
She had a new position in a newly developed department, but Glass quickly made it her own. She notes, "It's a big accomplishment for the University to trust me enough to give me this opportunity. I've been very blessed to have that kind of respect."
Her department – the Student Advocacy and Advisement Center – was created to serve as a central location for students to obtain answers to questions or concerns that they have, but faculty and staff also make use of its resources. If a student is confused about financial aid or if a faculty member needs clarification about a course schedule, then the logical place to go to is this all-in-one resource center. And Glass adds that, "Even if we don't know the answer to a question, we sure know where to find it!"
Prior to her tenure at LIFE, Glass, a career-oriented, single woman living in Mississippi, could never know how the University would become so intertwined with her own life. When she met her future Marietta-based husband, she decided that a move to Georgia was in order and has now been here for twelve years. With a broad smile, she says, "I started at LIFE as a newlywed, and now I have two children – my 'LIFE babies', I call them. And coincidentally my husband decided to change his career, and he even went to school here to become a life coach. He's been working for Fulton County Jails for almost two years now, and it's been amazing for him."
While Glass is a loving, family-oriented woman, she still has great ambition and works very hard to make LIFE a better place each day. "I'm a go getter. I love the University. I love the comradery. I love the family environment. I even feel that being at LIFE helps me be a better wife and mother because of the great community and family atmosphere here. Of course, there were positions that I applied for that I didn't get, but I guess this one was just waiting for me after all!"
Glass says that she gets questions from anybody and everybody at the University, from vice presidents and deans to incoming freshmen, and that while it's a good feeling to have their respect, "Seeing a student look up to me – that's my happiness."
"And I must be honest and say that since there are not a lot of minority women in positions like mine, it feels good when one of them says to me, 'it makes me proud to see you to see you in this position and know that I can come and talk to you', and that's what is the most rewarding to me. I love seeing that I'm inspiring other young women to know that they can be in a position like mine. That's my true reward."
Glass goes on to explain that she feels that when someone grows up as a minority, people set limits on what they can and can't do. "I saw my mother and father work very hard for what they accomplished. I knew that while I would also have to work hard, I always wanted to do something better or different and grow from that experience."
So, to help others achieve that 'something better or different,' Glass started a program in Marietta called CAN DO – College Achievement Needs Dedication and Optimism. "I have given out 500 book bags a year for the last three years to the kids in the community. I also volunteer at the Boys and Girls Club and try my best to inspire as many young women as I can. I want them to know that anyone can achieve what they believe in."
Apparently, giving back – one of the tenets of LIFE's Lasting Purpose – was already something Glass strived to do long before she started working at LIFE.
"I have always believed in building relationships and serving my community, so it was very easy for me to intertwine LIFE into my own life and grow at the University. I didn't have to adjust myself since I already lived that life. That's why I've fit in so well and thrived here."
"And while every day is not going to be a perfect day, most days are the ones that make you feel 'that's why I'm here' and inspire me to keep helping people. I'm an advocate. That's what fulfills me."


LEARN MORE:
Faces of LIFE is a story campaign that showcases members of the dynamic LIFE community, including faculty/staff, students, alumni and health science professionals. Interested in being featured or nominating a candidate? E-mail LIFENews@LIFE.edu. Read more Faces of LIFE stories.