Faces of LIFE: Allison Outerbridge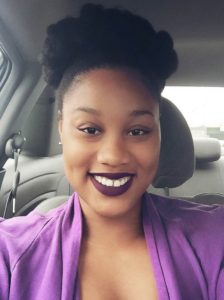 Allison Outerbridge
I'm Never Going to Be 'That Dietitian'
Student: M.S. Clinical Nutrition
May 2016
Master of Science in Clinical Nutrition student Allison Outerbridge grew up in Bermuda. Just 22 miles long with a population of approximately 67,000, the island of Bermuda is still "home" to Outerbridge, who plans to return and give back to her community. "There's a lot of room for growth," she says. "We live in a time when there're not a lot of leaders willing to stand apart from the crowd and be impactful. I want to be a leader who goes against the grain."
At age seven, Outerbridge started running track, a hobby that took her to competitions and to college. She studied at the University of Tennessee, earning her bachelor's of Health and Human Sciences with a concentration in Nutrition, all while running track. And track is what led Outerbridge to consider a career in nutrition.
"I grew up on an island," she says. "No one really stressed the importance of a balanced diet, what to eat to fuel your body for a competition. You get mainstream advice, but no one's really following it." Then, as a college freshman, she learned her body fat percentage classified her as overweight, something she was surprised by as a full-time student-athlete. She began exploring how to change her diet to maximize her athletic performance, and soon had tapped into a passion that would drive her career.
After graduating from the University of Tennessee, Outerbridge began working as a wellness coach in Atlanta, Georgia when a health expo brought her to Life University campus. While here, she did her research on the University's academic programs, and soon found herself enrolled in the Master of Science in Clinical Nutrition program in January 2015. She's now just a month shy of graduation.
In small classes ("my biggest classes are 8 or 10 people," she notes), she's been studying topics like medical nutrition therapy, which examines how to use food as a means of treatment, and the ways certain foods help us prevent and treat some chronic diseases. "I want to work in hospitals" she says, "so that's helped me better understand diseases and the biochemistry behind them."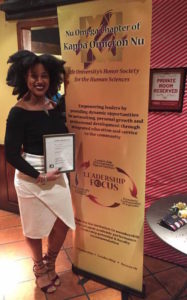 Her next step is to complete her dietetic internship right here at Life University, where she's been accepted into the small, competitive program; she will then sit for her registered dietitian exam to officially become an R.D.
She knows these credentials will put her at the forefront of nutrition expertise, but she doesn't want to abuse her power or ward off people interested in changing their health. "I'm never going to be that dietitian who says 'You ate chips today?' The stigma about dietitians being judgmental is big — that we care more about what the books say than reality," she says. "When in reality, people like eating junk. You can't say 'You can't have what you like!' and expect people to be receptive. It has to be a process. I'm a strong believer in progress; I've been an athlete all my life, and I know that road to be successful is a long road."
She hopes to impact that progression in Bermuda, working in the hospital system to provide knowledge on wellness, treatment and prevention of disease. On the side she hopes to partake in community service efforts that benefit women and children, targeting childhood obesity and parental knowledge about family nutrition.
She feels she's seen a shift toward healthier living in Bermuda lately, and hopes to make that shift more dramatic. She says of her career goals: "I want to shift people toward prevention, rather than [an attitude of] 'when I get a disease, then I'll do something about it.'"
LEARN MORE:
Faces of LIFE is a story campaign that showcases members of the dynamic LIFE community, including faculty/staff, students, alumni and health science professionals. Interested in being featured or nominating a candidate? E-mail LIFENews@LIFE.edu. Read more Faces of LIFE stories.