Faces of LIFE: Alvin Codner
Alvin Codner
First Graduate of Master's in Positive Psychology
Alumnus: Master of Science in Positive Psychology — Coaching Track
July 2015
Alvin Codner is the first graduate of Life University's (LIFE) new Master's in Positive Psychology – Coaching Track program. In May 2015, he posed in his cap and gown, grinning alongside classmates and professors with his new diploma.
A master's degree was not something Codner ever expected to accomplish; throughout his life, he's had a complicated history with education. As a child growing up in New Jersey, he understood making people laugh as the class clown. He understood following in the footsteps of his older brother, Domingo, by hitting hard on the football field. But when it came to school, Codner had a tough time from the start.
The Codners were about to move to Kissimmee, Florida when they were told by a teacher that their son Alvin didn't meet the school system's education standards; the teacher even advised that he be put into special education classes in Florida because he wasn't likely make it out of the public school system. "And my mom, a God-fearing woman, didn't agree with that," Codner says. His mother enrolled him in standard classes in Kissimmee, trusting her son would make his own path in his education.
"Sports were driving me to keep up my good grades," says Codner, who hoped to pursue a career in college football. But when the FCAT, the Florida Comprehensive Assessment Test, came around, he failed it time and time again. Codner says, "You've got to pass that test to graduate high school in Florida. I failed it eight times." In his senior year, on the ninth try, he finally passed – opening a door to playing football at Erie Community College in Buffalo, New York, where he got his associate's degree in general studies, with a concentration in art. Next, he went to Benedict College in Columbia, South Carolina. He spent his days studying studio art before hitting the football field – he loves to draw portraits and cartoons.
When finances involving his football scholarship derailed him at Benedict College, Codner dropped out and moved back home to Kissimmee. "I wasn't feeling school," he recalls. "I was an art major, so in my eyes I knew I could do art without a degree." He figured he didn't enjoy school anyway, so why not work and find something he was passionate about.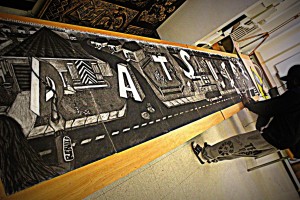 "At this point in time, there was a lot of negativity in my hometown," he says. "I always used to say 'dat's life' as a phrase. As in, 'dat's life, it happens, keep it moving.' But I didn't necessarily use it in a positive way." Wanting to create an impact in his community, Codner created the nonprofit organization D.A.T.S.L.I.F.E., Inc. using the acronym: "Do Anything To Say Life Is For Everything." He says, "Instead of getting mad or sad or having a negative attitude, you simply say, 'Dat's life.'"
Codner used D.A.T.S.L.I.F.E. to promote positivity in Kissimmee, organizing events throughout the community. He'd organize toy drives and back to school drives for the local youth or events to give back to the homeless. "My target audience was youth ages 4-18," he says. "The youth is our future, and I felt that, with my generation in that community, it was harder to change their mentalities." Through contacts at the local community center, he soon met with the mayor and city manager, setting the stage to become a community leader within six months.
He felt he'd stumbled across his passion, and hoped to bring D.A.T.S.L.I.F.E. to a big city. With another football scholarship, this time to Clark Atlanta, Codner moved to Georgia's capital to spread his nonprofit, score some touchdowns and finish his Bachelor of Fine Arts in Studio Art. He started selling D.A.T.S.L.I.F.E. clothing and accessories to promote the brand and continued organizing and speaking at events.
"I figured I wasn't going on to get my Master's, because I hate school!" he laughs. "I wasn't a fan of school at all. Then people started saying 'You should be a professional public speaker; you should be a motivational speaker.'" While he felt confident in his natural artistic abilities, Codner knew coaching and public speaking were things he wanted to learn.
When applying to graduate programs, an old fear came back to haunt him: that standardized testing – namely the GRE, or Graduate Record Examination – would once again hold him back from his dreams. When LIFE's Dr. Richard Shook and Dr. Peggy Samples called Codner for a phone interview, he couldn't believe it. "I'm at work like 'Hold on!'" he says – he works at the Youth and Teen Development Center at the YMCA in East Atlanta. "I've got 30-plus boys wilding out! I had to call them back. I told them I'm just not a test-taker; I'll have good grades. I knew Positive Psychology was something I wanted to learn."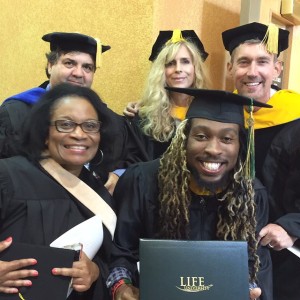 Codner loved the program and credits his professors for helping him make the transition into the challenging course load. "In the beginning I struggled, because it was a workload I wasn't familiar with," he says. "I was always in the library. The communication with [the professors] was just the best – they helped me out in all aspects of what I needed to do. I was grateful."
The Coaching Track prepped Codner for real-life situations that translate to many formats of public speaking. He knows his new skill set will make him even more confident at the helm of D.A.T.S.L.I.F.E. and for his new career goal: "Now I want to get my doctorate in public administration," he says. "I want to get into the public school systems. I believe a PhD will open the door. If I don't get into a program, I'll get a master's in nonprofit management, or a double master's in nonprofit management and then also a master's in education. Either way, I'm getting into the school system."
For someone who was once told he wouldn't make it through the public school system himself, Codner is ready to return, university degrees in tow, to make an impact on the lives of disadvantaged children. In the meantime, he's enjoying his new master's degree. "My parents were overly proud that I went back to school," he says. "I exceeded all expectations."
Faces of LIFE is a story campaign that showcases members of the dynamic LIFE community, including faculty/staff, students, alumni and health science professionals. Interested in being featured or nominating a candidate? E-mail LIFENews@LIFE.edu. Read more Faces of LIFE stories.