Faces of LIFE: Azalea Hancock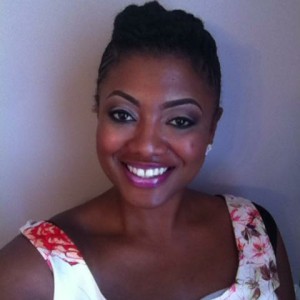 Azalea Hancock
Master of Many
Student: Master of Athletic Training
April 2015
Master of Athletic Training student Azalea Hancock has been called a "Jack-of-all-trades" but has never subscribed to the idea of "master of none." She believes her many passions and career pursuits have led her to where she is now, and her combined experiences have made her all the more prepared for her work in athletic training.
At 18, Hancock went to college on a full academic scholarship but ended up leaving after a year to be with her family in a time of need, and because she wasn't sure if the school was the right fit for her. "Being the oldest of five siblings, I felt obligated to come home," she says. She became a licensed real estate agent and ended up managing three offices for a broker. She also sold insurance and briefly went to school for photography. "I became a certified nursing assistant at one time to be better prepared to care for my family members that were getting sick at the time," says Hancock. She is currently a certified nursing assistant, an ACSM certified health fitness specialist and a certified American Heart Association BLS instructor.
"When I put it all on paper, it looks crazy," she says. "But it's all come full-circle. I've worked with a plethora of personalities. Each thing has taught me something different. Nursing taught me bedside manner and working with older individuals. Being in management roles so young, I was in a sink-or-swim scenario, so I had no choice but to do a lot of research and trial and error. Now that's what I do: I'm figuring this out, managing this, organizing this."
After working in corporate and management jobs for 10 years, she realized she didn't feel fulfilled by her work. While brainstorming with a friend, she recognized that she's always felt passionate about health and fitness, particularly when it comes to empowering youth. She enrolled at Georgia State, originally in Health & PE. "I realized I would probably end up on the news every day, boycotting something crazy related to not being able to be effective. I switched over to Exercise Science," she laughs. "Going back to school after being out for 10 years was scary at first, even though I was an A student in high school. Despite that, I pushed through, made it to graduation, and earned three writing scholarships while pursuing my degree."
After graduating in 2013, she took her next educational step by enrolling in the Master's of Athletic Training program at Life University (LIFE). "Basically, it's an entry level Master's program and the goal is to be a prepared health care professional and a certified athletic trainer," she says. Students will be eligible to sit for the national certification and apply their skill sets in a variety of professional roles.
"I enjoy it because I can keep the connection to sports and athletes. I played basketball growing up, was an assistant coach at a local high school during my time at Georgia State and my family is big on sports. So staying active and maintaining that connection is important to me," says Hancock. "I also enjoy the heath, fitness and rehabilitation aspect. Then you tie in immediate care, being a first-responder to an injury. There's so much you can do with [the degree]. I've learned a lot through the program, mentors in the field and my clinical experiences." She graduates in June, and her goal is to continue on to a doctorate in Athletic Training while actively working in the field. Continuing her diversity of skill sets, Hancock says, "My goal is to stay flexible, to stay moldable. I am constantly learning and just want to be ready for whatever opportunities come up. I'm not pigeonholing myself."
On campus, Hancock works at the Wellness Center, originally as a trainer and then as a more behind-the-scenes, part-time supervisor. She's left her footprint on LIFE by beginning a new tradition, the Market Day that's held every Tuesday at the Wellness Center – for $20, students can get a week's supply of fresh fruits and vegetables. Hancock also started a club known as the Athletic Training Student Association. "The program is growing and changing. I started the club so that we can have a presence or even just a gateway to be more visible," she says.
If you see Hancock on campus, she may seem reserved at first. "Like most students, I'm constantly juggling all types of things," she says of her more serious demeanor. But when she's not rushing to her next class or appointment, Hancock says she's very comical, quick to make jokes and have fun. She adds, "I'm artsy-fartsy at heart." She spends her free time painting, drawing, sewing and doing crafts. She's also an avid roller skater.
"The biggest thing for me is the fact that I'm in my mid-30s and my life has gone in so many circles," says Hancock. "I'm happy I didn't listen to 'Jack-of-all-trades, master of none.' I feel like I've mastered many things." She's reached one of her personal goals of losing 75 pounds, she's found her place in the health and fitness industry, she's bringing her previous medical knowledge to her new skill set and she's pursued higher education as a nontraditional student. It's undeniable that, whatever the future holds, Hancock will keep pushing forward, ready for whatever's next.
Faces of LIFE is a story campaign that showcases members of the dynamic LIFE community, including faculty/staff, students, alumni and health science professionals. Interested in being featured or nominating a candidate? E-mail LIFENews@LIFE.edu. Read more Faces of LIFE stories.