Faces of LIFE: Becci Holcomb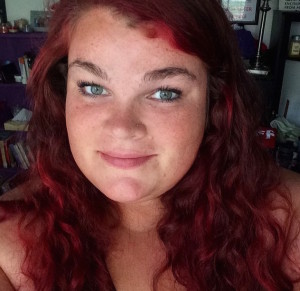 Becci Holcomb
Record-breaking Strong
Student: Doctor of Chiropractic
August 2015
An adult lion weighs just shy of 500 pounds. A large vending machine, much like the ones around the Life University (LIFE) campus, weighs about 600. Around three people would, on a scale, hit the 500 mark.
DC student and powerlifter Becci Holcomb can deadlift 507 pounds. In fact, she holds the American record in her weight class in the open division for the deadlift. Squatting 463 pounds and bench-pressing another 248 more, Holcomb's best powerlifting total of 1,194 pounds is the second best in the world in her weight class. Holcomb is world-class strong.
Her family is impressed – her little sisters even bring her in to Show-and-Tell to show her off to their friends – but not surprised. "I knew I was strong," she says. "It's in my genetics and my upbringing." Her father was on the 1984 Olympic wrestling team, so she was around wrestling entire life. She also had an abundance of wrestling partners: Holcomb, 27, is the oldest of nine siblings, the youngest being eight years old. They are all naturally tall and strong, Holcomb's 11-year-old sister measuring in just a half an inch shorter than she.
Holcomb's childhood on a small family farm in Blanchester, Ohio attributed to her strength-building long before she knew about powerlifting, and also to her interest in science. She baled hay and carried feedbags and water out to the animals. "Being around the animals furthered my interest in the sciences," she says. "We did everything on our own: we gave them their vaccinations; we helped with their births; we managed all their nutrition." Though she considered becoming a veterinarian, she was most fascinated with the human body and knew she would pursue something science-related. She says, "I read everything I could; I loved my biology and anatomy classes."
At the University of the Cumberlands in Willamsburg, Kentucky, she double-majored in Biology and Public Health. When she met a chiropractor who gave her his card, she began researching Chiropractic and kept it in the back of her mind. Her interest deepened as she suffered from recurring stress injuries from participating in track and field. "I was in rehab and wearing boots. They gave me orthotics," she says of the never-ending cycle of doctors. "Then they brought in a chiropractor and he analyzed my biomechanics. He was able to pinpoint what exactly was wrong and the preventive things I should be doing." A year and a half later, she got an internship at Christopher Chiropractic in Williamsburg and was then was hired on as a chiropractic assistant. Though Drs. Matt and Elizabeth Christopher were Sherman College alumni, they recommended Life University. Holcomb is interested in sports-based Chiropractic, and enrolled at LIFE in July 2013.
"Make sure you keep your focus on the right things," she advises new students. "Sometimes you lose your drive and tend to slack off, but then you have to get back to: 'Why are you doing this? Why do you want to be a chiropractor?' That helps, to remind yourself why you're here, what you want to do, how you want to help people." Her favorite parts of LIFE are the friendly people and diverse backgrounds. She also learned about powerlifting while at LIFE; just three months after starting classes, she met PrettySTRONG Powerlifter and fellow DC student Stephanie Mahan, who introduced her to PrettySTRONG founder and coach Vanessa Gale.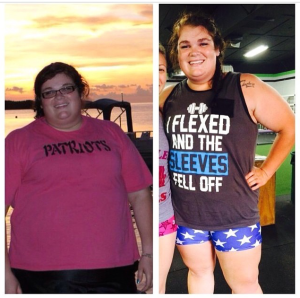 It's now been two years, and powerlifting has completely reshaped both Holcomb's health and her mentality. "My body composition has changed completely since I started," showing before-and-after photos of her body throughout the powerlifting experience, as fat mass was replaced with muscle. "I never wore tank tops before this! It's a newfound confidence. You're more aware of your body." As the world of lifting is male-dominated, she feels a thrill knowing that she's stronger than a lot of men – and that her PrettySTRONG teammates are constantly supporting each other.
And while her strength shows in her muscles, she also shows it with her mind. "You have to have the right thought process to be able to go out and do these lifts," she says of the mental preparation it takes to challenge her body. "'I can do this. I can do this.' The more you tell yourself you can do it, the more you start to believe it and the more your body starts to believe it." She's started using this positive psychology approach in different aspects of her life. "You start to see differences in the way you think and the way you feel."
Holcomb hopes to graduate in late 2017/early 2018, and run her own practice that focuses on pediatrics and sports. "I want to be able to help athletes with their injuries," she says. "And show them the proper mechanics of what they're doing so that they can prevent injuries and increase longevity." She knows from the extreme exertion of powerlifting that injury prevention can make a significant difference; she hopes to be a powerlifter for life.
She competes in Raw Nationals in Scranton, Pennsylvania this October, and if she wins, she'll be destined for the World Powerlifting Championships. She can hardly believe the progress she's made in just two years. "Sometimes I can't even fathom it myself," she says. "It's changed my life completely. I've become so much more confident in myself. When you're lifting heavy weights, it's empowering."
Faces of LIFE is a story campaign that showcases members of the dynamic LIFE community, including faculty/staff, students, alumni and health science professionals. Interested in being featured or nominating a candidate? E-mail LIFENews@LIFE.edu. Read more Faces of LIFE stories.