Faces of LIFE: Brent Money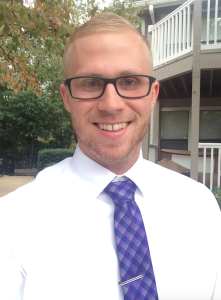 Brent Money
Discovering the Reason Why
Student: Doctor of Chiropractic
April 2015
Brent Money, Life University (LIFE) D.C. student, always knew what he liked to do, but not always why. As a child, he liked watching hours of Emeril Lagasse's cooking show with his brother. "It was all I ever wanted to watch," he says. "This is really nerdy, but we had this old video recorder and I would set it up." He would then create his own cooking show in the L-shaped kitchen of his family's home, shooting from several angles, bringing the camera close, mimicking the camerawork of Lagasse's show. Over time, he realized his dream of being a pastry chef was more of a hobby than a lifetime commitment, and the video recorder was retired.
His other major hobby was volleyball, a sport he's played since the age of seven. An injury at volleyball camp in seventh grade brought him to a chiropractor, which began a new fascination with Chiropractic – or, as he jokes, marrying into Chiropractic. "I would always say that I wanted to be in Chiropractic, that I wanted to marry a chiropractor," he says. After he retired his dream of pastry chef, Money was considering becoming a dentist.
However, Money's father kept insisting that his son's interest in Chiropractic was more than just a phase. "My dad said, 'Why don't you be a chiropractor? You love it, you enjoy it, you always ask so many questions,'" says Money. Taking his father's words into consideration, Money decided to pursue Chiropractic. A family friend was opening a practice in his hometown of Mio, Michigan, so he began helping her on the administrative side, getting a first look at what his chiropractic future might be.
"[The practice] was very successful right off the bat, and I learned things I want to do at my own practice and things I don't want to do," he says. "It was really cool to see that aspect of opening a practice: the policies and procedures, how she interacted with patients, how I learned to interact with patients. At that point, I didn't know why I wanted to do it, but I had an interest in it."
Money went to undergraduate at Michigan State University with the intent of going to chiropractic school. He and peer David Lutz (now also a LIFE D.C. student and campus leader in Student LIFEforce) created a pre-chiropractic association on campus, asking chiropractic colleges to come out and speak to their club. When Life University representatives spoke, Lutz was convinced this was the place to be, and he kept telling Money to check LIFE out as well.
Visiting LIFE's Marietta campus, Money immediately felt something different. "Different than I ever felt," he says. "I kept my mind open. Everyone seemed to have the same passion for Chiropractic, and I wasn't on their level, but the energy was good." Throughout his visit, he tried to come to terms with his life choice of Chiropractic. Someone working LIFE Leadership Weekend spoke with him and noted, "It seems like you know you want to be a chiropractor, and you don't know why."
On the last day of the visit, the group watched a TED talk about the reason we make decisions. "It wasn't until I visited Life University that I knew why I wanted to be a chiropractor," says Money. "This place really changed the reason – not how or where or when, but why. It made me realize it's about helping others and making sure they can live through their full potential. It was a pivotal point in my educational experience. It was more about learning about myself and digging deeper to understand my decisions."
Now in his seventh quarter, Money has integrated himself in the LIFE and Atlanta communities. He spent his first quarter getting acquainted with the social scene in the city of Atlanta. "I wanted to meet as many people as I could, both on and off campus. I really wanted to make sure that when I left LIFE, if I continued to stay in Atlanta, that I have friends here," says Money. "I'm openly gay. I'm from small town Michigan, so I was excited. I knew Atlanta offers a big city, which I like, but I can also live on the outskirts and not have to deal with the big city when I don't want to." He loves Midtown restaurants like Cameli's Gourmet Pizza Joint and Ten Atlanta.
After getting adjusted to his new town, Money next became involved on campus, working with orientation leaders through Student Services. In his fourth quarter, he became the secretary of Student Council and is running for president for next year. When he heard about the burgeoning volleyball program, he spoke with Dan Payne, LIFE's Athletic Director, and immediately got involved, earning himself the title of Running Eagles Graduate Assistant Volleyball Coach. Money takes new recruits on campus tours and is looking forward to working with the team this fall.
Money is on track to graduate in 2017 and isn't sure yet what the future holds; he might become an associate, do sports Chiropractic, open his own practice or travel abroad. He tries to visit a new city each quarter, inspecting places he might one day call home. Though he's leaning toward Colorado currently, he's keeping his options open, ready for what life sends his way. He recalls his first-ever trip through Georgia, when he told his friend, "'I am never going to live here; it's so humid!'" He laughs, adding, "And now look where I am."
Faces of LIFE is a story campaign that showcases members of the dynamic LIFE community, including faculty/staff, students, alumni and health science professionals. Interested in being featured or nominating a candidate? E-mail LIFENews@LIFE.edu. Read more Faces of LIFE stories.