Faces of LIFE: Britni Jordan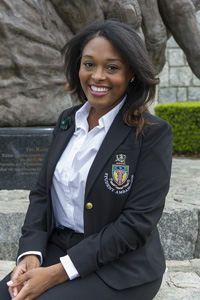 Britni Jordan
From Tumult to Triumph: Finding Your Purpose
Student: D.C. Doctor of Chiropractic; Student Ambassador
April 2017
Britni Jordan has come a long way to get to Life University. Jordan is from Jacksonville, Florida, but it's not the distance that she's traveled, but the journey that she has taken to get here.
After graduating with an undergraduate degree in Health Sciences from the University of Central Florida, she is now looking forward to graduating from Life University with a D.C. degree this September. "After graduation, I plan on going back to Florida and working with my mentor for a few years and then starting my own practice. That's the plan, but I don't want to block other opportunities and close myself off to possibilities."
That philosophy suits Jordan well. She says that she is the first person in her family to attend college or even move away from the immediate vicinity of her Florida home. She took the opportunity to do what was she felt was best for her, and ending up at LIFE is what she realized was exactly that.
"I knew when I was in school that I wanted to be a doctor because I had a passion for helping others out in any way that I could." But Jordan says that she never knew how to channel that passion until one tragic day when she was in middle school.
"My cousin was involved in a car accident and was only two weeks from her due date. Unfortunately, we lost two people that day. I remember being in the trauma unit waiting to hear what was happening, and I saw them trying to save her. It was at that point that I knew I was going to help people through health care. I didn't exactly know what that looked like yet, so I took my time as an undergraduate to uncover what type of doctor I wanted to be."
Jordan started volunteering in an emergency room for about a year, but she soon realized that this environment did not give her the ability to build much rapport with people. "I knew that that's not the way that I wanted to interact with people. I wanted something that would give me more time with them."
"I realized that I didn't need to be in a hospital setting and instead needed to be where I had more time with my patients. The hospital doesn't give you the opportunity to get down to the nitty gritty to really see what's going on. When I was in the emergency department, I would see some of the same people come in there every other week."
Jordan knew that while something was wrong with the individuals coming into the hospital, the medical doctors were not discovering the cause of their problems – only simply treating the symptoms. After taking a class that touched on different avenues of medical treatment, she felt that she had finally found her calling in osteopathic treatment. Knowing that they also try to treat patients without the use of drugs made sense to Jordan who then started shadowing an Osteopath. "They tend to look at the body and see how it functions as a whole; like how a pain in your leg may affect the rest of your body," explains Jordan.
But again, she became disillusioned when the doctor was using a more traditional approach and treating her patients with drugs instead of the full body approach that Jordan was expecting. The doctor told her that most people did not like that approach and trusted the drugs instead, but Jordan supposed that this might be due to their lack of education on other options.
"So, I got to the point where I didn't know what I was going do because I felt that I wanted to be in health care, but the philosophy of it wasn't lining up with my core values. And what do you do when what you want to do every day in life doesn't align with your core values? It's a conflict."
During her time as an undergraduate in Florida, Jordan worked as a resident assistant/leasing agent at a college apartment complex and met a lot of interesting people there. One day a gentleman and his daughter went on an apartment tour with her, and after mentioning that she was a pre-health student, he told her that he was a chiropractor.
"He invited me to his office, but I didn't go because I didn't know about Chiropractic at the time. I researched it and thought 'this makes sense,' but I still didn't go into his office. It wasn't until about a year later that I was driving down the highway and saw a billboard with his face on it, and I knew that it had to be a sign!"
Jordan immediately went to his office not knowing if he'd remember her, but luckily, he did and invited her to start shadowing him that very day. "So, I walked in and started the same day. And I went back every week, and even every day of the summer, until the time that I came to LIFE."
Jordan says that while her journey to Chiropractic was a tumultuous one, the journey to LIFE was much easier. "There are actually a few chiropractic schools in Florida. There's even a good one that is only an hour away from my mentor's office and my home, and it's right by the beach, so it would have been perfect for me. I would still have been easily able to go home and to my mentor's office. I even went there for an orientation session and loved it, so I really thought that that's where I was going to go … until I went to a LIFE Leadership Weekend."
"During that weekend, I was expecting to learn a lot about the school, and I did, but I learned even more about myself. I was challenged to look within myself and discover who I wanted to be as a person. I felt like I would be a good chiropractor if I went to either school, but I knew that I would grow as a person by coming to LIFE, which in return would make me an even better chiropractor."
"And I love it here! I'm even a student ambassador representing the President's Office and emulate the mission and vision of LIFE to others. I know that I've grown as a person here. I've gained the confidence to do anything. So, I know LIFE was a good choice!"

LEARN MORE:
Faces of LIFE is a story campaign that showcases members of the dynamic LIFE community, including faculty/staff, students, alumni and health science professionals. Interested in being featured or nominating a candidate? E-mail LIFENews@LIFE.edu. Read more Faces of LIFE stories.