Faces of LIFE: Brittany McClain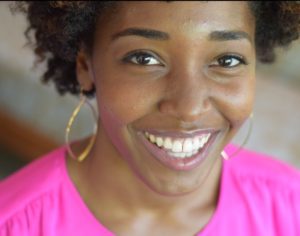 Brittany McClain
Now Student Ambassador, Soon Doctor
Student: Doctor of Chiropractic
August 2016
As a student ambassador at Life University (LIFE), Brittany McClain has to be ready for anything. Part of her responsibilities include conducting campus tours for prospective students, as well as facilitating graduation. She never knows whom she'll run into, and her tour groups expect her to set the tone for the day, whether it rains or shines. "Being a student ambassador really helps you to grow in your leadership skills and communicate better with people," she says. "We never know who we're going to meet, and we have to be able to relate to them regardless of where they are in life. And we want them to enjoy their time here!"
McClain is able to help others enjoy their time at Life University because she's enjoying her own — she's found a home here at LIFE. The North Carolina native knew growing up that she wanted to be a doctor, but wasn't sure which field to pursue. She attended UNC Chapel Hill to study radiological science and got her license as a radiologic technician.
When forays in job-hunting for RT positions didn't work out, McClain tried a bunch of different jobs before recommitting to her goal of becoming a doctor. Meanwhile, her friend Tyshia Hedgspeth attended a LIFE Leadership Weekend at Life University, and told McClain she needed to visit. McClain had never experienced chiropractic care or considered Chiropractic as a career option, but she was game to see what it was all about.
The passion at LIFE Leadership Weekend got her hooked. She says, "The doctors were so happy with what they did — it wasn't like they were 'just going to work.' That really resonated with me." She began working as a chiropractic assistant in 2012 while she applied to Life University, and knew she'd found her career path once she saw how chiropractic care affected patients. "I remember an older lady who came in with a walker. Before I left the office to come to LIFE, she was walking without her cane," McClain recalls. "One of the things she told me she was able to do now was stand up and make jam for her grandkids — I'll never forget her."
When studying at LIFE, McClain thinks her undergraduate background in the sciences gave her an edge. Still, the rigors of the Doctor of Chiropractic program were a challenge. She began to adapt to what she calls the presentational style of the program — where the material is presented and the students are challenged to engage and learn. "This is a graduate program and we should have all the tools at this point of how to study, how to take information and put into our knowledge banks," she says. When she feels challenged or confused, she talks to her professors, something she thinks all students should take advantage of. She says, "I don't think so myself, but other people tell me I'm very outspoken! I don't have a problem reaching out to people and making relationships."
Getting involved on campus has also been a major factor in McClain's success and happiness at Life University. She takes advantage of every opportunity to learn, and has enjoyed her two years as a student ambassador, a team she calls "even more close-knit than your classmates."
She's also in the President's Circle, a group of donors who commit to a donation each quarter that funds new academic initiatives and student recruitment programs at LIFE. "I think it's important to be a part of something like that as student, so you feel you have something to come back to," she says. "I know that I'll always have a place here at LIFE, and everyone should feel that way, but having an organization I'm a part of that supports the University makes it more worthwhile."
Lately, McClain has been in the PEAK process, working at a chiropractic office to gain a better understanding of how her education will translate to a career and a business. She will graduate in December 2016, something she refers to as "bittersweet." Ask her what she plans to do and she responds, "The big question! I've been asked this so many times recently!" She hopes to work internationally, practicing as an associate in Spain — enjoying culture and cuisine of a small, Spanish town.
Sooner than she can believe, she will be a doctor. "I've been a student almost my entire life. I haven't really had a 'real job.'" She laughs, "That makes me nervous because I have to be a 'real adult' now!"

LEARN MORE:
Faces of LIFE is a story campaign that showcases members of the dynamic LIFE community, including faculty/staff, students, alumni and health science professionals. Interested in being featured or nominating a candidate? E-mail LIFENews@LIFE.edu. Read more Faces of LIFE stories.