Faces of LIFE: Bryna Waters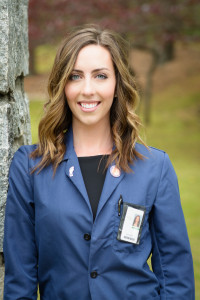 Bryna Waters
Planning for Success
Student: Doctor of Chiropractic
April 2016
Bryna Waters was the rare high school student who had higher education and her future career mapped out. "I don't remember the first time I decided I'm going to be a chiropractor," she says. "I think my mom and I had a conversation when I was younger about wanting to help people and maybe wanting to be a doctor, but not wanting to deal with blood." She laughs remembering how they realized their family chiropractor, Ray Reaves, D.C., did just that.
In high school, Waters interned at Dr. Reaves' practice. She immediately loved everything about Chiropractic — from how Dr. Reaves interacted with his patients to the major differences he created in their health. A planner by nature, Waters begin mapping out her future: undergraduate at University of North Carolina (UNC) and then chiropractic school at Life University (LIFE), the alma mater of Dr. Reaves.
At UNC, she earned her B.A. in Exercise Science, choosing a major she felt would be congruent with her chiropractic pursuits. "I was a personal trainer and taught fitness classes. I did a couple weight loss programs with gym patrons and started a running club for new runners to work toward 5ks," she says. She still loves being active and fills her free time with jogging and working out.
When it came to chiropractic school, Waters briefly considered programs closer to home in Hickory, North Carolina. "But I came here for a LIFE Leadership Weekend, and I knew I didn't need to be anywhere else," she says. "When people talk about Chiropractic, they reference Life University. And I wanted to go to the best place to become the best chiropractor I could." She enrolled in the Doctor of Chiropractic program in fall 2013. Her favorite part of the experience has been the small school sense of community — the friends she made in class on day one have formed a close-knit group as they continue years into the program, practicing and learning together.
Now that Waters expects to graduate in March 2017, she's coming to the end of the multi-year plan she constructed in high school. "It feels really weird, and it's something my roommates and I talk about a lot: 'What am I going to do?'" she says. "For most people, that's what happens when you graduate undergrad, but I was fine because I had 3.5 more years to figure it out. Now I get what they're talking about!"
She hopes to land an associateship after graduation, with the intent to learn from a more experienced chiropractor before opening her own practice in the coming years. From business acumen to experience with acute patients, an experienced mentor will give her a solid foundation for her chiropractic career. And she hopes her future brings her back to her home state of North Carolina to be closer to family. "We don't even have a Trader Joe's!" she laughs about her decision to work close but not too close to her hometown of Hickory. She jokes if she ran a practice in Hickory, her family would take up her entire patient base.
With a little less than a year left in her chiropractic education, Waters is ready for what this unplanned future holds. She says, "It makes me a little nervous, and I have butterflies, but it's a good thing."
LEARN MORE:
Faces of LIFE is a story campaign that showcases members of the dynamic LIFE community, including faculty/staff, students, alumni and health science professionals. Interested in being featured or nominating a candidate? E-mail LIFENews@LIFE.edu. Read more Faces of LIFE stories.