Faces of LIFE: Caitlin Reimer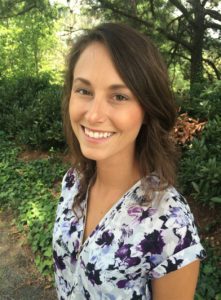 Caitlin Reimer
Inspirations in Chiropractic
Student: Doctor of Chiropractic
August 2016
Doctor of Chiropractic student Caitlin Reimer grew up thinking she'd work in health care one day — maybe optometry or dentistry. The Winnipeg, Canada native earned her bachelor's in Chemistry and Biology, graduating from the University of Manitoba in 2013.
She found her path to Chiropractic through professional cheerleading. "You guys have the NFL. In Canada, we have the CFL," she says. During undergraduate, Reimer was a professional cheerleader for the Winnipeg Blue Bombers. She says, "Honestly, I don't know if I knew what a chiropractor was before that."
Richard Tapper, D.C. was the team chiropractor, and though Reimer got to know him from cheerleading practice, it wasn't until she had a car accident that she went to his office. "He was really good with patient education. The more I learned, the more questions I had," she remembers. Dr. Tapper's passion for Chiropractic and the wellbeing of his patients kept her fascinated, and she began to shadow him and consider a career in Chiropractic for herself.
"I don't know if I really have words for it — seeing how much he genuinely cared that people understood what was going on inside of their bodies. You could feel he cared and that he wanted you to be the best version of yourself," she says. "I don't know if I'd ever really seen love like that before."
When Reimer tried to discuss chiropractic colleges, Dr. Tapper didn't extend the conversation beyond Life University (LIFE), though he was a graduate of Southern California University of Health Sciences. Says Reimer, "He'd say 'I'm not telling you about other schools because you're going to go to LIFE.' That this was the best school there was in the entire world." In December 2011, Dr. Richard Tapper was diagnosed with stage 4 colon cancer, and by May he had passed away. He was 35 years old and left behind a family.
"That's when I realized you need to get your act together today," says Reimer. "I emailed Life University the next day." After working as a chiropractic assistant for a year, Reimer enrolled in Life University in March 2014. She's found the transition from Manitoba to Marietta fairly easy, since Southern hospitality reminds her of the small town feel of her home city.
She's passionate about Adjusting Ninjas, a chiropractic training program that she brought to Life University in the form of a club. They train Tuesday and Thursday mornings from 5:30 – 6:45 a.m. in the Wellness Center. "That's dedication – the crack of dawn!" she laughs. An international program established by Dr. Brett Jones and Dr. Lance von Stade, Adjusting Ninjas focuses on effective methods for the chiropractic adjustment, as well as exercises to enhance chiropractic performance. Reimer says, "You're training body motions and doing exercises to train specific muscles and chains that your body uses to be able to deliver the best adjustments."
When she graduates in June 2017, Reimer plans to go on a world tour for six months, leading Adjusting Ninjas training camps at schools around the world. She hopes the tour helps her to determine where she wants to live and open her own practice.
In the meantime, she's reading in her free time ("The Celestine Prophecy" by James Redfield is her favorite book), and attending all the Life University conferences and seminars and Adjusting Ninjas camps she can. Already planning out her future in Chiropractic, she's happy recalling how Dr. Tapper's love of Chiropractic was the foundation for her own.
LEARN MORE:
Faces of LIFE is a story campaign that showcases members of the dynamic LIFE community, including faculty/staff, students, alumni and health science professionals. Interested in being featured or nominating a candidate? E-mail LIFENews@LIFE.edu. Read more Faces of LIFE stories.