Faces of LIFE: Dr. Arcella Trimble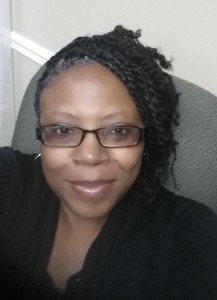 Dr. Arcella Trimble
Pop Culture and Psychology
Assistant Professor of Psychology
May 2015
Dr. Arcella Trimble, assistant professor of psychology at Life University (LIFE), is on her current career path due to her family, a fateful middle school career day and Oprah Winfrey. Hailing from Gary, Indiana, – "the home of Michael Jackson," she notes – a young Dr. Trimble dreamt of becoming a medical doctor, a destiny that was often chanted by her family. "Even though we had no college people or anyone who was a doctor," she says, "My family kept telling me, 'You're going be a doctor! You're smart enough; you're going be a doctor!'"
The dream held fast until Dr. Trimble was around age 10 and her aunt got sick and needed surgery. "I realized I couldn't stand blood! She's crying; I'm crying!" remembers Dr. Trimble. "So my family sat me down and said, 'Well, you can't be that kind of doctor.'" Still, it was hard to shake her dream of becoming "Dr. Trimble," so when a woman in a suit with a bob haircut walked into seventh grade career day, Dr. Trimble listened closely. "She said she was a doctor. She said she got to help people and was a psychologist," says Dr. Trimble. "I remember raising my hand and asking, 'Hey, did you see blood? Can you cry with the people?'" After discerning that psychologists don't see any blood and can sometimes cry with their patients, but it doesn't happen often, seventh grade Dr. Trimble proclaimed, "I'm going to be a psychologist!"
From there, she got right on track to fulfilling that childhood dream: after majoring in Psychology at Spelman College here in Atlanta, she earned a Master's in Professional Counseling from Georgia State University before pursuing her doctorate degree in counseling and school psychology at the University of Southern Mississippi. Next, she studied at Johns Hopkins University, focusing on parent training and family therapy. Her studies behind her, Dr. Trimble – officially a doctor – left Baltimore and moved to the Decatur, Georgia area, where she worked as a school psychologist for 10 years in Dekalb County schools.
"The Oprah Winfrey Show" would inspire her next big change. When a friend got tickets to attend a 2010 taping just before "Oprah" went off air, Dr. Trimble excitedly joined the audience. "You don't know what the show is on before you go," says Dr. Trimble. "So when I get there, it's all about your dream job." Sitting in the audience, she had a realization. While Oprah Winfrey interviewed people like Buddy Valastro of TLC's "Cake Boss," Dr. Trimble's inner monologue shouted, "I'm not doing my dream job! I'm not living my dream!" followed by "I'm gonna quit!" She laughs, "But I'd been saying that for nine years, so I was like the person who cried wolf." After nearly a decade, none of her colleagues believed she would actually quit.
Working as a school psychologist had been rewarding and convenient as Dr. Trimble raised two children; she'd enjoyed sharing the same schedule as her kids and choosing which schools they attended. However, her work was often very limited. "It was like putting Band-Aids on gaping wounds," she says. "The kids had all these issues, but in the school system, I am not a psychologist – I am a school psychologist. So when you're a school psychologist, you have to work in the parameters of that system." She craved a more creative outlet, and in the back of her mind was the knowledge that she'd originally pursued her PhD so that she could become a professor. During her time as a school psychologist, she had also been teaching in adjunct roles at all levels – undergraduate, graduate and doctorate – but she'd never become that full-time professor she'd envisioned.
As she hit her 10-year mark, Dr. Trimble quit her job. She enjoyed a rambling eight months afterward before accepting a job at Life University in the Psychology Department. She remembers a moment eight months into her tenure at LIFE: "One day I was sitting in class, teaching Careers in Psychology, and I was saying 'Yeah, I always wanted to teach and be a full-time psychologist—' and as I looked up at all of the students, I was like 'Oh my God, I did it! People pay me to stay here and talk to you guys!'" She was, at last, living her dream.
Dr. Trimble enjoys the creative power at LIFE to work on a vision like the Master's of Positive Psychology program and bring it into existence. She hopes LIFE will become the premier positive psychology institution, and that the program reframes how people look at psychology, promoting the vitalistic wellness that is emphasized on LIFE's campus. After noticing a need for quality research skills, she also worked on a certificate-awarding program called Research Directions with Dr. Stephanie Sullivan, which teaches students best practice research skills. "You can have an idea, and LIFE supports it to come into fruition," she says of LIFE's forward-thinking environment.
Her favorite part of being a professor at LIFE is the community atmosphere that feels like family, both with her colleagues and her students. "The students actually come and tell me about themselves during office hours," she says. "I like that I get to know them."
Besides teaching, Dr. Trimble remains active in her field. She's a licensed psychologist and owns a private practice, Peak Development Group. She still teaches online at Walden University, which she's been doing for 10 years. She says she's reinventing herself currently, booking speaking engagements and beginning to write a book.
Her rare free time is filled with movies, reading and reality television that Dr. Trimble sees through a psychologist's lens. She laughs, "The cool part is I get to say what I couldn't say in person: 'That's crazy! Look at what you're doing! Stop it!' In real life, obviously you can't say that." She's fascinated by the A&E show "Married at First Sight," where two complete strangers meet and marry each other; the show then follows the next six weeks of their impromptu marriage, at the end of which they can choose to stay married or get divorced. "One thing that's interesting about the show is [the question of] 'How do you help people prior to connecting?' because there's usually something that's causing them not to connect; they're all good-looking people, all smart, all successful, so it's got to be something else. They put them together but don't help them first, so they must work their things out with each other."
Dr. Trimble often brings this element of pop culture fun to her classes. "In class, I teach Behavioral Mod, so I'm teaching them about reinforcements and punishments. So I show them clips of 'Supernanny.' I teach Marriage and Family and I had them watching aspects of marriage and how people view it – shows like '19 Kids and Counting' and 'Sisterwives.'"
One extracurricular opportunity Dr. Trimble makes sure to be a part of? She's often a speaker a school career days. She remembers that woman who inspired her in middle school to proclaim, "I'm going to be a psychologist!" and hopes she can encourage all those psychologists-to-be.
Faces of LIFE is a story campaign that showcases members of the dynamic LIFE community, including faculty/staff, students, alumni and health science professionals. Interested in being featured or nominating a candidate? E-mail LIFENews@LIFE.edu. Read more Faces of LIFE stories.