Faces of LIFE: Dr. Christie Kwon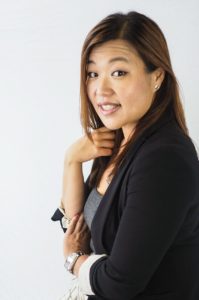 Christie Kwon, M.S., D.C.
When Student Becomes Professor
Assistant Professor
Alumna: Doctor of Chiropractic Class of 2011
May 2016
When Christie Kwon, M.S., D.C. walks into a Life University classroom, the experience is all too familiar — except this time she's behind the podium, not at a desk. A 2011 Doctor of Chiropractic graduate, now Dr. Kwon is the professor, teaching classes in the Clinical Sciences and Basic Sciences divisions of the College of Chiropractic. She teaches courses like Biochemistry, Advanced Clinical Case Integration and Introduction to Public Health.
This duality — from Life University student to Life University professor — helps her relate to her students' experience in a unique way. "I understand the content of what I teach, but I also understand what their life is like — roughly 25 credits over 11 weeks, all while they're figuring out where they fit into the profession," she says. As for how she thinks her students view her? "I know they think I'm tough by the virtue of the classes I teach, but I hope they think I'm fair and that I really do care."
She's also experiencing a shift that teachers everywhere know — that students tend to see their instructors within a bubble, rarely as people who have lives outside of the classroom. She laughs, "They think, 'This is the biochem professor, so she must be into all things biochemistry. That's what she does in her free time.' It's interesting to be on the other side of that."
Returning to Life University and the metro Atlanta area was a surprise for Dr. Kwon, who grew up in New York City. As a child she was determined to either become a reporter on the 10 o'clock news or the surgeon general of the United States. "I kind of skipped the whole ballerina phase!" she says. Interested in science and math, she attended Johns Hopkins University to earn her bachelor's in biomedical engineering and her master's in biotechnology. When she met a chiropractor who was a Life University alum, she found herself in Marietta, studying to become a Doctor of Chiropractic.
"Chiropractic is unique," she says. "It's not as defined as other professions. You can forge a plan for yourself — your practice can look a certain way, you can teach, you can research." She became very involved on campus, establishing mentors and joining student organizations that would help her figure out her path in the profession.
After graduating in 2011 within the Research Track with Pi Tau Delta honors, Dr. Kwon was determined to ditch Marietta and return to New York. She sold all her furniture before moving to New Zealand for PEAK, and then she officially moved home, interning with the United Nations as she considered opening a practice in Manhattan. But she still wasn't certain about what she wanted to do next within the profession.
When a mentor reached out to her and asked if she'd consider teaching at Life University, Dr. Kwon was surprised by the option; it was a route she hadn't considered. She accepted a position and now, five years later, works full time as a professor, serving on the Institutional Review Board, the Research Track Advisory Board and as Chair of the Faculty Development Committee. Outside of work, she also serves as the Executive Director of the Foundation for Vertebral Subluxation and a board member for the Academy of Chiropractic Family Practice. She is grateful to be able to continue pursuing her passion, which is subluxation-based chiropractic research focused on pregnant women and children.
Moving back to the area, she switched out Marietta for Atlanta to get more of the urban feel she's accustomed to. "I like to be able to get to places on foot and to walk places. The BeltLine has really changed Atlanta's lifestyle dramatically. I like to socialize with friends and try new restaurants," she says. Her "hands down favorite" Atlanta eatery? Barcelona in Inman Park. She's even found a few worthy pizza establishments in restaurants like Antico and Ammazza.
Back in class, Dr. Kwon's former teachers are now her colleagues; she's gotten used to calling them by their first names. And she knows that while her students might consider her a tough teacher, she hopes they know it's part of their journey to live lives of significance in Chiropractic. "They want to become doctors, and there is a significance in what they do every day. This learning process carries through beyond graduation."
LEARN MORE:
Faces of LIFE is a story campaign that showcases members of the dynamic LIFE community, including faculty/staff, students, alumni and health science professionals. Interested in being featured or nominating a candidate? E-mail LIFENews@LIFE.edu. Read more Faces of LIFE stories.