Faces of LIFE: Dr. Deborah Roche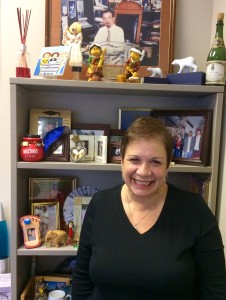 Dr. Deborah P. Roche
Flamingo Fever
Senior Academic Adviser and Assistant Professor
College of Chiropractic
October 2015
Dr. Deb Roche's office is filled with flamingos. Two sit outside the window, resting in the ivy. One bookshelf is lined with them, and a palm tree stands in the corner. Another bookshelf is crammed with mementos from former students: picture frames, knickknacks, notes. "This one," she says, pulling down a photo, "is from a student. He was wearing the craziest jacket on the first day of class. This is a photo of him wearing the jacket and sitting with another crazy jacket!"
When asked about the love of flamingos, Dr. Roche says, "I just like things that are pink." She says she hadn't seen a flamingo in the wild until about five years ago. Her love of all things tropical stems from living in Miami – one of the many places she's "from" as her father was in the service and her family moved from place to place. Dr. Roche met her husband, a native Miamian, when she was just 17. "Our first date was on his 23 birthday, and he'll be 63 in December," she says, marveling their 38 years of marriage. When they vacation, they seek the beach – whatever coast they can get to.
At a crossroads in her life, Dr. Roche was considering studying physical therapy when her mind got set on Chiropractic. It was the 1990s, and there were no chiropractic schools in Florida; the Roches knew they needed to leave their Miami lives behind, pack up their kids and make the move to Marietta, Georgia so Dr. Roche could attend Life University (LIFE). "We packed up all our stuff like the chiropractic Beverly Hillbillies," she remembers. A chiropractic education would eventually lead to employment at LIFE, firmly entwining the University with Dr. Roche's future.
In her job as Senior Academic Adviser, Dr. Roche teaches, creates academic plans and helps students overcome scheduling difficulties. When she says she's "been there," she truly has – she graduated from LIFE in 1993, and often relays her own experiences to her students. "I've been teaching technique the last couple years," she says. "My first adjustment as a student in student clinic, I dropped the patient right on the floor! So I tell my students, look – if you feel like you're terrible at this, it's okay!"
Dr. Roche started working at LIFE in 1995, just two years after she graduated from the D.C. program, and has since served in a number of roles, including Assistant Dean and Dean of Instruction of the College of Chiropractic. She prefers working directly with the students and takes pride in being their go-to when they have questions or concerns. "You hear people say: be the person that you needed when you were younger. I feel like I do that," she says. "I feel like the students here know that they've got somebody they can go to." Dr. Roche struggled with anxiety in her 20s and 30s, something many students experience; when students visit, she wants to let them know she's "been there."
Teaching wasn't her original plan. After graduating, she'd originally gone into full-time practice. However, she didn't get to see her kids enough – around that time Shawn and Aubree were ages 15 and 11 respectively, and she didn't want to miss out on those years. Thus, she accepted a teaching position at LIFE.
"I was scared to death, but the first day I stepped in front of a classroom, I knew," she remembers. "Nothing beats that face-to-face interaction, seeing students light up … I was making a third of what I made practicing, but to have the time with my kids and this incredibly fun job was totally worth it," she says. She loves watching her students graduate (she even reads their names out at graduation – "I'm a nice Latina girl so I can roll the R's with the best of them") and maintains a gigantic network of Facebook friends to keep up with them.
Though she's no longer in practice herself, Dr. Roche feels her influence when she sees her students begin practicing themselves, going on to influence thousands. Meanwhile, as new students come into the program, it's not long before they meet Dr. Roche. Her office continues to fill up with pink in the form of skinny-legged flamingos. "Twenty years later, I'm still here doing my thing," she says. "And boy it went fast!"
Faces of LIFE is a story campaign that showcases members of the dynamic LIFE community, including faculty/staff, students, alumni and health science professionals. Interested in being featured or nominating a candidate? E-mail LIFENews@LIFE.edu. Read more Faces of LIFE stories.