Faces of LIFE: Dr. Karen Mathiak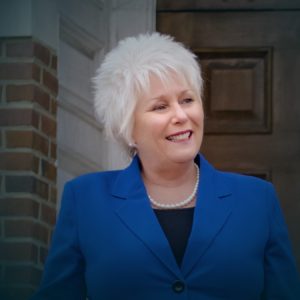 Karen Mathiak, D.C.
Leading in Chiropractic and Beyond
Alumni: Chiropractic, Class of 1984
July 2016
Life University '84 alumna Karen Mathiak, D.C. enjoys being a leader in her community, first in her 30-year-old chiropractic practice based in Griffin, Georgia and now while running for office. But her passion for leadership began earlier than that — during her college and Doctor of Chiropractic program years, she was president of a sorority, involved in Student International Chiropractic Association (ICA), and helped establish the very first Run for LIFE 5k on Life University's campus. The latter was one of her favorite memories from her time at Life University. She says, "I was one of the original planning members. We teamed up with the Atlanta Track Club and were the ones that did the Run for LIFE the first time as a university fundraiser."
A Michigan native, Dr. Mathiak first visited a chiropractor when she was experiencing issues with her sinuses. Next, she took on a position as a chiropractic assistant for Dr. Ron Graves, who brought her to Dr. Sid William's "Dynamic Essentials" seminar at Life University. "It caught on fire, and the rest was history," she says. She enrolled in Life University's Doctor of Chiropractic program shortly after.
After graduating, she opened her own family practice in Griffin, Georgia, where she has now served the community for three decades. "My favorite part is when I get to take care of gals who are pregnant, to take them through their pregnancy and take care of their babies," she says, "I've been in practice long enough that now I've watched some of these girls grow up and start families of their own."
Her advice for current chiropractic students is to learn as much about business as possible if they aim to open their own practices. "We produce world class chiropractors; I'd put them up against anybody," she says, "but the business side — filing taxes, property tax — that is a challenge." In the early years of her practice, managing operations was her biggest learning curve.
These days, she's seeking new challenges. Already a pillar in her local community as a family chiropractor, Dr. Mathiak is now running for office. "I'm running for State House District 73," she says. "I've always been interested in politics and my opponent has had the seat for 23 years. It's time for a fresher voice." With the election approaching quickly on July 26, Dr. Mathiak is running on a platform focused on the economy, particularly in the south side of Atlanta, as well as education.
Her views on health care also play a major part in her political beliefs. "As a chiropractor, we look at long-term health and try to help people to be as healthy as they possibly can, especially in today's drug-based society," she says. She hopes to educate people on what Chiropractic is.
Outside of her political aspirations and running her practice, Dr. Mathiak most enjoys riding horses. "I can't wait to get back to the farm — it's my mental health time. It's a blast!" she says. She's currently learning how to sort cows on horseback.
She says, "I'm not great at it, but I'm learning."
LEARN MORE:
Faces of LIFE is a story campaign that showcases members of the dynamic LIFE community, including faculty/staff, students, alumni and health science professionals. Interested in being featured or nominating a candidate? E-mail LIFENews@LIFE.edu. Read more Faces of LIFE stories.