Faces of LIFE: Dr. Keyonda Smith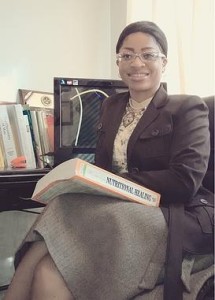 Dr. Keyonda Smith
Getting LIFE Online
Online Learning & Graduate Studies Coordinator
April 2015
Dr. Keyonda Smith is getting Life University (LIFE) online. As the Online Learning & Graduate Studies Coordinator, she works behind the scenes to create the online hubs where students take their learning to the web. "As the instructors give me the syllabus, I build the shell for them," says Dr. Smith. "I build the course, and they fill in their curriculum. I set it up so that it's attractive for a student and so that it's consistent, so no matter what class a student takes here at LIFE, it's always going to look the same."
A newcomer to LIFE within the last three months, Dr. Smith was thrilled to see a position that married so much of her education and experience. "My bachelor's was in Health Education with a focus on family health. So I've taught all allied health: x-ray technicians, LPNs, medical assistants, all that," she says. She has a Doctorate in Naturopathy and is finishing her second doctorate in Educational Leadership with a focus on Curriculum. "Naturopathy is the holistic wellness of man," Dr. Smith says. "The natural way of taking care of yourself: complementary, alternative medicine and natural health and wellness." Her second doctorate takes her higher education pursuits to the next level, and she most recently worked at Fortis College, writing curriculum.
With her holistic health and higher education background, Life University was a perfect fit. "That was the only reason I was willing to move 400+ miles, because it was an opportunity that was in my area on both sides. That was luck!" she says of her move from Jacksonville, Florida to Midtown Atlanta.
Dr. Smith is an advocate of online learning, and she's working hard to get LIFE's classes online while ensuring best practice standards. She says the clearest benefit of online learning is its reach: "Being able to reach out to nontraditional learners, people who are interested in our unique programs who can't come to Atlanta to sit in a classroom. Especially the Master's programs in Positive Psychology and Bachelor's in Health Coaching – those are degrees you just don't see everywhere. They're not as hands-on, as they're very didactic, very theory-based; we can offer those to anyone in the world." Online learning will increase LIFE's student base and make the University more competitive with other institutions.
There are also myriad smaller benefits that combine technology and education into simple solutions. Missed a class due to an appointment or scheduling conflict? Find the day's lecture online and stay on course. Time to take a test? Log into Blackboard and take the test online; get your grade back faster than ever. Can't attend class due to a personal conflict? Hop onto a webinar and engage in the seminar from home.
A bigger challenge in the online learning realm? Preparing LIFE's science-heavy classes for the Rome, Italy-based campus that aims to open in 2017. Dr. Smith says, "All those pre-D.C. students are going to be 100 percent online. And that's a lot of prerequisites, which means Biology and Chemistry have to be done online. The technology is there." She describes how students will practice science in virtual labs, "picking up" bottles and "pouring" solution – all with the click of a mouse. "They have to utilize it just like they're there."
While the benefits of online learning are easy to name, getting LIFE online takes time, care and collaboration. Dr. Smith converts face-to-face courses into hybrid/blended online courses, each one taking 9-10 hours to build, and she relies on faculty to input their lesson information. "And I sleep Blackboard," she jokes. "I breeze through Blackboard! So for a faculty member who's never used the system, it can take a long time." From inputting the information to knowing what to do with the online component when the quarter begins, online learning can challenge professors who are accustomed to face-to-face classes. "It's not part of instruction; it's instructional technology," says Dr. Smith.
Instructional technology doesn't rely on a professor standing front and center in a classroom. Instead, it must be carefully optimized so that the student remains engaged and learning. "I've seen some courses where the professor just uploads the course and walks away. The students are left to discuss with each other, or not at all," says Dr. Smith. "It's not engaging and their retention suffers." She's developed a faculty-training guide as a handout that encourages engaging online lessons, using effective assessment strategies and ensuring students utilize discussion boards.
Outside of LIFE, Dr. Smith has a 20-year-old daughter who's in the army. Brand new to Atlanta, she is enjoying walking everywhere she needs to go. Shortly after she arrived in Atlanta, she founded a group on Meetup.com called Atlanta's PhD's and PhD Candidates Meetup. A support system for individuals who either have a PhD or are enrolled in a PhD program, the group meets for dissertation writing workshops and accountability check-ups. She says, "I saw the need for it. I see a lot of programs here offering doctoral degrees, but what about the students who may be either going to a PhD online or who may not be getting enough from their PhD program?"
Whether she's at work or enjoying her free time, Dr. Smith's love of learning is always focused on progress.
Faces of LIFE is a story campaign that showcases members of the dynamic LIFE community, including faculty/staff, students, alumni and health science professionals. Interested in being featured or nominating a candidate? E-mail LIFENews@LIFE.edu. Read more Faces of LIFE stories.