Faces of LIFE: Dr. Mathew Wolfson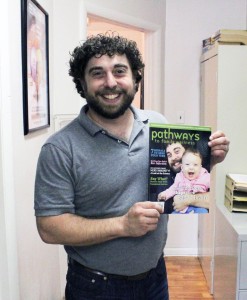 Dr. Mathew Wolfson
Authenticity in Chiropractic
LIFE Alumnus (Class of 2010)
June 2015
Life University (LIFE) alumnus Dr. Mathew Wolfson, or "Dr. Mat" as he likes to be called, has a bustling chiropractic practice in downtown Philadelphia, Pennsylvania. Stepping off 11th Street into Wolfson Wellness Family Chiropractic, clients are greeted by colorful chiropractic paintings created by Dr. Mat's wife, Shayna. His dog, Chip, sits at the window, watching the passerby of Washington Square West, a neighborhood known for its vibrant gay culture and artistic community. The University of the Arts is nearby, and many of Dr. Mat's clients are ballerinas and modern dancers.
Some of his favorite clients are pregnant mothers and newborn babies, who make up nearly 30 percent of his business. Whether he's caring for a ballerina hoping to optimize her abilities or a pregnant mother looking for relief, Dr. Mat customizes his care toward their unique needs. "A lot of people are nervous about Chiropractic because it's not the norm," he says. "We're not serving Chiropractic if everyone gets the same adjustment or same technique. Everyone is special and unique, and you have to treat them that way."
A downtown Philly practice wasn't something Dr. Mat originally intended – his undergraduate career at Muhlenberg College was filled with political science, dance and theater. He was interested in biology, but during his first class the professor warned, "This is a pre-med track," and chased out anyone not fully dedicated to a medical path. Dr. Mat graduated with a B.A. in Political Science and Anthropology. Though he was interested in many things, he felt he hadn't found his true calling.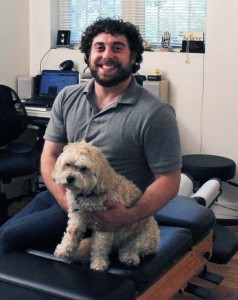 Growing up, Dr. Mat had received chiropractic care from the late Jim Wharton, D.C. By Dr. Mat's junior year in college, Dr. Wharton had become a confidante and friend; Dr. Mat visited him for an adjustment and some life advice while home for fall break. "I told him, 'I don't know what I want to do with my life.'" Dr. Mat recalls, "Jim had an amazing way of telling someone something in the just-right moment. He said, 'You know, Mat, you're obviously a talker, a doer. You'll never be happy sitting at a desk. You always loved biology but were chased out of it because you didn't want to go to medical school. Have you ever thought of becoming a chiropractor?'"
Dr. Mat's head popped up, and he began truly considering the profession of the man he'd admired for so many years: how he ran his own business and was his own boss, how he was on his feet and busy all day, how he lived a life of service. "My sailboat was bobbing on the tide and, in that moment, he inspired me. And it like a huge wind pushing me in a 90-degree direction I'd never thought of before, setting me on this path toward Chiropractic," he says.
Though Dr. Wharton was a Sherman graduate, he advised that Dr. Mat attend Life University, saying it was a progressive school affording plenty of opportunities to students. "Jim was never pigeonholed in practice. He used all the techniques, all the tools, depending on the person," says Dr. Mat. "I went to LIFE with an open mind." That determination to try out everything served Dr. Mat well; as a D.C. student he joined the Love Club, where students teach other students about analyzing subluxation. He says, "I was in awe of the ease and the way people were talking about Chiropractic. Two years later, I was teaching and leading, teaching new kids, and saying, 'Before long, you're going to be the one in my spot.'" He calls the University's many technique clubs "one of the greatest parts of LIFE."
"Sometimes in school, the first couple years especially, it can be really hard – there's so much science and not much Chiropractic," Dr. Mat says. "My connection was keeping with the idea of service: To To Give,To Do, To Love, To Serve. That stuck with me forever. Taking one person at a time and helping them through Chiropractic." He's glad he was an older student at the time, with a focused dedication to his studies.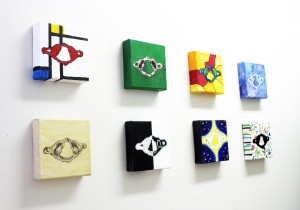 While in school, he was also grateful for the love and support of Shayna, his then fiancé – they married while Dr. Mat was in chiropractic school. Shayna didn't know much about Chiropractic before Dr. Mat made the change of career. "I'm really lucky," he says. "Lots of relationships don't make it through chiropractic school. The joke is that 50 percent of married people get divorced during it." After Dr. Mat graduated cum laude in 2010, the Wolfsons returned to Pennsylvania to be closer to family and friends. Since then, they've had a daughter, Mikayla—Dr. Mat and Mikayla were recently featured on the front cover of Pathways to Family Wellness magazine.
Dr. Mat was excited to run a family-oriented practice. However, opening a practice in an urban environment was a challenge at first. "All the rules and tricks are thrown out the window," he says. "You can't go door to door in Center City – nobody wants you banging on their office door or their home." He realized he needed to rely on authenticity and word of mouth. "I wasted a lot of money on silly trick marketing and ads; you can't just send out direct mailers and expect people to show up. It's more about connecting people directly and having happy customers, which equals more people, more happy customers."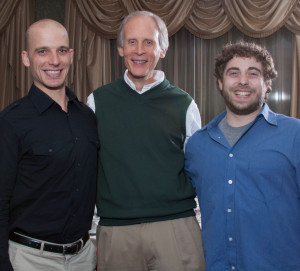 Outside of work, he loves live music and practicing guitar. He's also a fan of the outdoors. "Jim [Wharton] loved nature, loved Native American culture — much like Sid Williams. It's so interesting how these influential chiropractors all see the truth in cultures that lived with nature. Nature needs no help; it just needs no interference."
Throughout everything he does, Dr. Mat attributes a lot of his career happiness to his mentor, Dr. Jim Wharton. Dr. Mat spoke at Dr. Wharton's funeral about the unique impact he had on his life. Meanwhile, a friend and fellow LIFE graduate, Brent Binder (class of '07), has taken over Dr. Wharton's practice – keeping it in the family.
Now, as a LIFEforce 1000 doctor, Dr. Mat is the one guiding people into the chiropractic profession. He's thrilled to let prospective students shadow him. And whether it's a prospective student or a new client, Dr. Mat has learned to speak from a place of consideration and honesty. "Nobody wants to get sold to; as soon as you get into a sales pitch, people get that right away," he says. "When I meet someone, I want to be 100 percent authentic and listen to them. It's about them, not about Chiropractic. Don't sell Chiropractic; sell life."
Faces of LIFE is a story campaign that showcases members of the dynamic LIFE community, including faculty/staff, students, alumni and health science professionals. Interested in being featured or nominating a candidate? E-mail LIFENews@LIFE.edu. Read more Faces of LIFE stories.