Faces of LIFE: Dr. Michael Karlin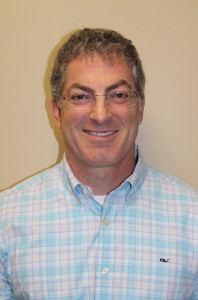 Dr. Michael Karlin
Compassion in Our DNA
Assistant Professor of Psychology and Associate Director of the Center for Compassion, Integrity and Secular Ethics
November 2015
Dr. Michael Karlin has always been interested in how the human mind works. So while he wasn't sure what he wanted to do career-wise growing up, the Bethesda, Maryland native found himself gravitating toward psychology classes in undergraduate at the University of Georgia; he enjoyed learning what makes people tick, how mind and behavior are intrinsically linked.
After earning his bachelor's degree in psychology, Dr. Karlin wasn't sure what to do next, and chose to go into business. It was the early '90s, and his forays into the business world found success via the new era of the Internet. "I ended up being successful in commercial banking," he says. "With a couple of other partners, I started what ended up becoming the first bank on the Internet and the technology company that sold that technology to other banks and eventually brokerages and insurance companies." He had made a successful career by learning on the job in a field he hadn't expected.
"All along the way, as exciting and fun and lucrative as it was, I realized that it was not really what I wanted to be doing," he recalls. "It was kind of an empty life, and I wanted more." He retired from the business and started a nonprofit that launched two large mythology and story-telling conferences and performance festivals here in Atlanta. Through that experience, he recognized that he wanted to continue learning and studying – he enrolled in graduate school and earned a Master's in Religious Studies at Georgia State University. He just completed his PhD in Religious Studies at Emory University in 2014, with a focus on the interface between religion and psychology.
Starting as adjunct faculty in the summer of 2014, Dr. Karlin is now an Assistant Professor of Psychology and an Associate Director of the Center for Compassion, Integrity and Secular Ethics (CCISE) here at Life University (LIFE). He teaches Compassion and Secular Ethics, a psychology course that looks at the science, theory and practice of compassion and other types of pro-social emotions, such as empathy, gratitude and forgiveness. "We study how they affect us psychologically and affect not only our personal wellbeing, but the wellbeing of our communities and society."
The teaching of compassion in schools is still an unusual concept, even for more traditional psychology students who often study mental illness diagnosis rather than prevention. But Life University's holistic focus on overall mental health, not just diagnosis, puts an emphasis on these types of pro-social emotions. "A lot of people are skeptical going into it," Dr. Karlin says of teaching compassion in class. "Often times the image of compassion is soft or new age-y." But he points out that to have compassion, you must have courage, and students are able to use meditation exercises to cultivate skills that lead to compassion. Unlike many academic programs, this becomes a first-person experience. "Many courses just convey knowledge and then ask students to critically analyze or apply that knowledge," says Dr. Karlin. "We're asking students to really embody that knowledge."
And while an onslaught of media might have jaded the average American, Dr. Karlin says compassion is built into the human DNA, an undeniable biological factor. "It's not this thin veneer that we've sort of built on through society to hold down our 'evil nature,'" he says. "You're always going to see elements of compassion cropping up, and people acting benevolently and helping others. Clearly we have a long way to go to take that biological compassion into a universal compassion – that'll take time, generations perhaps, but we're doing our best." He says that practicing compassion is an essential part of good health, just like diet and exercise.
As an associate director of LIFE's Center for Compassion, Integrity and Secular Ethics, Dr. Karlin is involved in a lot of forward-thinking programs that hope to use compassion-based training to make a larger impact on society. "The CCISE is based on looking at the fundamental human values that promote human, social and environment flourishing," he says. "These are values we can look at through empirical evidence and design research studies around. If we can look to science and say: What does the body look like when it's feeling compassionate instead of angry? What does it look like when we're driven by pro-social attitudes and emotions?" He cites that many people follow either a religion or self-imposed set of traditions, but there is no real way to adjudicate a common set of values to move forward as a people. Hopefully science can add to these values, making them a more ingrained part of society in schools, businesses and government.
The CCISE's partnerships attempt to do just that, taking this research and training to education programs, prisons and businesses. Their Educating the Heart partnership with Northern Ireland-based Children in Crossfire embeds compassion training into the students' development education. A transformational leadership program seeks to cultivate greater emotional intelligence in business leaders, which will filter down through their business to create a thriving company culture. The Chillon Project will grant undergraduate degrees to Georgia prisoners, helping to reduce the recidivism rate by giving these incarcerated learners skills to live and work by.
In his free time, Dr. Karlin loves spending time with his family: his wife, Ann, and his three children, Benjamin, Rose and Dov. His two main hobbies are Crossfit and cooking – which he jokes are complementary hobbies, one leading to the other. In the kitchen, he enjoys baking different types of breads; he's known for his apple cinnamon challah. After baking, he's off to a Crossfit class. "It's the best form of exercise because it's intense, full body, functional and competitive – all things I love," he says.
He considers teaching a privilege, something he tells his students at the end of every quarter, sometimes with a gift of home-baked bread. "These kinds of courses and programs of study are really unique," says Dr. Karlin of Life University's forward-thinking academic programs. "For people who are really interested in learning more about themselves and cultivating values and doing something good for the world, this is the place to do it."
LEARN MORE:
Faces of LIFE is a story campaign that showcases members of the dynamic LIFE community, including faculty/staff, students, alumni and health science professionals. Interested in being featured or nominating a candidate? E-mail LIFENews@LIFE.edu. Read more Faces of LIFE stories.