Faces of LIFE: Dr. Michael Longyear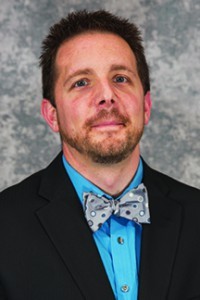 Dr. Michael Longyear
LIFE Functional Neurology Spotlight
Chiropractic Functional Neurology Clinician
March 2015
Dr. Michael Longyear is currently a Chiropractic Functional Neurology Clinician for the Functional Neurology Center at Life University (LIFE). Before coming to LIFE, he studied athletic training at the University of Detroit Mercy and pre-physical therapy at Wayne State University. From there, he attended Parker University where he earned his Doctor of Chiropractic and Bachelor's degree in Health and Wellness. Dr. Longyear also has advanced training in the CCSP Program (Certified Chiropractic Sports Physician) and has completed further studies in the functional neurology field.
Dr. Longyear chose LIFE as his home by way of a severe football injury that happened when he was in high school. The injury left him paralyzed. It was through rigorous physical therapy and sheer determination that he was able to walk again, and from that point forward, any interest he had in facilitating healing was initiated by his injury.
"I went through physical therapy and all sorts of different avenues and was basically able to relearn how to walk and to make it out of the hospital. It was something I wouldn't wish on my worst enemy, but it was something I would never take from my experiences in life. It's definitely made me a lot of who I am. I've drawn strength from that for quite a bit," says Dr. Longyear.
His injuries led him to begin researching what had happened to him, so he could better understand the effects on his body. His interest in becoming a Doctor of Chiropractic began after his injury while still in high school. "Although I was learning to walk again, I still had a lot of sensory issues in my legs. I couldn't tell if something was too hot or too cold, but after getting an adjustment by one of the guys who worked on all the high school athletes in the area, I realized that I could feel hot or cold when I was getting into the shower. It took a second to click that something was going on. The nerves were starting to wake back up," explains Dr. Longyear.
Because of the remarkable return of sensation to his legs, Dr. Longyear decided to learn more about Chiropractic, particularly, functional neurology. He realized that functional neurology could actually help the brain relearn things that it may have once forgotten. Dr. Longyear explains, "You can take something that is not functioning at an optimal level, find out why and, if you can improve those levels of function within the nervous system, most of time you can reduce or eliminate the symptoms that show up in the body."
When asked to recall his successes while working at the Functional Neurology Center at LIFE, Dr. Longyear says, "We've had some really cool success stories." He has been able to help a lot of people who have visited the Center, finding solutions or relief to issues like loss of balance, dizziness, lack of mental focus, headaches, concussions, problems with memory and many more.
Dr. Longyear enthusiastically shared one of his favorite and most recent success stories. He said that a gentleman visited the Center in order to gain better balance. His prognosis was that of hereditary spastic paraplegia. He and his wife had already started renovations in their home to make it handicap compliant as he was told he would eventually have to ambulate by way of a wheelchair for the rest of his life. But after two days of visiting with Dr. Longyear at the Functional Neurology Center, the gentleman said he could feel the bottom of his feet for the first time in 15 years. A few days later, he was dancing with his wife in a room at the Center. His original goal was to have better balance in order to dress himself; his goal after a few treatments was to get back on the ice, so he could skate with his grandchildren.
In reference to the Functional Neurology Center at LIFE, Dr. Longyear notes, "We have a lot of people that come to us and say, 'I just want to try this so I can know if I will either get better or if this is going to be my new normal.' I know that myself and Dr. [Jonathan] Vestal will not accept what is called 'the new normal,' because had I accepted what was to be my new normal, I would be rolling around in a wheelchair right now. That's what brought me here."
Dr. Longyear's day-to-day responsibilities at LIFE include scheduling and treating patients on a daily and weekly basis; monitoring their progress; performing diagnostic testing; creating plans for patient treatment and following up on results; requesting records for patients; performing comprehensive records review; and reports. "We're pretty much doing everything in the office right now," Dr. Longyear says.
Dr. Longyear was class valedictorian and earned the Robert Czepoth award for Leadership. He has earned several scholarships, including the prestigious Parker University President's Scholarship. Additionally, he has served on institutional and student committees to include Student Senate Executive Cabinet and Community Service, while also serving in student-oriented clubs such as the Functional Neurology, Motion Palpation and Sports clubs.
His involvement in organizing a first-ever Adjust-A-Thon—a student-centered event comprised of a select group of experienced field doctors demonstrating their expertise in Chiropractic to student-based audiences often ranging between three and four hundred in size—raised donations for Toy for Tots, Animal Services Protection against Cruelty to Animals and Dallas Homeless programs.
When not working at LIFE, Dr. Longyear and his wife currently volunteer at Pets for Vets. It's a group that pairs veterans with companion animals. "We've even placed a bird with one vet because that's what they wanted," Dr. Longyear says. "It goes beyond just taking a pet to a vet." The volunteers take time to sit down and talk with vets and get to know their personalities in order to make sure they are paired with the right animal. "It goes a step beyond just picking up and taking an animal to a vet," Dr. Longyear explains. He and his wife also work with the Cherokee County Humane Society at their adoption events.
As for his goals at the University, there is currently talk of expanded academic opportunities at LIFE in this specialty area in the future, and Dr. Longyear is excited for that possibility. "I know I would love to be a part of that. For someone interested in changing lives, I think Functional Neurology is going to be where it's at."
Faces of LIFE is a story campaign that showcases members of the dynamic LIFE community, including faculty/staff, students, alumni and health science professionals. Interested in being featured or nominating a candidate? E-mail LIFENews@LIFE.edu. Read more Faces of LIFE stories.