Faces of LIFE: Dr. Rennes Toussaint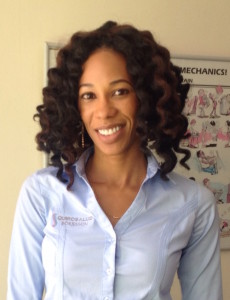 Dr. Rennes Toussaint
Running a Peruvian Practice
Alumna: Doctor of Chiropractic
August 2015
Dr. Rennes Toussaint's Faces of LIFE interview was typed out, sent zinging across the world from Arequipa, Peru to Marietta, Georgia. The Life University (LIFE) alumna has always been passionate about travel, and now her daily life is awash with a new culture, local cuisine and the slow learning of Spanish.
"The city is beautiful with two gigantic mountains; I can't get enough of it," she writes. "And the people are so sweet and welcoming."
Dr. Toussaint was born and raised in the small Caribbean island of Dominica, where her village, Morne Jaune, had a population of 250. She wasn't sure what she wanted to be when she grew up, regularly changing her mind, but she considered becoming a teacher. "My passion for as long as I could remember was always to help others," she says. "I looked up to my mother who did and still does so much to help the people around her." When Dr. Toussaint was 13, her family moved to Miami, where she attended high school and studied Health Sciences on a pre-physical therapy track at Florida International University.
Chiropractic still wasn't on her radar. She'd only heard of it in passing during her studies and had never gotten an adjustment. One day, while studying during her job of managing the front desk of a hotel, a chiropractor saw her physics book and approached her. He was curious about her studies and career path, and went on to discuss Chiropractic with her. After conducting her own research, Dr. Toussaint immediately knew she wanted to do it. She says, "Natural healing from the inside out just made sense." She enrolled at LIFE, the alma mater of the chiropractor who sparked her interest.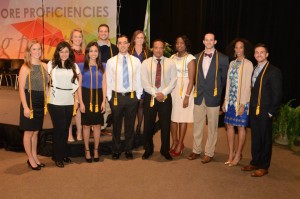 "When I first started at LIFE, I was very intimidated. My classmates were very knowledgeable about chiropractic philosophy. Many were from second or third generation chiropractic families and had been under chiropractic care for years if not all their lives," she recalls. "It seemed like everybody had a story, and sometimes I felt I didn't belong."
However, Dr. Toussaint excelled in her classes, quickly becoming engrossed in Chiropractic, getting involved on campus and making friends in the program. She particularly appreciated time spent at C-HOP, the student clinic. "It was never a dull moment," she says, remembering her hours at C-HOP studying, socializing with classmates and working with patients. "I learned a lot from some amazing physicians whose words and advice are still in my head."
Her other favorite experience at LIFE was taking her studies to Ghana through LIFE's International PEAK program, where students can spend their clinic hours in practices abroad. "For months I pondered about applying because of the cost and also missing out on the experience of interning in the U.S.," she says. Dr. Toussaint thought interning in the U.S. would be key in considering her postgraduate career goals, so she deferred the international program and opted to pursue the PEAK program at a local Georgia office. "After two weeks, I knew I wanted a totally different experience," she says. Unfortunately, that day of reckoning was also the exact day that applications were due for the next quarter of international PEAK – her application would be late.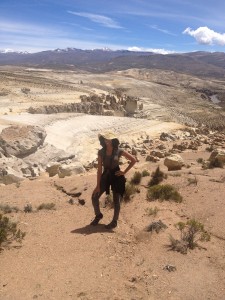 "I sent a very honest email to the director of the program in hopes that she would allow me to turn in my application late," she says. "To my surprise, she agreed, and the rest was history." She spent her clinical hours in Ghana, and the eye-opening experience of practicing abroad solidified her intentions to continue traveling and working throughout the world.
The January after graduation, Dr. Toussaint was applying to jobs nationally and internationally, waiting for something to pan out. After an interview via Skype with a chiropractor who owns offices in Sweden and Peru, she was offered the position in Peru: she would move to Arequipa, train for a week and then run the practice solo. Dr. Toussaint packed her bags and moved to Peru a month later.
"In my office, we are a family and treat every patient the same," she says of her experiences in Peru. Following Peruvian social cues, she hugs and kisses every patient who walks through the door. "At first it seemed like too much, but now it's second nature," she says. "I hope I remember to switch it off when I get back to the States. You know we're weird and want our 'personal space!'" Her practice sees close to 150 patients a week using the Gonstead technique. "We don't use drop tables or instruments. I must say I'm getting really skilled with my hands," she laughs. She has weekly Skype meetings with the practice's owner, who is located in Sweden running his two offices there.
The transition wasn't seamless. After a week of training, Dr. Toussaint took over the practice as the only doctor. She says, "For the first time I had to be totally independent. I didn't have somebody watching over me while I adjusted, checking my paperwork and ensuring that I asked the right questions and performed a thorough exam." She made on-the-spot decisions without any colleague to ask for help. She practiced her Spanish, slowly working to become fluent. She dealt with a variety of cases that tested her experience. "It was far beyond the regular neck and back pain. I had to learn to trust that my knowledge and training is good enough to help me make the best decision for every patient."
The experience instilled her with confidence and has deepened her understanding of Chiropractic and the difference it can make. "Of course the best part is being able to make a positive change in peoples' lives on a daily basis," she notes. "Putting a smile on their face and giving them something positive to look forward to."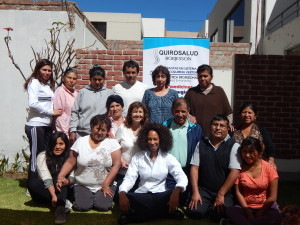 Her advice for current students considering studying abroad? "Don't give it a second thought," she says. "The rewards will surely outweigh all the challenges you will face. However, please do your research and trust your instinct when deciding if it's the right place for you. I'm a firm believer that God places us in the right place, at the right time to teach us all we need to know before taking us to the next level. Trust in the process."
In her free time, Dr. Toussaint enjoys adventuring and exploring in nature. She's gotten accustomed to traveling solo, striking up interesting conversations with other travelers. She travels with music and an inspirational book and is happy to return to the welcoming people and incredible food of her new country. She's passionate about dance and intends to throw dance classes into the services when she owns her own practice(s).
Her own practice(s) will undoubtedly take her on new adventures. She hopes to set up offices in Latin America and the Caribbean to give new doctors the opportunity she's currently having. She says, "I've grown in all aspects of my life."
Faces of LIFE is a story campaign that showcases members of the dynamic LIFE community, including faculty/staff, students, alumni and health science professionals. Interested in being featured or nominating a candidate? E-mail LIFENews@LIFE.edu. Read more Faces of LIFE stories.