Faces of LIFE: Dr. Samantha March-Howard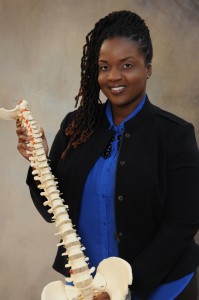 Dr. Samantha March-Howard
In Honor of Family
Alumna: Doctor of Chiropractic
August 2015
When Dr. Samantha March-Howard sits down with her patients to discuss their health, she tells them a story. She describes a history of illness in her family – diabetes, hypertension – that led to sudden losses of many loved ones. She says, "My largest motivation for getting people healthy is for my patients to never experience what I felt."
She was 19 years old when her father died of multiple heart attacks within the span of a few hours. Before she heard the news that day, she had already begun crying – she felt a rift in her world hours before it had been confirmed. In that span of seven years, her grandmother and grandfather also passed away, both deaths – like her father's – caused by lifestyle illnesses. Then, when it seemed her family had dealt with its fair share of tragedy, Dr. March-Howard's aunt died due to a medical mistake while being incorrectly medicated for pneumonia; her uncle, a diabetic like her father, felt he could not go on and took his own life.
Dr. March-Howard was studying to become a chiropractor at Life University (LIFE) when several of these devastating losses occurred. She chose to channel anger instead of sadness, using her heartbreak as motivation to excel in class. "Ignorance killed my family, and I had to get angry to change that into a positive thing," she says. She studied hard and made it her personal mission to ensure that her family members' deaths were not in vain. "I refuse to stop, because I know when I do, it's someone else's aunt, someone else's father," she says. "No one deserves to lose someone from something that should be preventable, whether by choice or ignorance."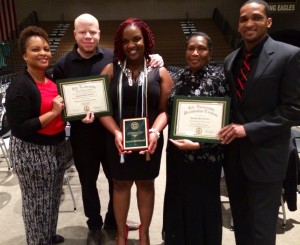 Born in St. Catherine, Jamaica, Dr. March-Howard moved to Florida at age 15 to begin college at Broward Community College. By 21 she had completed her Bachelor's in Psychology from Florida International University. Her foray into psychology had felt like a fluke – she knew she wanted to help people, but her own health goals didn't lean toward medicine or pharmacy. "I realized I hated taking medication," she says. "If I don't love what it's doing for myself, I really cannot recommend it for others." Leaning toward a holistic path, she chose to pursue psychology. "I figured everyone's already telling me their problems!" she laughs. Unfortunately, she hated pursuing her psychology degree at Florida International, calling it "the most boring thing I'd ever done."
She was sitting in a pew when she first heard about Chiropractic – a local chiropractor visited her church to give a presentation on health. She remembers: "He asked, 'How do you know you're healthy?' Most people think it's if you don't have pain.'" With a family and community history of diabetes, heart disease and high blood pressure, it was the first time she'd considered the healthy function of her body, or what health truly meant.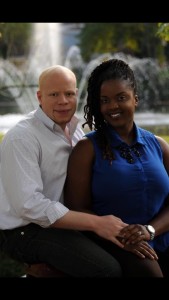 After enrolling herself under chiropractic care, Dr. March-Howard began to see remarkable changes. "I really did think it was a little bit of voodoo until my health started to improve," she laughs. While her mother and sister joined her in receiving chiropractic care, she didn't consider it as a potential career path until six years later. She worked in health psychology, helping people make connections between their thinking and their health, but she felt her career lacked the physical aspect of helping people improve their wellness.
In 2010, she set her mind on attending Life University to pursue Chiropractic. She'd just met her now-husband, Freddie Howard, and she warned him that she'd be moving to Georgia. "I said, 'I'm going to become a chiropractor. I feel that's where I'm led to go. This may not last very long!'" she remembers telling him. He responded, "We'll see," and joined her on a trip to LIFE Leadership Weekend.
Now her husband is currently enrolled at LIFE, a 5th-quarter student pursuing sports chiropractic. Dr. March-Howard graduated from LIFE in December 2014 and cites being a student ambassador as her most transformative experience while on campus. When she visited LIFE campus during LIFE Leadership Weekend, the student ambassadors made a huge impact on her: "I saw what they were able to do and that they loved what they did, and I saw myself being able to do the same." Serving for 11 quarters as a student ambassador herself, Dr. March-Howard returned the favor. She calls the prospective and new students she influenced extensions of herself, saying, "They'd go on to tell someone else about Chiropractic, Life University and what the true definition of health is."
She advises current students to take every opportunity to learn from visiting doctors. "Sometimes when you're in school, all you can see is the book in front of you, the next test around the corner," she says. She encourages DC students to enjoy the privilege of having access to visiting professionals; these learning opportunities go beyond the classroom to help prepare students for futures as doctors. "You're never too late to be a student. When you cross that [graduation] stage, you'll be a doctor, and they'll treat you as such!"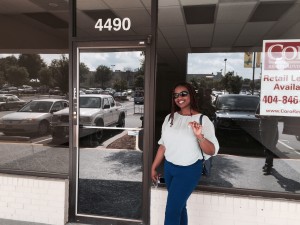 After graduating, Dr. March-Howard moved to Texas to work at a practice for six months, but moved home after separation from her newly-wedded husband proved too difficult. "It was hard to leave something that I helped to build. I felt like I was giving up, but I'm not a quitter," she says. She has since moved back to Georgia and joined 100% Chiropractic; she's thrilled to be opening her own Dunwoody-based practice in mid-October of this year. 100% Chiropractic trains and prepares doctors to open their own practice. "It's for the special brand of students and doctors who want to make a huge impact in their own way but as a part of a bigger company and network that is doing amazing things already," says Dr. March-Howard. Her practice will especially cater to families and children.
She hopes to eventually work alongside her husband, and throw health coaching into the mix. She has a blog called "Healing Legacies," which nods to how deeply the loss of her family has affected her, and how she hopes to create methods of healing mentally, physically and emotionally.
Anxious to impact her community, Dr. March-Howard lists all the roles she hopes to take on in the next five years: doctor, mother, business owner, motivational speaker, perhaps an author. She says, "I have a big agenda."
Faces of LIFE is a story campaign that showcases members of the dynamic LIFE community, including faculty/staff, students, alumni and health science professionals. Interested in being featured or nominating a candidate? E-mail LIFENews@LIFE.edu. Read more Faces of LIFE stories.