Faces of LIFE: Dr. Vijay Ganji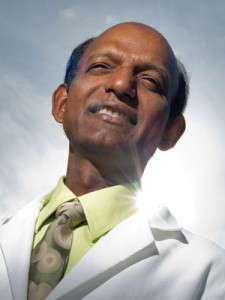 Dr. Vijay Ganji
Faculty Spotlight
Dept. Chair for Nutrition and Dietetics
February 2015
Dr. Vijay Ganji is the Department Chair for Nutrition and Dietetics at Life University (LIFE) where he earned his B.S. in Nutrition, B.S. in Dietetics and Master's degree in Clinical Nutrition.
Before coming to LIFE, he was faculty at Georgia State University for over 20 years. When asked why he decided to move to LIFE, he said, "I was looking for a holistic and vitalistic philosophy. It's the personal philosophy that I carry in my life—the holistic approach, the vitalistic lifestyle and the philosophy. As a nutritionist, I believe in uncontaminated, unadulterated food … and in food that has holistic components. LIFE is big on those aspects. My personal values match with LIFE's philosophy."
Dr. Ganji also said that he left Georgia State to attend LIFE because his focus was more on the nutritional aspects of food that tied in to LIFE's philosophy. He said that he was glad that the move would be convenient because LIFE was in the Atlanta area, and went on to say, "Even if LIFE had have been somewhere else, I would have come." Dr. Ganji feels comfortable with the move and said, "I enjoy the LIFE culture, especially the Lasting Purpose: 'To Give, To Do, To Love, To Serve.' That resonates with my personal values."
As the Department Chair for Nutrition and Dietetics, Dr. Ganji's daily duties present more challenges than that of Georgia State, but he enjoys the challenges. His time is spent managing the staff and managing record keeping and administrative duties that move through him to the Dean's office, and he spends approximately 50 percent of his time teaching. He is also involved in recruitment of faculty, scheduling, promoting the department to the students and the community, and his duties also branch out to other areas outside his department.
He enjoys the fact that his department is small in the sense that it makes managing the personnel much easier than that of managing a department of 30 or so faculty members. "It's another main point of why I am here at Life University," said Dr. Ganji. "We have a very creative department, which is cohesive, and we work together well," said Dr. Ganji.
Dr. Ganji has numerous publications regarding his research on nutrition. He is published in internationally acclaimed journals, in the American Journal of Clinical Nutrition and on PubMed online publications. His focus of research has been in fortification of foods in the United States and the importance it has in overall nutrition. He says, "The impact of the legislation on public health nutrition is my broad-based agenda."
Over the past few decades, he has been interested in the fortification of foods, such as cereal and wheat, and in how the fortification of these foods can help in the United States—primarily, the addition of vitamin D and folic acid. He noted that the addition of vitamin D to milk in 1920 was good, but these days, it is no longer enough. Dr. Ganji feels vitamin D deficiency is rampant in the United States, and it's mostly due to lack of time spent outside and not getting the proper amount of sunshine on a regular basis.
He has conducted studies over the past five years on vitamin D deficiency among different age groups and how the deficiency may impact overall health: His findings are present in his online publications. Dr. Ganji's expert work in the nutrition and dietetics field, along with his dedication to LIFE and its philosophy of health and wellness, make him a valued, key leader in the continuous growth of the University's undergraduate and graduate programs now and going forward.
Faces of LIFE is a story campaign that showcases members of the dynamic LIFE community, including faculty/staff, students, alumni and health science professionals. Interested in being featured or nominating a candidate? E-mail LIFENews@LIFE.edu. Read more Faces of LIFE stories.