Faces of LIFE: Dr. Yit Lim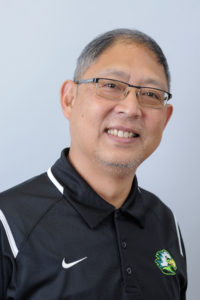 Yit Lim, Ph.D.
Athlete, Professor & Coach
Faculty: Assistant Professor of Sport Health Science
October 2016
This October, Dr. Yit Lim celebrates 25 years at Life University. His lifelong love of sports combined with an influential career of athletic and coaching experience gives his classes a dynamic mix of study and true-life example.
Dr. Lim grew up in Pinang, Malaysia. "As a boy I think I wanted to become an engineer, some form of scientist, then a sport scientist," he says. "The Chinese word translates literally to 'sport scientist.'" He grew up swimming, playing table tennis and running cross-country. "At around 12, my father said, 'You can only pick one.' He gave me the pros and cons of all the sports. I ended up picking swimming. Swimming became my focus."
When he came to the United States for college, Dr. Lim learned about the field of exercise science and quickly switched his major. He began his exercise science studies in the late 60s/mid 70s, and was happy to have found programs at the University of Louisiana in Monroe and the University of Southern Mississippi in Harrisburg. "It's easy to study what you love," he says, and he enjoyed the hospitality and the warm weather of the American South.
Between degrees, he continued his work as an athlete – trying out for the Olympics in both swimming and water polo. Though he didn't make it, he says, "You never regret that you tried." He went on to get his Ph.D., and after 25 years of teaching, he knows he would've approached his Olympic tryouts and his time in competitive sports in a different way, with a foundation in sport health science. He says, "That's why I want to give back to sports by coaching and training as many kids as possible to get them to that level."
The minute that Dr. Lim leaves Life U's campus, he's off to train his club team, the Marietta Marlins, Inc., a swimming group he put together 23 years ago that has now produced numerous athletes who've competed in Olympic trials.
He's part of major industry organizations, including United States Swimming, where he attends and coaches in national camps for elite young athletes. Since 2004, he's attended four trials for the Olympic games. At the United States Swimming National Select Camp in October 2009, he worked with athletes Hali Flickinger, Leah Smith and Kevin Cordes – all of whom went on to swim in the 2016 Olympics. This past June he was coaching in Omaha, Nebraska at the USA Olympic Swim Trials. "My favorite part of coaching is to watch them succeed," he says about preparing these young athletes for the highest levels of competition. "The joy when they make it and they look at you — no words can express that."
Combining academia with sport has proven to be the perfect blend for Dr. Lim. "I love the teaching part because it's the theory part, and I love coaching because it's the real application. Every day to me is challenging and exciting."

LEARN MORE:
Faces of LIFE is a story campaign that showcases members of the dynamic LIFE community, including faculty/staff, students, alumni and health science professionals. Interested in being featured or nominating a candidate? E-mail LIFENews@LIFE.edu. Read more Faces of LIFE stories.