Faces of LIFE: Dr. Zachary Simkins
Dr. Zachary Earl Simkins
Advice from a Chiropractic Alumnus
Alumnus: Doctor of Chiropractic
July 2015
At this year's Collegiate Rugby Championship in Philadelphia, Pennsylvania, Life University (LIFE) alumnus Zachary Earl Simkins, D.C., was one of the loudest cheering fans. A former Life U rugby player himself, Dr. Simkins continues to cheer on the Running Eagles as they take the field at PPL Park, making the trip from his Ann Arbor, Michigan-based practice, Foundation Chiropractic.
"If I'm being truthful, I never had any intention of going to college," he says. "I always found myself in marginally high paying but physically demanding jobs." Rugby got Dr. Simkins interested in working out, sparking his curiosity about anatomy and physiology. He studied Biomechanics in undergraduate, not sure where the degree might take him, but hoping his studies in movement sciences would advance his rugby career.
Two years into undergrad, Dr. Simkins landed a contract in Australia, playing for the Gunghalin Eagles. Around the same time, he started dating his future wife, Anne Bogdan – "who I secretly had a crush on for about eight years," he adds. When his time in Australia ended, Dr. Simkins returned to the States to work a series of odd jobs – painter, concrete mason, airport baggage handler – before figuring out a career path. "[Anne] deserves the best, and at that moment, I made a decision to pursue the best version of myself for her," he says. "The rest of my time in school was singularly focused on making sure Anne didn't make a bad decision in marrying me."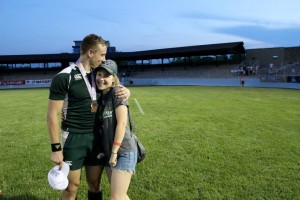 Dr. Simkins enrolled in LIFE's Doctor of Chiropractic program and joined the rugby team, instantly enjoying the camaraderie of his classmates. "From helping you study, moving you into a new apartment and now practice-based questions like billing, my friends are unparalleled," he says. His LIFE network has extended past graduation, and he's appreciative of the chiropractic community.
His string of previous jobs also served as a sharp comparison to his studies at LIFE. "School is not hard," he says. "Education is a privilege … I have always been a counter-culture kind of guy, so I try to remind everyone, and sometimes myself, how lucky we are to be sitting in an air conditioned room taking tests that measure our mental acuity, instead of paving roads." Phone calls home to his friends who were working manual labor jobs with long hours confirmed his belief.
After graduating in June 2014, Dr. Simkins took his wife on a trip to Ireland, Scotland and England – as a small way to pay her back for "being a rugby and chiropractic widow" he jokes. Then the pair moved back to their native Michigan. "Post-grad was intimidating because, in school, your path is laid out before you in a systematic, 'show up and do this' type of regimented program, and I knew from past experience that real life does not work like that," he says.
After counsel from his close friends, Dr. Simkins pursued his own practice, employing materials from Mind Virus, a company that offers improvement solutions for small business owners. "Everything from where to set up shop to [charging] a value-based fee, I owe that to Mind Virus," he says. "I market in an ethical, congruent and professional manner, and I couldn't be happier with the process. Long story short, if you are still in school and don't have a clear-cut plan, get your checkbook out. The level of planning, decision-making and complications that is coming your way is unnerving." He apologizes for the warning to future doctors of Chiropractic, but adds, "I believe that people will rise to the occasion if you educate them and this is 100 percent truth."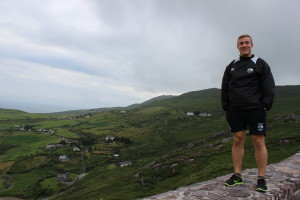 Officially one year out of the program, Dr. Simkins has plenty of advice for current D.C. students, including watching less television, getting more exercise, working a part-time job and speaking up if you want to see change. "Go to rugby games!" he encourages. "They are free, an absolute blast and we have the best program in the country so the likelihood that you'll witness a loss is miniscule." When it comes to advice for soon-to-be D.C. graduates, he says: "Value yourself. Detecting, analyzing and correcting vertebral subluxations should not carry the same price tag as a cheese pizza."
That last piece of advice was something he experienced himself, due to nerves and doubt in the face of starting his own business. "Opening my own practice was terrifying… I gained weight, lost weight, lost sleep, lost some hair, had butterflies, had regrets, and one time I yelled at a guy writing me a parking ticket like he had cut off my arm," he says. "It was the single most stressful event in my life." In retrospect, he now knows that the stress was due to fear of the unknown.
Those worries were quickly assuaged when, within five days of being open, Dr. Simkins' practice had made the entire first month's bills, exceeding his projections. He says, "I needed to know what I only thought: that people will pay for my services because I am good at my job."
Faces of LIFE is a story campaign that showcases members of the dynamic LIFE community, including faculty/staff, students, alumni and health science professionals. Interested in being featured or nominating a candidate? E-mail LIFENews@LIFE.edu. Read more Faces of LIFE stories.