Faces of LIFE: Elizabeth Crawshaw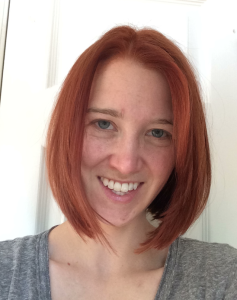 Elizabeth Crawshaw
From Meat Pies to French Fries: Learning Food by Culture
Student: Dietetic Intern
Alumna: B.S. Dietetics (2014)
November 2015
Many American tourists drop by famed high-end department store Harrods on a trip to London, but for Elizabeth Crawshaw, dietetic intern at Life University (LIFE), a job at Harrods propelled her into her future career. Though she was born in Pittsburgh, Crawshaw's father's job kept her family bouncing across the world, from Canada to New Zealand, settling for 11 years in England. That's where Crawshaw went to high school and college, earning a degree in Ancient Languages. ("I like the problem-solving aspect of translating languages," she says of her first degree. "I enjoy the philosophy.") When she moved to London, unsure of what to do next, she applied to temp at Harrods during the busy holiday season.
Starting out in the Gift Boxes Department, Crawshaw worked on the shop floor and took calls for people making Christmas orders. Next, she became a food advisor, where she worked on clients' dinner party orders, pulling together elaborate meals. "Growing up, my mom and grandma were always cooking," she says of her initial interest in food, which became a passion during her time at Harrods. When meal-planning for clients, she became increasingly aware of the selection process in pulling together a meal. She says, "I realized a healthy diet wasn't really something people thought about. I wanted to help people in a more meaningful way."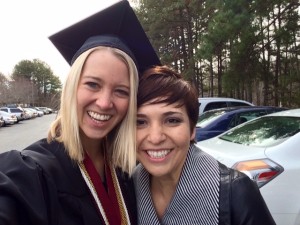 In pursuit of a career in nutrition, Crawshaw left England for a family home in South Carolina, and began touring campuses across the United States, trying to find a dietetics program that suited her. "LIFE was really the one where I could start straight away," she says of Life University, where a B.S. in Dietetics can segue into a dietetic internship. "Being an older student, I liked the background that people had, moving from previous careers into Chiropractic." She earned her B.S. in 2014, graduating as salutatorian of her class and president of Nu Omega, the honors society for humanities. Next, she was selected for LIFE's dietetic internship, which she started in August 2015.
"I'm really enjoying having completed the undergrad at LIFE and then transitioning to the internship here – there's a continuity of education," she says. "Donna Plummer is the Director of the Dietetic Internship, and I just finished a rotation with her at Dekalb Medical. It's neat for people to go from professor to colleague, as I transition through my training." Crawshaw's goals going forward include establishing a functional and integrative wellness practice that incorporates alternative therapies, including Chiropractic, physical therapy and nutrition. These fields would come together to create a multi-disciplinary care plan, a one-stop shop for living a healthy lifestyle. She especially wants to educate children and families on healthy eating.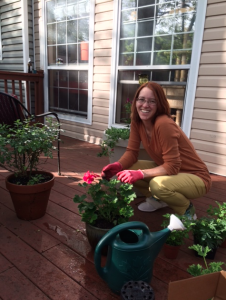 Crawshaw has a unique perspective on nutrition, as someone who has lived all over the world. "I've developed a cultural understanding of people's traditions with food: how food is used within a family setting, how food is a coping mechanism for a lot of things," she says. When sampling food in a new culture, she keeps her mind open and tries everything. Spending a large chunk of her life in England, she's familiar with the mealtime focus on "meat and two veg," and grew up eating homemade English comfort foods like shepherd's pie and fish pie. In the States, comfort food translates to all things fried. She says, "I guess having moved back to America and seeing the extent of the healthcare problems, I'm realizing that people aren't making the connection between food and health."
She notes that two of the biggest challenges facing Americans are their time constraints and budgets. "For me, it's all about going to farmer's markets and trying to buy seasonal produce," she says. "You can make simple meals when you're short on time. You can eat healthy on a budget." She and her boyfriend, Adrian Johnson, a D.C. student at LIFE, make balanced dishes like baked salmon with roasted asparagus and a healthier lasagna that incorporates zucchini. Crawshaw's a fan of one-pot dishes that pull together nutritious food groups in one easy meal.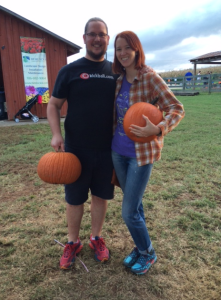 While Crawshaw had never been to Georgia before coming to LIFE, she's now an explorer of the state, hiking the North Georgia mountains while hopping from winery to winery. She calls herself a wine connoisseur and recommends Georgians try out Montaluce Winery in Dahlonega. Some of her other hobbies include playing piano and playing in a social kickball league.
She imagines her future will continue to jump back and forth between the States and England, being close to Johnson's family in Vermont and her own family in England. "It's interesting to live in different places … I have a cultural consciousness of how to approach people with food," she says, knowing that wherever she goes, she's ready to assist people in understanding better nutrition.
LEARN MORE:
Faces of LIFE is a story campaign that showcases members of the dynamic LIFE community, including faculty/staff, students, alumni and health science professionals. Interested in being featured or nominating a candidate? E-mail LIFENews@LIFE.edu. Read more Faces of LIFE stories.