Faces of LIFE: Elizabeth Geisz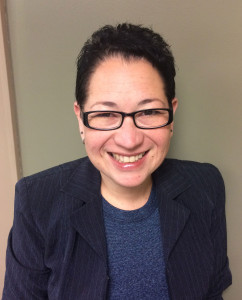 Elizabeth Geisz
On Staff and In Class
Senior Transcript Analyst
April 2015
"I want to be a psychologist!" announced 3-year-old Elizabeth Geisz. Fast-forward to the present, where Geisz works as a Senior Transcript Analyst at Life University (LIFE) while also pursuing her Master's in Positive Psychology – Coaching Track. She says of her childhood proclamation, "I don't know how I knew what that meant, but I said I wanted to be either a psychologist or a preschool teacher."
Instead, Geisz started working in retail in high school, and, after graduating, earned an associate's degree in merchandising and management. An assistant buyer internship segued into full-time employment, which led to retail management. As Geisz transitioned from accessories to housewares, her days were first spent amongst Liz Claiborne sunglasses and Ann Klein purses, then Farberware pots and pans. "It was the '80s, and it was all about the big hair and the clothes, and I thought that was where I wanted to be," she recalls. "But there was something inside me that was saying 'this is not right.' There's meaning in [retail] for some people, but for me it didn't fulfill what I needed to do for the world."
Though retail would not end up being her ultimate passion, Geisz's retail career did challenge her to defy her personal expectations; by earning her associate's degree, she was the first in her family to go to college. "[During my internship,] I remember bringing a photocopy of my diploma and putting it on the desk of the vice president and walking out of the room," she says, laughing. "I would never do that now!"
Ready for a change, she quit her job in retail and began working at her daughter, Ari's, daycare. "She could go to school for free, and I could be with her, and that was a great compromise," says Geisz. "But again, I didn't find any meaning. I was in an environment that was like: 'I'm the teacher; you're the child. I'm right; you're wrong.' Kind of like that movie 'Matilda.'" She looked into Montessori education and became an assistant teacher. "My life took off from there," she says of her decade in Montessori schools, teaching at the infant/toddler and early childhood levels, training infant/toddler teachers and coordinating that teacher training program. While the Montessori system caters to children's creativity and freedom, it began to have a toll on Geisz's back; the child-size furniture meant she was bending down all the time, and she began to have herniated discs.
Already receiving chiropractic care with LIFE, Geisz was offered a position with enrollment. She immersed herself in the vitalistic environment, her favorite part of the University. When she originally started out, she advised students on which classes to take to fulfill their academic requirements. Now, she analyzes transcripts and supervises a team of transcript analysts whose responsibilities include accepting students and making decisions on transfer credits. "We're very behind the scenes," she says, jokingly referring to her team as the man behind the curtain in "The Wizard of Oz." She is also part of LIFE's Diversity Committee and in charge of LIFE's booth at the Atlanta Pride Festival every October. She says, "Our presence is very important as it reinforces the University's commitment to diversity."
Geisz's childhood love of psychology had not dulled over the years, and when she decided to pursue further education at LIFE, she knew which field she would gravitate toward. "It had bugged me my entire life up to that point that I didn't go further in school. I became a mom, and other things were important," she says of her decision to enroll in LIFE's academic programs. "I thought: 'It's free, why not?'" It took her five years to earn her Bachelor's in Psychology, along with a concurrent Associate's and Certificate in Coaching; Geisz graduated Salutatorian and won a fourth core proficiency award. During her undergraduate, she fell in love with coaching.
"I loved working with the students in advisement; I loved having them come in and talk about their dreams and hopes for the future," she says. "Kind of like when I was working with the toddlers and early primary-aged kids. This is my immortality. This is a little part of me that gets to live on. And not in an arrogant place, but in a place of service. Here I am using whatever gifts I've been given to make something happen — to help someone like me, who was floundering and had no idea what to do. That part of the job, which I loved so much, spoke to what I was doing in coaching."
Geisz began pursuing her Master's in Fall 2014 and plans to complete it in one and a half years. She loves the experience of studying while working full-time, encouraging other LIFE employees to try it: "I don't have to travel. I don't have to track down professors I've maybe never met. I can just walk over to Dr. Samples or Mickey Parsons or Dr. Shook and say, 'Hey, I'm struggling with this.' And I see them as faculty and as colleagues — being on both sides, student and staff member, makes them even more approachable than they already are."
That unique balance of student and staff has also translated to her work experience, allowing her a dual-sided perspective. "When I'm entering transfer credit for a student, I'm not seeing a file; I'm seeing six months worth of classes; this semester is six months of someone's life. And I'm visualizing myself sitting in an algebra class as I'm putting in their grade. It's a really good way to broaden your perspective and have empathy for these students," says Geisz.
Outside of work and school, Geisz enjoys living in Decatur with her four housemates: her daughter, Ari, who is now 21; her dog, Juju; her cat, Toffee; and her hermit crab, Neil. She gardens, makes jewelry and crochets. Actively involved in her church, the Kirkwood United Church of Christ, Geisz found a unique way of supporting the causes she loves simultaneously. Since her church is raising money for a new building and asking for $100 donations, Geisz offered to take on three coaching clients, whose $100 donation each garners three coaching sessions per client. "It doesn't feel like it's putting more on my schedule. It's adding depth. When it all ties together, it's easier than you think," she says, logging her coaching hours with the International Coaching Federation (ICF) while also helping her church.
Working full-time, pursuing her Master's and being active in her community, Geisz likes to keep busy. "But it's the kind of busy that feels like relaxation," she says. "I think if you find your passion, all of that other stuff — the 'what-ifs' and 'I can'ts' — that melts away."
Faces of LIFE is a story campaign that showcases members of the dynamic LIFE community, including faculty/staff, students, alumni and health science professionals. Interested in being featured or nominating a candidate? E-mail LIFENews@LIFE.edu. Read more Faces of LIFE stories.