Faces of LIFE: Eric Mundie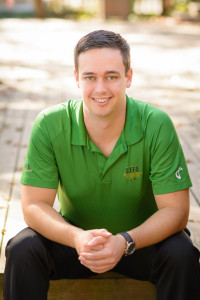 Eric Mundie
Connections in Chiropractic
Student: Doctor of Chiropractic
January 2016
Doctor of Chiropractic student Eric Mundie was 12 years old when he first experienced chiropractic care. When he suffered from whiplash after taking taekwondo classes, he visited a chiropractor. "After three visits I had about a 95 percent recovery," he remembers. "Twelve-year-olds respond really fast; they bounce!" And while he appreciated the speedy results, it wasn't until he was a sophomore in high school that he decided Chiropractic was a career path he'd likely pursue. He says, "I ended up seeing a direct correlation with my competitive swimming times when I'd go to see the chiropractor beforehand. I'd typically drop about a second a race; I finally realized there was something to this."
The central New Jersey native attended Marist College in Poughkeepsie, New York to earn his B.S. in athletic training in 2008. He's still currently a certified athletic trainer and came to Life University (LIFE) in 2012 on scholarship in a graduate assistant athletic training position. He was a licensed athletic trainer in Georgia for about a year as he worked with the LIFE men's club rugby team – at the time, the club team was competing in two different divisions at the same time. "We ended up being champions in one and runner up in the other!" Mundie recalls. "So it was a busy year, but really rewarding."
For Mundie, a background in athletic training was a natural extension for his career in Chiropractic. "I went into Athletic Training so I could look at the body differently than all the other chiropractors," he says. "So that I could come at it from a different point of view and set myself apart while out practicing."
When his graduate assistant position ended at LIFE, he was offered a research scholarship with Dr. Downes and Dr. Rau. Now set to graduate in September 2016, Mundie is involved in campus clubs. Along with LIFE alumnus Chris Kahanec, Mundie helped start the State Networking Association (SNA) here at Life University. "One of our goals is to get alumni more easily in touch with students, so we have a better job placement rate and so we can help make students successful when they leave," he says. The SNA works in the Alumni Department, trying to connect LIFE chiropractic alumni who are seeking associates for their practices with LIFE's job-hunting students and grads.
"The SNA board consists of heads of each state organization clubs," Mundie says of the six state organizations on campus: Georgia, North Carolina, New York, Virginia, Ohio, Wisconsin). "SNA was designed to unify these clubs. Club attendance was low individually, so by bringing everyone together we're able to boost attendance for all of the clubs." SNA works to organize a speaker series, attend events and recruit more students into these networking organizations. They host two speakers a quarter, always on Thursdays at 5 p.m. in weeks two and seven.
Why join a state networking club? "The people who are involved and want to help are the ones who are the most successful," says Mundie. He recently attended the Georgia Chiropractic Association (GCA) fall conference and was able to spend time with the entire GCA board, including being invited to the president's suite for a private party where he networked with some of the most influential doctors in the state. He says they all expressed interest in wanting to help connect students and recent grads with established chiropractors and practices, and that he even walked out of the event with multiple job offers. "These are the people you want to emulate and learn from. On top of that, these are the people who are pushing the profession forward."
Mundie plans to return to New Jersey when he graduates – he misses being near the ocean, where he grew up sailing and boating with his father. "Eventually I want to open my own practice, but for the first two to three years I'll look to associate and get my feet under me, get a paycheck coming in and start paying off loans," he says. He also expects he'll go on to study functional neurology. After shadowing Dr. Marc Ellis in Roswell, he's impressed with the level of improvement he's seen in patients.
"With my background in athletic training, I'm very mechanically minded. I always saw myself having a performance-enhancing practice, where I take an athlete and rebuild them from the core up, raising their athletic ceiling," says Mundie. He originally hoped to take athletes to the next level: from not making varsity to making the team, from a D3 scholarship to a D1 scholarship. "I still want that part of it, but trying to do that without understanding the neurology of the patient? It's not going to happen nearly as well as it could. Functional neurology gives me another avenue to truly understand what's going on with my patients."
Mundie encourages LIFE chiropractic students to get in touch with the State Networking association on the SNA Facebook page or by contacting them at SN@LIFE.edu, and to check out the Georgia Club at Life University on their Facebook page.
LEARN MORE:
Faces of LIFE is a story campaign that showcases members of the dynamic LIFE community, including faculty/staff, students, alumni and health science professionals. Interested in being featured or nominating a candidate? E-mail LIFENews@LIFE.edu. Read more Faces of LIFE stories.