Faces of LIFE: Erica Michaels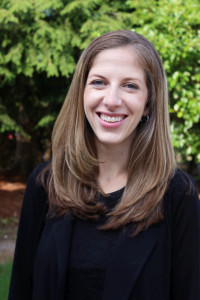 Erica Michaels
Back to LIFE
Director of Student Recruitment
January 2016
Erica Michaels, Director of Student Recruitment at Life University (LIFE), first stepped foot on LIFE's campus 10 years ago. Her husband, Kevin, was enrolled in chiropractic school in California, but when the two Michigan natives didn't love their new state, they decided to try their luck on the opposite coast. Her husband transferred to Life University, and the pair jumped in a car and drove straight across the country.
When they made it Georgia, their new house wasn't ready for them quite yet; to kill time, Michaels' husband toured her around LIFE's campus, exploring the rolling green hills and walking paths. She was blown away. "Standing there, I had a job interview lined up at Turner Broadcasting, and I told them I wasn't going to that interview – I was getting a job at LIFE," she recalls. She immediately hopped online and started applying. Soon, she was starting at LIFE as the Assistant Director of Recruitment while her husband studied chiropractic technique a few buildings over.
Enrollment was a new field for Michaels, who graduated from the University of Michigan with a psychology degree and minor in marketing. She went on to work as a publicist for film studios before joining the higher education industry. At LIFE, she spent the next several years working in different enrollment positions before leaving to have her third child back in Royal Oak, Michigan. She had all three of her children, Rielly, Kaden and Zethen, at home. "I'm very active in the home birth community in Michigan," she says of one of her outside-of-work passions. "I run a home birth meet-up group."
Just when she was itching to get back to work, Michaels received a phone call from Life University about an open position in Enrollment. Now she's returned to the Enrollment team as Director of Recruitment, working remote from Michigan and flying in for major events and meetings, such as LIFE Leadership Weekend. "I get to lead this awesome group of people – our recruiters. I also recruit in the state of Michigan," she says of her role.
When it comes to how long she's been associated with LIFE, Michaels is amazed at what progress a decade shows. "I can't believe it's been 10 years," she says. "After 10 years, there's so much growth that's happened. Coming from a point where the University was struggling and then having the opportunity to watch it grow, whether it's been in the trenches or afar this last year and a half, has been amazing."
Her goal is to see the University expand and excel in every aspect, growing enrollment in every degree program. "We have some amazing programs and a lot of unique offerings that can really help to change a person's life," she says. She knows from experience – her family of five embraces the chiropractic philosophy with their lifestyle. She says of her experiences at LIFE: "It's changed my life in so many ways that I never thought a job could affect a person or family."
LEARN MORE:

Faces of LIFE is a story campaign that showcases members of the dynamic LIFE community, including faculty/staff, students, alumni and health science professionals. Interested in being featured or nominating a candidate? E-mail LIFENews@LIFE.edu. Read more Faces of LIFE stories.