Faces of LIFE: Jamie Thomas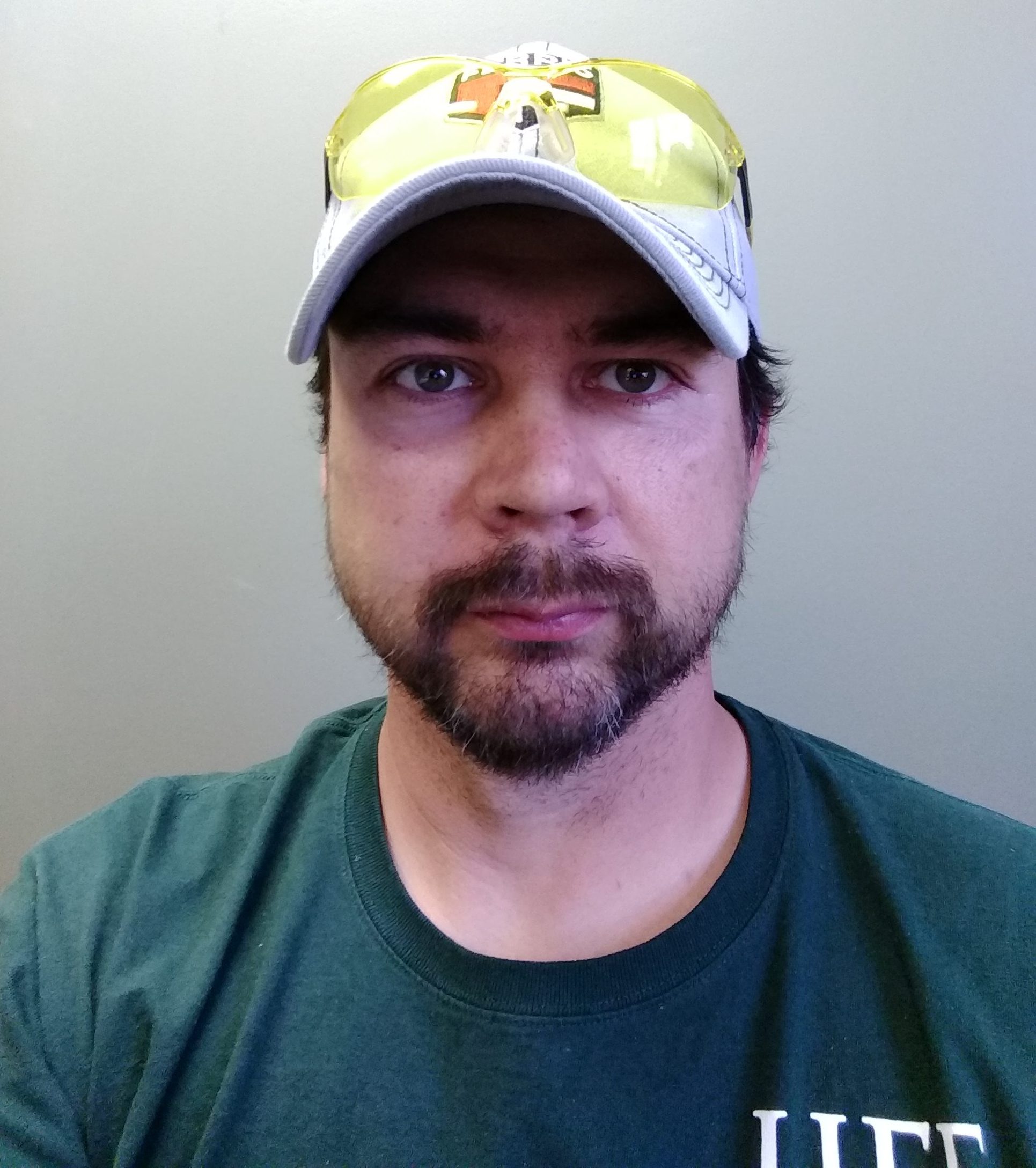 Jamie Thomas
Getting to the Root of the Problem
Staff: Life University Grounds Department
April 2017
Atlanta is very different than the quiet Lima, Ohio farm country that Jamie Thomas and his family left behind when he joined Life University's Grounds Department. Thomas calls himself the "gardening" type and was very happy in his quiet house set peacefully on five acres of prime gardening land. However, since moving to a more urban setting he says, "I really like the job here because I like working with plants and being outside."
In Ohio, Thomas had a very different occupation as a project manager and start up leader for Procter and Gamble. Plus, when he first moved to Georgia, he helped start several new diaper lines for a local manufacturer. Unfortunately, health complications from the materials in the product caused him to have to look for different work.
Since he knew that he would enjoy being outdoors again, it was then that he joined LIFE's grounds crew in October 2014. He adds that since his wife Dawn Thomas is graduating from the D.C. program in early 2018, he knew that it would be a great opportunity to do something he loved while perhaps seeing his wife around campus from time to time. The impetus for their family to leave their quiet Ohio home is an unfortunate one … but one that ends happily.
Their daughter, Macy, showed signs of autism at a very early age – no language skills, obsessive-compulsive behavior, transitioning issues, behavioral meltdowns and other neurological issues – as well as several physical issues like severe constipation. Thomas notes, "One day I came home and she was staring out of the window, and I thought she was looking at me coming into the house, but she just kept staring out the window and didn't even answer to her name."
"I knew that she was obviously struggling, but it was also a huge struggle for the whole family too." Subsequently, he took Macy to numerous doctors, many of whom were specialists in their fields and eventually ended up at a children's hospital sitting in front of an entire panel of doctors who had run a battery of tests on the then three-year-old Macy.
He says the he knew what they were going to say and that he would not like the answer – autism. "I never want to label kids. I feel that when you do, then the only option that you have left is to medicate them according to that label."
"Since I was a project manager for Procter and Gamble, one thing that you get great at doing is root cause analysis – getting down to the source of the problem. So, I treated Macy's situation like a problem that I might have at work and did a lot of research and analysis on all her issues. I found that it all led back to the nervous system, but everything that I read said that there wasn't really anything that you can do for the nervous system except medication."
Instead of relying on drugs as a treatment, he and his wife tried natural interventions such as dietary changes, and while Macy showed some improvement, she never achieved significant progress. "We had a friend who told us that she should go see a chiropractor, but I thought that was weird because her back didn't hurt!"
"However, I had pretty much exhausted every other avenue of treatment, so I decided to take her to a chiropractor after all. We went to see Dr. Kreg Huffer, and when I told him her whole story, he said 'yeah, no problem; we can take care of her,' but the certainty that he had was confusing."
Thomas had reason to be doubtful since all the other doctors he had taken Macy to were either uncertain about a diagnosis or simply called her condition 'autism.' Dr. Huffer, however, explained what a chiropractic adjustment can do to remove interferences from the nervous system – the body's control network – and allow it to communicate properly with the body.
"I automatically understood what he was saying since I had done a root cause analysis for each of her symptoms, and they were all pointing to the nervous system. I was sold right from the start."
If Thomas needed proof, he immediately received it. "After her first adjustment, the doctor said that she is going to need to rest because her body is going to do a reboot. Well, she fell asleep in the parking lot before we even left his office and then slept for the next twelve or fourteen hours, all while spiking a high fever."
"But when she woke up, she actually looked me directly in the eyes. It was the first time that she'd ever done that," Thomas remembers, clearly touched by emotion as he tears up at the memory. "It was like I had finally gotten her back."
"It was as if the doctor had turned the power in her system off and on again … and life had come back to her. And then she threw up all over me," he says with a laugh.
When he called her doctor to report her current condition, he was informed that everything was exactly as it should be because her body was detoxing. The doctor gave the example of eating spoiled food and how the body rids itself of it. "She's just going to be clearing stuff out. That's why she's running a fever – it's her body's way of getting rid of stuff."
"Then over just the next couple of weeks her language skills just exploded. She started riding her bike and tying her shoes. It was just so amazing."
"All this stuff I was spending thousands of dollars on like physical therapy and speech therapy did not work – all those things can be wonderful for some people – but with Chiropractic making the nervous system communicate correctly again, that is what worked for Macy," Thomas adds emphatically.
At that time, his wife Dawn was a cardiac nurse and was very traditionally medically oriented, yet after seeing the amazing changes that had been made in their daughter from her chiropractic treatments, she made a life-changing decision … to become a chiropractor herself.
"And that's how we ended up down here. Dawn wants to be able to help all the other parents out there who have these same struggles."
Thomas and his wife had been privately discussing the possibility of her becoming a chiropractor, but says that while attending a follow-up appointment at Dr. Huffer's office, "We never told him about it, but he looked at her and said, 'When are you going to school to be a chiropractor?' and she almost fell out of her chair!" When she confirmed his observation, he said, "Let's get you down there!"
What is especially compelling about his enthusiasm is that Dr. Huffer had not attended Life University, but according to Thomas, "Even he said, 'LIFE is where it's at now,' and we trusted him – he wouldn't lead us astray. He brought us down here and gave us a personal tour of the campus. We really liked it, and the people here are great, so we picked up everything and came to Georgia."
"It was a huge life change for us because we were the type of people who were very comfortable in our life and didn't like change. We never wanted to move or pull our kids out of school or ever even rent a house, but all in about a month, we did of all that!"
"And we love the campus. We love the values LIFE stands for, and that was one of the main reasons we came here – it emulates our beliefs and really drew us to the campus. The principles that it stands for are the same as ours."
Thomas, his wife and children all uprooted their entire lives – jobs, home, school – but they had an important goal in mind. Thomas says, "Due to the amazing progress we saw in our daughter, my wife and I thought this is something that we need to share with other parents. This is bigger than us. If we can help, we will." Dawn now plans to open a pediatric-based chiropractic practice to do just that.
Macy is doing really well now and is enjoying a regular 13-year-old kid's life while her mom and dad continue their progress toward helping other children like her work toward their new lives. It was a long journey, but it definitely had a happy ending.


LEARN MORE:
Faces of LIFE is a story campaign that showcases members of the dynamic LIFE community, including faculty/staff, students, alumni and health science professionals. Interested in being featured or nominating a candidate? E-mail LIFENews@LIFE.edu. Read more Faces of LIFE stories.