Faces of LIFE: José E. Hernández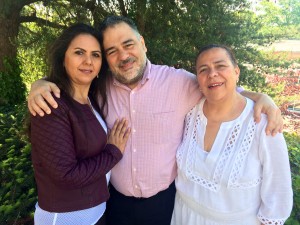 José E. Hernández
Hungry for Change
Student: Master of Clinical Nutrition
May 2015
Master of Clinical Nutrition student José E. Hernández arrives for his Faces of LIFE interview with his wife, Nancy, and sister, Mónica. For Hernández, the chance to represent Life University (LIFE) is a particular honor; at 54-years-old, he's come to LIFE for a change of career, and calls his experience thus far a "full adventure."
Hernández hails from Mexico City, where he worked as a graphic designer and art director for 20 years. "Then one day, I said, 'I need a change in my life. A big change.' I got an opportunity to come to the United States, so I came, just looking for a new life and new horizons," he says. After getting into an accident here in the States, his chiropractic care with Dr. Robert Alpert, owner of Southmetro Chiropractic Center, Inc. in Jonesboro, Georgia, segued into a friendship. Since Hernández was considering going back to school during his recovery, Dr. Alpert – a class of '92 LIFE alum – suggested Life University.
Hernández took his friend's advice (and Dr. Alpert's circa-1990s Life University promotional brochure) and visited the campus. He laughs, "When I came here, everybody was like 'Oh my God, this [brochure's] like a vintage thing!' because he got that in the '90s or something. He gave me his treasure, you know? He gave me his treasure and said, 'Go to Life University.'" That campus tour in sunny Marietta was all Hernández needed to see; he had found the big change he was looking for. He says, "I came out of curiosity, and when I came I said, 'Okay, this is my place.' I fell in love with the University."
He originally enrolled in the Doctor of Chiropractic program, but during his first quarter his interest leaned toward Nutrition, and he made the switch to the bachelor's program in dietetics. Hernández says, "Since then, it's been exciting. I'm learning a lot of things that I never imagined regarding food and the impact of health, society and the community as a whole."
Food is an important part of Mexican culture, and as a child, Hernández often cooked with his mother, preparing the meals for family parties. He cooks as a hobby, deft at both Mexican and Italian cuisine, and has been exploring with South Asian food recently. He says, "South Asian food is very colorful, and I love that."
After taking the first couple quarters of basic classes at LIFE, Hernández began to delve into deeper studies of food and nutrition. "My idea of food was just eating, enjoying," he says. "The most amazing thing for me was that what you eat has an impact on your health. It's kind of obvious, but you never think about it professionally. That was a realization. That was when I got really involved in Dietetics." He graduated Magna Cum Laude in 2014 and is currently halfway through the Master of Clinical Nutrition program. Throughout his time at LIFE, the functionality of food has fascinated him, transforming the way he cooks.
"Since I learned the functional part of food, now I design my meals with that in mind," says Hernández. "I've learned a lot of techniques here, new techniques. The professors teach the whole spectrum of ways to cook food, [how to] cook food in order to process the nutrients, consider the aroma, obtain some kind of texture and a wise combination of ingredients." In some ways, his creative side from his art directing days peeks through, something his professors encourage. When he plates his dishes, he says it sometimes feels like an art form.
On campus, Hernández is a science and nutrition tutor for the Student Success Center. "That job gave me the opportunity to know and personally help a lot of students here, particularly those students struggling with the English language, not only from Hispanic descent but from all over the world," he says. "I am part of the group who brought the original idea to create the Translation Support Team now in operation." He's also enjoyed volunteer opportunities like working with middle school children in the Marietta Mentoring for Leadership project.
Hernández hopes to use his professional pursuits to give back to the Hispanic community. "One thing I deeply learned, besides this enjoyment of working with food, is the impact on the community," he says. "As a Hispanic, I am very committed to work for my community. I know that the Hispanic community in America is very underserved, very misunderstood. I want to go into the area of public health and work there, within the nutrition spectrum." He would also love to see more Hispanics in the Dietetics department and the undergraduate programs. He says, "I think that is a niche for Life University to get people here and a big hope for the Hispanic community in America. I will send that message to the University."
When he's not working on assignments for class, Hernández is passionate about spending time with his family. While many of his relatives and friends are in Mexico, he tries to allot plenty of time to keep up with them via social media. His wife, Nancy, also from Mexico, recently arrived in the United States, and they're starting a life together here. "Before that, we spent every single night on Skype, having dinner together," he laughs. "I was having dinner in front of the computer here, and she was in front of the computer there. That was amazing." Hernández is currently in recovery after a six-week stint at the hospital, and he credits much of his renewed health to the love and support of his wife and sister, who've been by his side.
When it's time to have his headshot taken to accompany this story, Hernández gestures to Nancy and Mónica and asks, "Can we all be in it?" They grin as the camera clicks.
Faces of LIFE is a story campaign that showcases members of the dynamic LIFE community, including faculty/staff, students, alumni and health science professionals. Interested in being featured or nominating a candidate? E-mail LIFENews@LIFE.edu. Read more Faces of LIFE stories.